Community Bridges #GivingTuesday 2016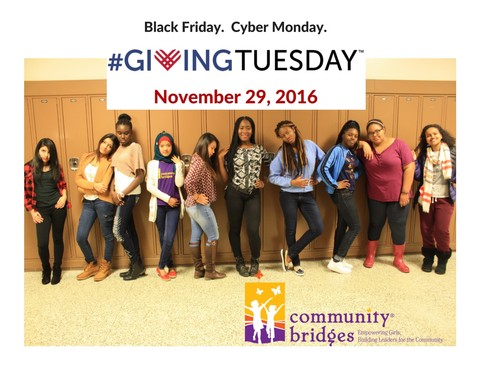 Community Bridges empowers girls from diverse backgrounds to become exceptional students, positive leaders and healthy young women.
An educated girl will reinvest 90% of her future income in her family, creating a ripple effect of positive outcomes. Community Bridges understands the great potential for good that this represents. Working with girls from diverse backgrounds in Montgomery County (where immigrant families represent 40% of the poorest residents), its approach is both long-term and holistic. From grades 4-12, CB guides girls through a host of programs, including mentoring (one-on-one), academic enrichment (critical thinking, goal setting), leadership development (conflict resolution, peer mediation, gang prevention), and life-skills training (healthy relationships, body image, decision making). Juniors and seniors prepare for college and careers with targeted support – and achieve fantastic results: 100% graduate from high school and are accepted into colleges and universities. Parents, too, are included; workshops on safety, cultural expression, and girls' development help them better support their daughters, and all programs are grounded in a multicultural context. With the right support, girls can break the cycle of poverty ... in just one generation.
---
About the Catalogue for Philanthropy: The Catalogue selected us as one of its featured nonprofits! Each year 120 expert reviewers evaluate applicants for distinction, merit, and impact. Each featured charity has been successfully site visited and its financials given the thumbs up. The Catalogue for Philanthropy charges no fees and raises funds separately to support its work. Since 2003, it has raised over $40 million for charities across Greater Washington. The Catalogue for Philanthropy looks to friends like you to keep our services independent and entirely free of charge. Consider a small contribution to the Catalogue to cap off your gift and help the causes you care about get the full support they deserve!
---
Contact Community Bridges:
Shannon Babe-Thomas
Executive Director


8757 Georgia Avenue, Suite 540
Silver Spring, MD 20910
3015857155
communitybridges-md.org