Catalogue Class of 2017-18
Congratulations!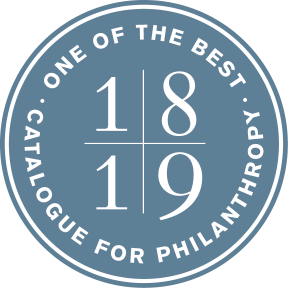 As we celebrate our 16th year, the Catalogue for Philanthropy: Greater Washington is proud to announce the Class of 2018-19. Each of these nonprofits has been chosen, from 200+ applications, as "one of the best" local nonprofits in the region.
The charities listed below have successfully passed a rigorous review process conducted by a team of 120+ experts in the local philanthropic field. Let them know that you are proud of their achievements: congratulate them with a "shout out" on social media or send them an email.
Add your name to our mailing list
Adding your name to our list will ensure that you receive a complimentary
copy of the Catalogue when it is released in November 2018.
Choose List: Print Catalogue Web Re-Featured Charities (including growth)
---
1st Stage (2020) (Tysons, VA)

826DC (2020) (Washington, DC)

* A-SPAN (2021) (Arlington, VA)

The Abramson Scholarship Foundation (2019) (Washington, DC)

Academy of Hope Adult Public Charter School (2019) (Washington, DC)

* Academy of Hope Adult Public Charter School (2023) (Washington, DC)

* ACCA, Inc. (Annandale Christian Community for Action) (2021) (Annandale, VA)

Access Youth (2018) (Washington, DC)
Restorative justice programming to reduce truancy and suspensions.
Access Youth (2022) (Washington, DC)

The Actors' Center (2023) (Washington, DC)

Adoptions Together (2020) (Calverton, MD)

Adventist Community Services of Greater Washington (2017) (Silver Spring, MD)
Food, clothing, education & emergency support for underserved families.
Adventist Community Services of Greater Washington (2021) (Silver Spring, MD)

Advocates for Justice and Education (2021) (Washington, DC)

AfriThrive (2022) (Silver Spring, MD)

After-School All-Stars (2021) (Washington, DC)

After-School All-Stars DC (2017) (Washington, DC)
Free, comprehensive after-school programs for low-income DC middle schools.
Alfred Street Baptist Church Foundation (2021) (Fort Washington, MD)

Alice Ferguson Foundation (2018) (Accokeek, MD)
Connecting people to nature through education, stewardship, and advocacy.
Alice Ferguson Foundation (2022) (Accokeek, MD)

ALIVE! (2019) (Alexandria, VA)

ALIVE! (2023) (Alexandria, VA)

All Ages Read Together (2023) (Herndon, VA)

Alliance of Concerned Men (2022) (Washington, DC)

Amara Legal Center (2020) (Washington, DC)

American Muslim Senior Society (2023) (Rockville, MD)

American Youth Philharmonic Orchestras (2019) (Annandale, VA)

American Youth Philharmonic Orchestras (2023) (Alexandria, VA)

Anacostia Playhouse (2018) (Washington, DC)
Theater performances, exhibitions, and instruction in an under-served neighborhood.
Anacostia Playhouse (2022) (Washington, DC)

Anacostia Riverkeeper (2021) (Washington, DC)

Anacostia Watershed Society (2019) (Bladensburg, MD)

Anacostia Watershed Society (2023) (Bladensburg, MD)

The Andrew Keegan Theatre (2020) (Washington, DC)

Animal Welfare League of Arlington (2020) (Arlington, VA)

* Annandale Christian Community for Action (2017) (Annandale, VA)
Child care and emergency assistance to our vulnerable neighbors.
* AppleTree Institute for Education Innovation (Washington, DC)

* AppleTree Institute for Education Innovation (2023) (Washington, DC)

The Arc of Northern Virginia (2018) (Falls Church, VA)
Advocacy and services for those living with intellectual/developmental disabilities.
The Arc of Northern Virginia (2022) (Falls Church, VA)

Arlington Free Clinic (2020) (Arlington, VA)

* Arlington Partnership for Affordable Housing (2018) (Arlington, VA)
Providing housing and supporting resident services to lower-income neighbors.
* Arlington Partnership for Affordable Housing (2022) (Arlington, VA)

Arlington Pediatric Center (2019) (Arlington, VA)

VHC Pediatrics (formerly Arlington Pediatric Center) (2023) (Arlington, VA)

* Arlington Street People's Assistance Network (2017) (Arlington, VA)
Aims to end homelessness through supportive services and housing.
Arlington Thrive (2019) (Arlington, VA)

Arlington Thrive (2023) (Arlington, VA)

Armed Services Arts Partnership (2020) (Alexandria, VA)

Art Enables (2018) (Washington, DC)
Vocational program and art gallery for artists with disabilities.
Art Enables (2022) (Washington, DC)

* The Art League (2018) (Alexandria, VA)
Semi-professional, regional visual arts education for youth, adults, and the community.
The Art League (2022) (Fairfax, VA)

Art Works Studio School (2019) (Hyattsville, MD)

Art Works Now (2023) (Hyattsville, MD)

Artivate (2018) (Silver Spring, MD)
Arts education outreach bringing artists to people where they are.
Artivate (2022) (Silver Spring, MD)

Arts for the Aging (2020) (Rockville, MD)

Arts on the Block (2020) (Silver Spring, MD)

ArtStream (2021) (Chevy Chase, MD)

ArtStream (2017) (Silver Spring, MD)
Uses the performing arts to empower people with intellectual and developmental disabilities.
ASHA for Women (2017) (Rockville, MD)
Empowering South Asian women to lead abuse-free lives.
Asian American LEAD (2018) (Washington, DC)
After school and summer mentoring programs targeting low-income Asian American youth.
Asian American LEAD (2017) (Washington, DC)
After-school & summer mentoring programs targeting low-income Asian American youth.
Asian American LEAD (2022) (Washington, DC, DC)

Asian Pacific American Legal Resource Center (2020) (Washington, DC)

Asian/Pacific Islander Domestic Violence Resource Project (2017) (Washington, DC)
Serves Asian/Pacific Islander survivors of gender-based violence.
Aspire Counseling (2018) (Gaithersburg, MD)
Mental health/wellness for everyone, regardless of ability to pay.
Aspire! Afterschool Learning (2020) (Arlington, VA)

AsylumWorks (2020) (Washington, DC)

Atlas Performing Arts Center (2019) (Washington, DC)

Atlas Performing Arts Center (2023) (Washington, DC)

* Audubon Naturalist Society (2020) (Chevy Chase, MD)

Avodah (2021) (Washington, DC)

Avodah: The Jewish Service Corps (2017) (Washington, DC)
Empowers young adults and the anti-poverty agencies at which they are placed.
* Ayuda (2018) (Washington, DC)
Legal, social, and interpretation services for low-income immigrants.
* Ayuda (2022) (Washington, DC)

The Barker Adoption Foundation (2021) (Bethesda, MD)

The Barker Adoption Foundation (2017) (Bethesda , MD)
Offers adoption, education, and support services for birth, adoptive parents and adopted children.
BEACON for Adult Literacy (2020) (Bristow, VA)

Beacon House (2018) (Washington, DC)
Closing the academic achievement gap for youth in Ward 5.
Beacon House (2022) (Washington, DC)

Best Buddies Capital Region (2018) (Falls Church, VA)
Creating inclusion opportunities for people with intellectual and developmental disabilities.
Best Buddies International (2022) (Tysons, VA)

BEST Kids (2023) (Washington, DC)

BEST Kids, Inc. (2019) (Washington, DC)

Bethesda Cares (2019) (Bethesda, MD)

Bethesda Chevy Chase Rescue Squad (2017) (Bethesda, MD)
Provides, at no cost, life-saving technology to communities served.
Beyond Borders (2017) (Washington, DC)
Works to end child slavery, gender-based violence, and extreme poverty in Haiti.
Bishop John T Walker School for Boys (2018) (Washington, DC)
Tuition-free independent school located east of the Anacostia River.
Bishop John T. Walker School for Boys (2022) (Washington, DC)

Black Swan Academy (2020) (Washington, DC)

BlackRock Center for the Arts (2020) (Germantown, MD)

Bowen McCauley Dance Company (2019) (Arlington, VA)

The Brain Foundation (2020) (Springfield, VA)

Brain Injury Services (2020) (Springfield, VA)

Brainy Camps Association (2019) (Washington, DC)

Breadcoin Foundation (2023) (Washington, DC)

Break the Cycle (2019) (Washington, DC)

Bridges to Independence (2018) (Arlington, VA)
Helping families overcome homelessness and achieve stable, independent futures.
Bridges to Independence (2022) (Arlington, VA)

* Bright Beginnings (Washington, DC)

* Bright Beginnings (2023) (Washington, DC)

Britepaths (2020) (Fairfax, VA)

BroadFutures (2019) (Washington, DC)

BroadFutures (2023) (Washington, DC)

BUILD Metro DC (2017) (Washington, DC)
Entrepreneurship and college readiness program for students from under-resourced communities.
BUILD Metro DC (2021) (Washington, DC)

Building Bridges Across the River (2019) (Washington, DC)

* Building Bridges Across the River (2023) (Washington, DC)

Byte Back (2018) (Washington, DC)
Free tech training and career services for low-income adults.
Byte Back (2022) (Washington, DC)

C&O Canal Trust (2017) (Hagerstown, MD)
Works to preserve and protect the C&O Canal National Historical Park.
C&O Canal Trust (2021) (Williamsport, MD)

Calvary Women's Services (2020) (Washington, DC)

Capital Area Asset Builders (2017) (Washington, DC)
Helps low- and moderate-income individuals and families to build wealth.
Capital Area Asset Building Corporation (2019) (Washington, DC)

Capital Area Asset Building Corporation (2022) (Washington, DC)

* Capital Area Immigrants' Rights Coalition (2018) (Washington, DC)
Defending immigrants' rights through legal services, education and advocacy.
* Capital Area Immigrants' Rights Coalition (2022) (Washington, DC)

Capital Fringe (2017) (Washington, DC)
Connects independent artists and adventurous audiences across DC.
Capital Partners for Education (2018) (Washington, DC)
Mentoring and college/career readiness for low-income DC-area students.
Spark the Journey (formerly Capital Partners for Education) (2022) (Washington, DC)

CapitalBop (2019) (Washington, DC)

CapitalBop (2023) (Washington, DC)

Capitol Hill Arts Workshop (2018) (Washington, DC)
Building community through the arts.
Capitol Hill Arts Workshop (2022) (Washington, DC)
Building community through the arts.
Capitol Hill Village (2019) (Washington, DC)

Capitol Hill Village (2023) (Washington, DC)

Capitol Movement, Inc (2023) (Washington, DC)

CapoeiraDC (2023) (Washington, DC)

CaringMatters, Inc. (2021) (Gaithersburg, MD)

CaringMatters, Inc (2023) (Gaithersburg, MD)

Carpe Diem Arts (2018) (Silver Spring, MD)
Building community and celebrating diversity through visual, literary and performing arts.
Carpenter's Shelter (2017) (Alexandria, VA)
Shelter and supportive services for homeless adults and families.
Carpenter's Shelter (2021) (Alexandria, VA)

Casa Chirilagua (2017) (Alexandria, VA)
Community-based organization for at-risk families in the Central American immigrant community.
Casa Chirilagua (2021) (Alexandria, VA)

CASA for Children of DC (2020) (Washington, DC)

Casa Ruby (2020) (Washington, DC)

* Center for Adoption Support and Education (2020) (Burtonsville, MD)

Center for Inspired Teaching (2017) (Washington, DC)
Transforms school experiences through engagement-based education and innovative teacher training.
Center for Inspired Teaching (2021) (Washington, DC)

Central American Resource Center (2020) (Washington, DC)

Centreville Immigration Forum (2017) (Centreville, VA)
Supports immigrant community with employment protection, English classes and skills training.
Centreville Immigration Forum (2021) (Centreville, VA)

Chamber Dance Project (2017) (Washington , DC)
Contemporary ballet with live music and intimate, interactive settings.
Charlie's Place at St. Margaret's (2020) (Washington, DC)

Chesapeake Natives (2023) (Upper Marlboro, MD)

The Child & Family Network Centers (2018) (Alexandria, VA)
Free early education and family services for at risk youth.
Child and Family Network Centers (2022) (Alexandria, VA)

Children's Chorus of Washington (2019) (Washington, DC)

Children's Chorus of Washington (2023) (Washington, DC)

Children's Science Center (2017) (Fairfax, VA)
Northern Virginia's first non-profit interactive children's science center.
The Choral Arts Society of Washington (2017) (Washington, DC)
Professional-caliber volunteer chorus performing masterpieces and new works.
The Christ Child Society of Washington DC (2017) (Washington, DC)
Fulfills emotional, educational, and material needs of at-risk children and mothers.
Christ House (2020) (Washington, DC)

City Blossoms (2017) (Washington, DC)
Fosters healthy communities by developing kid-driven green spaces.
City Blossoms (2021) (Washington, DC)

City Dogs Rescue (2019) (Washington, DC)

City Dogs & City Kitties Rescue (2023) (Washington, DC)

City Gate (2023) (Washington, DC)

City Kids Wilderness Project (2018) (Washington, DC)
Academic and life success through empowerment and outdoor adventure.
City Kids Wilderness Project (2017) (Washington, DC)
Academic and life success through empowerment and outdoor adventure.
City Kids Wilderness Project (2022) (Washington, DC)

City Wildlife, Inc. (2019) (Washington, DC)

City Wildlife (2023) (Washington, DC)

CityDance (2019) (Washington, DC)

Coalition for Nonprofit Housing & Economic Development (2017) (Washington, DC)
Catalyzes affordable housing and economic development in DC.
Collective Action for Safe Spaces (2023) (Washington, DC)

Collective Action for Safe Spaces (2019) (Washington, DC)

College Bound (2018) (Washington, DC)
Mentorship and college access program for Washington-area students.
College Bound (2019) (Washington, DC)

College Bound (2023) (Washington, DC)

College Tribe (2019) (Washington , DC)

CollegeTracks (2018) (Bethesda, MD)
Helping low-income students get to and through postsecondary education.
CollegeTracks (2022) (Silver Spring, MD)

Collegiate Directions (2021) (Bethesda, MD)

Collegiate Directions, Inc (2017) (Bethesda, MD)
Supports low-income, first generation students to and through college.
Common Good City Farm (2018) (Washington, DC)
Growing food, educating, and serving the community.
Common Good City Farm (2022) (Washington, DC)

Common Threads (2018) (Largo, MD)
Cooking and nutrition education provider for underserved kids and families.
Communities in Schools of NOVA (2021) (Alexandria, VA)

Communities In Schools of the Nation's Capital (2020) (Washington, DC)

Community Advocates for Family & Youth (2018) (Capitol Heights, MD)
Helping to embrace, educate, and empower those affected by crime.
Community Advocates for Family and Youth (2022) (Capitol Heights, MD)

Community Bridges (2019) (Silver Spring, MD)

Community Bridges (2023) (Bethesda, MD)

Community Family Life Services (2017) (Washington, DC)
Support services for homeless and low income families and individuals.
Community Family Life Services (2021) (Washington, DC)

Community Forklift (2020) (Hyattsville, MD)

Community Legal Services of Prince George's County (2019) (Greenbelt, MD)

Community Legal Services of Prince George's County, Inc. (2023) (Greenbelt, MD)

Community Lodgings (2020) (Alexandria, VA)

Community Ministries of Rockville (2018) (Rockville, MD)
Providing health and human services for Montgomery County's most vulnerable residents.
* Community of Hope (2020) (Washington, DC)

Community Power Network (2017) (Washington, DC)
Builds a clean, equitable, and local renewable energy system through solar co-ops.
Community Reach of Montgomery County (2022) (Rockville, MD)

Community Services Foundation (2022) (Seat Pleasant, MD)

Community Support Systems (2021) (Brandywine, MD)

Community Youth Advance (2021) (Hyattsville, MD)

Compass Pro Bono - Greater Washington (2023) (Washington, DC)

Computer CORE (2020) (Falls Church , VA)

Conflict Resolution Center of Montgomery County (2020) (Bethesda, MD)

Council for Court Excellence (2022) (Washington, DC)

Court Appointed Special Advocate (CASA)/Prince George's County (2017) (Riverdale, MD)
Advocates for and protects abused and neglected children in foster care.
Court Appointed Special Advocates/Prince George's County (2021) (Riverdale, MD)

Court Watch Montgomery (2019) (Silver Spring, MD)

Court Watch Montgomery (2023) (Silver Spring, MD)

CREATE Arts Center (2018) (Silver Spring, MD)
Inspiring creativity to advance personal development and well-being.
CREATE Arts Center (2017) (Silver Spring, MD)
Inspires creativity to advance personal development and well-being.
CREATE Arts Center (2019) (Silver Spring, MD)

CREATE Arts Center (2020) (Silver Spring, MD)

Creative Cauldron (2023) (Falls Church, VA)

Creative Cauldron (2019) (Falls Church, VA)

Critical Exposure (2017) (Washington, DC)
Empowers low-income youth of color through photography and advocacy training.
Critical Exposure (2021) (Washington, DC)

Crossroads Community Food Network (2018) (Takoma Park, MD)
Building a healthier, more inclusive, local food system.
Crossroads Community Food Network (2022) (Takoma Park, MD)

Crossroads Jobs (2023) (Leesburg, VA)

Culmore Clinic (2020) (Falls Church, VA)

DC Hunger Solutions (2022) (Washington, DC)

DC Policy Center (2023) (Washington, DC)

The Dance Institute of Washington, Inc. (2023) (Washington, DC)

The Dance Institute of Washington, Inc. (2019) (Washington, DC)

Dance Loft on 14/MOVEIUS Contemporary Ballet (2020) (Washington, DC)

Dance Place (2020) (Washington, DC)

DAWN (2019) (Washington, DC)

DC - MD Justice For Our Neighbors (2019) (Rockville, MD)

DC Abortion Fund (2023) (Washington, DC)

DC Affordable Law Firm (2020) (Washington, DC)

DC Alliance of Youth Advocates (2019) (Washington, DC)

DC Appleseed Center for Law and Justice (2023) (Washington, DC)

DC Arts and Humanities Education Collaborative (2023) (Washington, DC)

DC Arts and Humanities Education Collaborative (2019) (Washington, DC)

* DC Bilingual Public Charter School (2018) (WASHINGTON, DC)
Charter school ensuring high academic achievement in dual-language setting.
DC Campaign to Prevent Teen Pregnancy (2017) (Washington, DC)
Uses advocacy and programming to cut DC's teen pregnancy rate in half.
DC Creative Writing Workshop (2017) (Washington, DC)
In-class and after-school creative writing program for at-risk schoolchildren.
DC Creative Writing Workshop (2021) (Washington, DC)

DC Diaper Bank (2017) (Washington, DC)
Alleviates financial stress on families by providing diapers to low-income families.
DC Greens (2018) (Washington, DC)
Advancing food justice in the nation's capital.
* DC Greens (2022) (Washington, DC)

DC Hunger Solutions (2018) (Washington, DC)
Working to improve the nutrition of low-income District residents.
DC Justice Lab (2021) (Washington, DC)

DC KinCare Alliance (2021) (Washington, DC)

DC Peace Team (2023) (College Park, MD)

The DC Policy Center (2019) (Washington, DC)

DC Rape Crisis Center (2020) (Washington, DC)

* DC SAFE (2022) (Washington, DC)

DC SAFE (Survivors and Advocates for Empowerment) (2018) (Washington, DC)
Ensuring safety and self-determination for domestic violence survivors in DC.
DC SCORES (2017) (Washington, DC)
Uses poetry, soccer and service learning to inspire youth in after-school programs.
DC SCORES (2021) (Washington, DC)

DC Special Education Cooperative (2018) (Washington, DC)
Preparing students with disabilities for post-secondary success.
DC Special Education Cooperative (2022) (Washington, DC)

DC Strings Workshop (2021) (Washington, DC)

DC Volunteer Lawyers Project (2022) (Washington, DC)

DC Youth Orchestra Program (2020) (Washington, DC)

DC127 (2021) (Washington, DC)

DCist (2019) (Washington , DC)

DCTV - Public Access Corporation of DC (2022) (Washington, DC)

The Delaplaine Arts Center (2021) (Frederick, MD)

The Delaplaine Arts Center (2017) (Frederick, MD)
Engages 80,000 visitors a year in a full-service, regional visual arts center.
Destiny, Power & Purpose (2020) (Temple Hills, MD)

District Alliance for Safe Housing (DASH) (2019) (Washington, DC)

* District Alliance for Safe Housing (DASH) (2023) (Washington, DC)

District Bridges (2022) (Washington, DC)

District of Columbia Students Construction Trades Foundation (2019) (Washington, DC)

District of Columbia Students Construction Trades Foundation (2023) (Washington, DC)

Do the Write Thing Foundation of DC (2018) (Washington, DC)
After-school and summer arts enrichment in Wards 7 and 8.
Do The Write Thing Foundation of DC (2022) (Washington, DC)

Docs In Progress (2018) (Silver Spring, MD)
Changing lives through documentary film.
Docs In Progress (2022) (Silver Spring, MD)

Dog Tag Bakery (2023) (Washington, DC)

Dog Tag Inc. (2019) (Washington, DC)

* Don Bosco Cristo Rey High School (Tacoma Park, Ma)

* Don Bosco Cristo Rey High School (2023) (Takoma Park, MD)

* Doorways (2021) (Arlington, VA)

* Doorways for Women and Families (2017) (Arlington, VA)
Creating pathways out of homelessness, domestic violence and sexual assault.
The Downtown Cluster's Geriatric Day Care Center (2017) (Washington, DC)
Day center offering frail, at-risk seniors therapeutic and supportive services.
Dream Project (2018) (Arlington, VA)
Mentoring and scholarships to empower undocumented students to attend college.
The Dream Project (2022) (Arlington, VA)

Dreaming Out Loud (2019) (Washington, DC)

Dreaming Out Loud (2023) (Washington, DC)

Dumbarton Oaks Park Conservancy (2019) (Washington, DC)

Dumbarton Oaks Park Conservancy (2023) (Washington, DC)

The Dwelling Place (2018) (Germantown, MD)
Housing services for formerly homeless families.
The Dwelling Place (2017) (Gaithersburg, MD)
Housing and support services for homeless families with children.
The Dwelling Place (2020) (Montgomery Village, MD)

Earth Sangha (2017) (Fairfax, VA)
Ecological restoration and maintenance of the most comprehensive native plant nursery in the region.
Earth Sangha (2021) (Annandale, VA)

East of the River Boys & Girls Steelband (2022) (Washington, DC)

ECHO (2021) (Springfield, VA)

ECO City Farms (2019) (Riverdale, MD)

ECO City Farms (2023) (Riverdale, MD)

EcoAction Arlington (2021) (Arlington, VA)

ecoLatinos (2021) (Cheverly, MD)

Edu-Futuro (2019) (Arlington, VA)

Edu-Futuro (2023) (Arlington, VA)

Educational Theatre Company (2017) (Arlington, VA)
Student-created and process-driven theatre education for ages 3-103.
Educational Theatre Company (2021) (Arlington, VA)

The Ellington Fund (2019) (Washington, DC)

The Ellington Fund (2023) (Washington, DC)

Emerging Scholars (2017) (Arlington, VA)
14-month academic/leadership enrichment for underrepresented students.
Emerging Scholars Program (2021) (Arlington, VA)

Empower DC (2023) (Washington, DC)

EmpowerEd (2023) (Washington, DC)

Encore Stage & Studio (2018) (Arlington, VA)
Theatre by kids, for kids.
Encore Stage & Studio (2023) (Arlington, VA)

Encore Stage & Studio (2019) (Arlington, VA)

Environmental Film Festival in the Nation's Capital (2020) (Washington, DC)

Everybody Wins DC (2022) (Washington, DC)

Everybody Wins! DC (2018) (Washington, DC)
Promoting children's literacy through shared reading experiences with a mentor.
* FACETS Cares (2020) (Fairfax, VA)

Fair Chance (2021) (Washington, DC)

FAIR Girls (2021) (Washington, DC)

Fairfax Court Appointed Special Advocates (CASA) (2019) (Fairfax, VA)

Fairfax Court Appointed Special Advocates (CASA) (2023) (Fairfax, VA)

Fairfax Library Foundation (2020) (Fairfax, VA)

Falls Church-McLean Children's Center (2018) (Falls Church, VA)
Early childhood education program serving low-income, working families.
Falls Church-McLean Children's Center (2022) (Falls Church, VA)

Falls Church-McLean Children's Center (2017) (Falls Church, VA)
Building essential skills to help young children become kindergarten-ready.
Family & Youth Initiative (2019) (Washington, DC)

Family & Youth Initiative (2023) (Washington, DC)

Family PASS (2021) (Vienna, VA)

The Family Place (2017) (Washington, DC)
Empowers low-income Latino families with educational and support services.
The Family Place, Inc (2021) (Washington, DC)

Family Preservation and Strengthening Services (2017) (Vienna, VA)
Housing and case management for Fairfax working homeless.
The Father McKenna Center (2020) (Washington, DC)

The Federated Charities Corporation of Frederick (2020) (Frederick, MD)

Fellowship Square (2019) (Reston, VA)

Fellowship Square Foundation (2023) (Reston, VA)

Fihankra Akoma Ntoaso (FAN) (2019) (Washington, DC)

Fihankra Akoma Ntoaso (FAN) (2023) (Washington, DC)

First Generation College Bound (2018) (Laurel, MD)
College access services to low income underrepresented youth.
First Generation College Bound (2017) (Laurel, MD)
Increases college matriculation rates for least advantaged youth.
First Generation College Bound (2019) (Laurel, MD)

First Generation College Bound (2023) (Laurel, MD)

First Shift Justice Project (2021) (Washington, DC)

First Tee of Greater Washington, DC (2020) (Washington, DC)

Food for Others (2018) (Fairfax, VA)
Providing free food to neighbors in need in Northern Virginia.
Food for Others (2022) (Fairfax, VA)

Food Recovery Network (2020) (Washington , DC)

For Love of Children (2020) (Washington , DC)

Foster and Adoptive Parent Advocacy Center (2022) (Washington, DC)

Frederick Children's Chorus (2019) (Woodsboro, MD)

Free Minds Book Club & Writing Workshop (2019) (Washington, DC)

Free Minds Book Club & Writing Workshop (2023) (Washington, DC)

FRESHFARM (2017) (Washington, DC)
Supports local farmers, food access, education and outreach through 14 area markets.
FRESHFARM (2021) (Washington, DC)

Friends of Anacostia Park (2023) (Washington, DC)

Friends of Fort Dupont Ice Arena (2018) (Washington, DC)
Athletic and educational programming for young people in DC.
Friends of Fort Dupont Ice Arena (2022) (Washington, DC)

Friends of Greenbelt Theatre (2018) (Greenbelt, MD)
Independent movie theater offering diverse programs for all our communities.
Friends of Guest House (2023) (Alexandria, VA)

Friends of Guest House (2019) (Alexandria, VA)

Friends of Kenilworth Aquatic Gardens (2020) (Washington, DC)

* Friendship Place (2017) (Washington, DC)
Empowers people to leave homelessness and rebuild their lives.
* Friendship Place (2021) (Washington, DC)

Fund for Investigative Journalism (2018) (Washington, DC)
Supporting independent investigative journalism through grants, fellowships, and mentorships.
Fund for Investigative Journalism (2022) (Washington, DC)

Future Link (2019) (Rockville, MD)

Future Link (2023) (Rockville, MD)

Gaithersburg Beloved Community Initiative (2021) (Gaithersburg, MD)

GALA Hispanic Theatre (2020) (Washington, DC)

Action Youth Media (formerly Gandhi Brigade) (2023) (Silver Spring, MD)

Gandhi Brigade Youth Media (2019) (Silver Spring, MD)

Gay Men's Chorus of Washington, DC (2020) (Washington, DC)

Gearin' Up Bicycles (2021) (Washington, DC)

Generation Hope (2018) (Washington , DC)
College completion and pre-k services for teen parents and children.
Generation Hope (2022) (Washington, DC)

Georgetown Ministry Center (2017) (Washington, DC)
A service-rich day center for chronically homeless individuals.
Georgetown Ministry Center (2021) (Washington, DC)

Girls Inc of the Washington, DC Metropolitan Area (2018) (Washington, DC)
Preparing girls to be healthy, educated, and independent women.
Girls on the Run - DC (2020) (Washington, DC)

Girls on the Run NOVA (2023) (Fairfax, VA)

Girls on the Run NOVA (2019) (Fairfax, VA)

Girls on the Run of Montgomery County, MD (2020) (Rockville, MD)

Girls Rock! DC (2021) (Washington, DC)

The Giving Square (2021) (Bethesda, MD)

Glen Echo Park Partnership for Arts and Culture (2023) (Glen Echo, MD)

Global Kids (2017) (Washington, DC)
Global affairs and leadership development program for underserved youth.
Global Kids, Inc (2021) (Washington, DC)

Good Shepherd Housing & Family Services (2022) (Alexandria, VA)

Good Shepherd Housing and Family Services (2018) (Alexandria, VA)
Affordable housing provider for low-income working families
GOODProjects (2022) (Washington, DC)

The Grassroot Project (2018) (Washington, DC)
Training athletes to be health educators for teens.
Grassroots Health (2022) (Washington, DC)

Great and Small (2017) (Boyds, MD)
Equine-assisted activities and therapies for individuals with special needs.
Great and Small (2021) (Boyds, MD)

Greater DC Diaper Bank (2021) (Washington, DC)

Hamkae Center (formerly Nakasec VA) (2021) (Annandale, VA)

Harriet's Wildest Dreams (2023) (Clinton, MD)

Health Volunteers Overseas (2017) (Washington, DC)
Professional training and education for health workers in resource-scarce countries.
Healthy Babies Project (2018) (Washington, DC)
Health services, core needs for low-income, pregnant DC teens and women.
Healthy Babies Project, Inc. (2022) (Washington, DC)

Healwell (2021) (Arlington, VA)

* The Heart of America Foundation (2018) (Landover, MD)
Transforming spaces into modern learning environments.
Heart to Hand (2022) (Largo, MD)

Heartly House (2019) (Frederick, MD)

Heartly House (2023) (Frederick, MD)

HER Resiliency Center (2020) (Washington, DC)

Hero Dogs, Inc. (2019) (Brookeville, MD)

Hero Dogs, Inc. (2023) (Gaithersburg, MD)

Higher Achievement (2019) (Washington, DC)

Higher Achievement (2023) (Washington, DC)

* Hillside Work - Scholarship Connection (2017) (Greenbelt, MD)
Increases high school graduation rates and teaches skills for employment.
HIPS (2021) (Washington, DC)

HomeAid Northern Virginia (2020) (Chantilly, VA)

Homeless Animals Rescue Team (2022) (Fairfax Station, VA)

Homeless Children's Playtime Project (2019) (Washington, DC)

Homeless Children's Playtime Project (2023) (Washington, DC)

Homes Not Borders (2022) (Landover, MD)

Homestretch (2021) (Falls Church, VA)

Hope and a Home (2018) (Washington, DC)
Empowering homeless/low-income families to create stable homes.
Hope and a Home (2019) (Washington, DC)

Hope and a Home (2023) (Washington, DC)

Hope Connections for Cancer Support (2018) (Bethesda, MD)
Free cancer programs providing emotional support, education, wellness, and hope.
Hope Connections for Cancer Support (2022) (Bethesda, MD)

Hope for Henry (2021) (Washington, DC)

Hope for Henry Foundation (2017) (Washington, DC)
Reinventing the way hospitals care for seriously-ill children.
Hope House DC (2022) (Washington, DC)

Hope House DC (2018) (Washington, DC)
Helping children and their incarcerated fathers build stronger bonds.
Hope Multiplied (2023) (Washington, DC)

Horizons Greater Washington (2020) (Washington, DC)

Horton's Kids (2020) (Washington, DC)

Hospice Caring (2017) (Gaithersburg, MD)
Companionship and practical help for end-of-life and support during grieving.
The House Student Leadership Center (2018) (Woodbridge, VA)
Out-of-school time initiatives for pre-teens and teens.
The House, Inc. (2022) (Woodbridge, VA)

The House, Student Leadership Center (2017) (Woodbridge, VA)
Out-of-school time youth development and mentoring initiatives.
Housing Initiative Partnership (2017) (Hyattsville, MD)
Housing developer and counseling agency for low-income communities.
Housing Initiative Partnership, Inc. (2021) (Hyattsville, MD)

Housing Options & Planning Enterprises (2023) (Oxon Hill, MD)

Housing Unlimited (2019) (Silver Spring, MD)

Housing Unlimited Inc (2023) (Silver Spring, MD)

* Housing Up (2020) (Washington , DC)

The Human Trafficking Legal Center (2017) (Washington , DC)
Legal counsel and an opportunity to rebuild their lives for trafficking survivors.
The Human Trafficking Legal Center (2021) (Washington, DC)

HumanitiesDC (2023) (Washington, DC)

Immigrant & Refugee Outreach Center (2023) (McLean, VA)

IN Series (2021) (Washington, DC)

The In Series (2017) (Washington, DC)
DC's home for innovative opera, intimate cabaret, and Latino programming.
Inner City-Inner Child (2020) (Washington, DC)

Insight Memory Care Center (2018) (Fairfax, VA)
Alzheimer's and dementia adult day health and education/resource center.
Insight Memory Care Center (2022) (Fairfax, VA)

InterAct Story Theatre (2023) (Silver Spring, MD)

InterAct Story Theatre Education Association (2019) (Wheaton , MD)

interPLAY Orchestra (2020) (Bethesda, MD)

* Iona Senior Services (2020) (Washington, DC)

JCADA (2022) (Rockville, MD)

Jennifer Bush-Lawson Foundation (2022) (Falls Church, VA)

Jewish Coalition Against Domestic Abuse (2018) (Rockville, MD)
Providing support, education, and prevention to end domestic/dating abuse.
Jews United for Justice (2017) (Washington, DC)
Builds support for social, racial, and economic justice and equality in local communities.
Jews United for Justice (2021) (Washington, DC)

Joe's Movement Emporium (2021) (Mount Rainier, MD)

Joe's Movement Emporium/World Arts Focus (2017) (Mount Rainier, MD)
Classes, performances, arts education and work readiness for youth.
Joseph's House (2019) (Washington, DC)

Joseph's House (2023) (Washington, DC)

Josh Anderson Foundation (2018) (Vienna, VA)
Suicide prevention resources and support for teens.
* Joy of Motion Dance Center (2017) (Washington, DC)
Dance education, performance, and engagement opportunities for a diverse community.
Juanita C Grant Foundation (2022) (Capitol Heights, MD)

* Jubilee Housing (2018) (Washington, DC)
Providing affordable housing and programming to residents of Ward 1.
* Jubilee Housing (2022) (Washington, DC)

Jubilee Jobs (2021) (Washington, DC)

Jubilee Jobs (2017) (Washington, DC)
Free job placement for individuals seeking marketplace jobs.
Jubilee JumpStart (2018) (Washington, DC)
Quality, affordable early childhood education in a dual language environment.
Jubilee JumpStart (2022) (Washington, DC)

Just Neighbors (2017) (Annandale, VA)
Legal services for low-income immigrants in Northern Virginia.
Just Neighbors Ministry (2021) (Annandale, VA)

Justice Arts Coalition (2022) (Takoma Park, MD)

KEEN Greater DC (2022) (Bethesda, MD)

KEEN Greater DC (Kids Enjoy Exercise Now) (2018) (Bethesda, MD)
Free, one-to-one exercise programs for young people with disabilities.
KID Museum (2020) (Bethesda, MD)

Kid Power (2019) (Washington, DC)

Kid Power, Inc (2023) (Washington, DC)

Kids In Need Distributors (2023) (Bethesda, MD)

Kids In Need Distributors, Inc. (2019) (Bethesda, MD)

Kids R First (2017) (Reston, VA)
Purchases and delivers grade-appropriate school supplies to needy children in Northern Virginia.
Kids R First (2021) (Reston, VA)

Kindred (2022) (Washington, DC)

L'Arche Greater Washington, D.C. (2020) (Washington, DC)

La Cocina VA (2021) (Arlington, VA)

La Cocina VA (2017) (Arlington, VA)
Promotes healthy food and empowers immigrants with culinary jobs and entrepreneurship skills.
* Latino Economic Development Center (2017) (Washington, DC)
Drives economic advancement of low- to moderate income underserved communities.
The Latino Student Fund (2019) (Washington, DC)

The Latino Student Fund (2023) (Washington, DC)

Laurel Advocacy & Referral Services (2017) (Laurel, MD)
Helps people in financial crisis regain stability and achieve self-sufficiency.
Laurel Advocacy & Referral Services, Inc (2021) (Laurel, MD)

LAWS (Loudoun Abused Women's Shelter) (2019) (Leesburg, VA)

LAYC Career Academy Public Charter School (2020) (Washington , DC)

LearnServe International (2019) (Washington, DC)

LearnServe International (2023) (Washington, DC)

Legacy Farms (2022) (Leesburg, VA)

* Legal Aid Society of the District of Columbia (2018) (Washington, DC)
General civil legal services for DC residents living in poverty.
* Legal Aid Society of the District of Columbia (2022) (Washington, DC)

* Legal Counsel for the Elderly (2021) (Washington, DC)

Leveling the Playing Field (2021) (Silver Spring, MD)

Liberty's Promise (2020) (Alexandria, VA)

Liberty's Promise (2021) (Alexandria, VA)

Life Asset (2021) (Washington, DC)

Life Asset (2017) (Washington, DC)
Provides low-income entrepreneurs with business loans and training.
Life Pieces To Masterpieces (2022) (Washington, DC)

LIFT-DC (2018) (Washington, DC)
Empowering families to break the cycle of intergenerational poverty.
LIFT-DC (2022) (Washington, DC)

Literacy Council of Frederick County (2019) (Frederick, MD)

Literacy Council of Frederick County (2023) (Frederick, MD)

Literacy Council of Montgomery County (2017) (Rockville, MD)
High-quality English language and literacy instruction for adults.
Literacy Council of Montgomery County (2021) (Rockville, MD)

Literacy Council of Northern Virginia (2019) (Falls Church, VA)

English Empowerment Center (formerly Literacy Council of Northern Virginia) (2023) (Falls Church, VA)

* The Literacy Lab (2017) (Washington, DC)
Literacy interventions to close the achievement gap.
* The Literacy Lab (2021) (Washington, DC)

Little Friends for Peace (2018) (Mt. Rainier, MD)
Responding to personal & systemic violence with tested peace-building skills.
Little Friends For Peace (2022) (Accokeek, MD)

Little Lights Urban Ministries (2023) (Washington, DC)

Little Lights Urban Ministries (2019) (Washington, DC)

Live It Learn It (2018) (Washington, DC)
Closing the achievement gap, one field experience at a time.
Live It Learn It (2022) (Washington, DC)

Lorton Community Action Center (2019) (Lorton, VA)

Lorton Community Action Center (2023) (Lorton, VA)

Loudoun Cares (2022) (Leesburg, VA)

Loudoun Hunger Relief (2018) (Leesburg, VA)
Feeding the hungry of Loudoun County, Virginia.
Loudoun Literacy Council (2021) (Potomac Falls, VA)

Loudoun Volunteer Caregivers (2022) (Leesburg, VA)

Lucky Dog Animal Rescue (2018) (Arlington, VA)
Using a customized adoption process to find loving homes for dogs and cats.
Lucky Dog Animal Rescue (2022) (Arlington, VA)

Lydia's House in Southeast (2017) (Washington, DC)
HUD-approved housing counseling agency and youth mentoring programs.
Main Street Child Development Center (2020) (Fairfax, VA)

Main Street Child Development Center (2023) (Fairfax, VA)

Main Street Connect (2020) (Rockville, MD)

Mamatoto Village (2018) (Washington, DC)
Holistic maternal health and wellness programs for expectant mothers.
Mamatoto Village (2022) (Washington, DC)

Manna Food Center (2018) (Gaithersburg, MD)
The main Food Bank serving Montgomery County.
* Manna Food Center (2022) (Silver Spring, MD)

Many Languages One Voice (2020) (Washington, DC)

Marlow Guitar International (2017) (Rockville, MD)
Creating community through concerts, master classes, youth competitions, and outreach.
Mary House (2017) (Washington, DC)
Helps low-income and refugee families rebuild their lives.
Mary House (2021) (Washington, DC)

McLean Project for the Arts (2018) (McLean, VA)
Exhibiting, educating and inspiring residents through contemporary art.
McLean Project for the Arts (2019) (McLean, VA)

MentorPrize (2017) (Bethesda, MD)
Recruits and matches mentors with mentoring programs in the DC area.
Mentors, Inc (2018) (Washington, DC)
Youth mentoring for career/STEM exploration leading to 21st century employment opportunities.
Mercy Health Clinic (2018) (Gaithersburg, MD)
Primary and specialty outpatient healthcare for the medically underserved.
Mercy Health Clinic (2022) (Gaithersburg, MD)

The DC Center for the LGBT Community (2022) (Washington, DC)

The DC LGBTQ+ Community Center (2023) (Washington, DC)

The Metropolitan Center for the Visual Arts (2021) (Rockville, MD)

Metropolitan Center for the Visual Arts (2017) (Rockville, MD)
Transforms individuals and communities through the visual arts.
Metropolitan Washington Ear (2017) (Silver Spring, MD)
Operates free news services for the blind, visually impaired and disabled.
Mi Casa (2018) (Washington, DC)
Preserves affordable housing to support and strengthen healthy, diverse neighborhoods.
Mi Casa, Inc. (2022) (Washington, DC)

Mid-Atlantic Innocence Project (2019) (Washington, DC)

Mid-Atlantic Innocence Project (2023) (Washington, DC)

Mikva Challenge DC (2018) (Washington, DC)
Develops youth to be empowered, informed, and active citizens.
Mikva Challenge DC (2022) (Washington, DC)

* Miriam's Kitchen (2020) (Washington, DC)

Mission of Love Charities (2022) (Capitol Heights, MD)

Mobile Hope (2018) (Leesburg, VA)
Improving the lives of precariously housed and homeless youth.
Mobile Hope Association (2022) (Leesburg, VA)

* Mobile Medical Care (2018) (Bethesda, MD)
Primary healthcare for over 4,000 low-income individuals annually.
Mobile Medical Care, Inc. (2019) (Bethesda, MD)

* MobileMed (2022) (Bethesda, MD)

Montgomery Countryside Alliance (2019) (Poolesville, MD)

Montgomery Countryside Alliance (2023) (Poolesville, MD)

Montgomery County Coalition for Adult English Literacy (2020) (Rockville, MD)

* Monument Academy (2021) (Washington, DC)

Mosaic Theater Company of DC (2018) (Washington, DC)
Theater company with a focus on diversity, equity, inclusion, accessibility, and community engagement.
Mother's Outreach Network (2022) (Washington, DC)

Multicultural Career Intern Program (MCIP) (2020) (Washington, DC)

Multicultural Community Service (2018) (Washington, DC)
Encouraging, promoting, and facilitating broad and inclusive civic engagement.
Multicultural Community Service (2022) (Washington, DC)

The MusicianShip (2019) (Washington, DC)

The MusicianShip (2023) (Washington, DC)

My Sister's Place (2018) (Washington, DC)
Provides shelter and services to victims of domestic violence.
My Sister's Place (2022) (Washington, DC)

NAMI Montgomery County (2019) (Rockville, MD)

NAMI Montgomery County (2023) (Rockville, MD)

NAMI Northern Virginia (2022) (Oakton, VA)

NAMI Prince George's County, MD (2020) (New Carrollton, MD)

National Philharmonic (2021) (North Bethesda, MD)

National Philharmonic (2017) (North Bethesda, MD)
Resident professional orchestra, chorale and music education institute at Strathmore.
The National Reentry Network for Returning Citizens (2022) (Washington, DC)

Neighborhood Legal Services Program of the District of Columbia (2018) (Washington, DC)
Providing legal services to low-income DC residents.
Network for Victim Recovery of DC (2017) (Washington, DC)
Empowers crime victims through case management and legal services.
Network for Victim Recovery of DC (2021) (Washington, DC)

New Endeavors by Women (2017) (Washington, DC)
Heals lives of homeless women and children by creating new futures.
New Endeavors by Women (2021) (Washington, DC)

New Futures (2020) (Washington, DC)

New Partners Community Solar (2020) (Washington , DC)

The News Literacy Project (2019) (Washington, DC)

NextStop Theatre Company (2019) (Herndon, VA)

Nick's Place (2018) (Millsboro, DE)
Recovery home and life management programs for young men.
Nick's Place (2022) (Beltsville, MD)

* NLSP (2022) (Washington, DC)

The Nonprofit Village Center (2020) (Rockville, MD)

Northern Virginia Therapeutic Riding Program (2020) (Clifton, VA)

The Northwest Center (2020) (Washington, DC)

Northwest Neighbors Village (2020) (Washington , DC)

Nourish Now (2019) (Rockville, MD)

NOVA ScriptsCentral (2022) (Falls Church, VA)

NOVA ScriptsCentral (2018) (Burke, VA)
Nonprofit pharmacy providing life-saving medications for uninsured patients in Virginia.
Nueva Vida (2017) (Alexandria, VA)
Services throughout the cancer continuum for underserved Latinas.
Nueva Vida (2021) (Alexandria, VA)

OAR of Arlington, Alexandria and Falls Church (2020) (Arlington, VA)

OAR of Fairfax County (2017) (Fairfax, VA)
Assists those involved with the criminal justice system.
One Common Unity (2018) (Washington, DC)
Empowering youth through the transformative power of the arts.
One Common Unity (2022) (Washington, DC)

ONE DC (2021) (Washington, DC)

One Journey (2022) (Arlington, VA)

One World Education (2017) (Washington, DC)
Gives students and teachers the tools they need to improve student literacy rates.
One World Education (2021) (Washington, DC)

Only Make Believe (2021) (Washington, DC)

Only Make Believe (2017) (Washington, DC)
Interactive theater for children in hospitals and care facilities.
Open Arms Housing (2018) (Washington, DC)
Helping formerly homeless women obtain and maintain permanent housing.
Open Arms Housing (2022) (Washington, DC)

An Open Book Foundation (2020) (Washington, DC)

Open City Advocates (2017) (Washington, DC)
Supports youth in DC's juvenile system with legal advocacy and mentoring programs.
Open City Advocates (2021) (Washington, DC)

Open Door Sports (2023) (Kensington, MD)

Operation Renewed Hope Foundation (2020) (Alexandria, VA)

Operation Second Chance (2019) (Germantown, MD)

Operation Second Chance (2023) (Germantown, MD)

Our Military Kids (2019) (McLean, VA)

Our Military Kids (2023) (Oakton, VA)

Our Minds Matter (2022) (Vienna, VA)

Out Teach (2021) (Washington, DC)

Parkinson Foundation of the National Capital Area (2018) (Silver Spring, MD)
Programs and services for people facing Parkinson's.
Passion for Learning (2020) (Silver Spring, MD)

PAVE (2023) (Washington, DC)

PAVE Inc. (2019) (Washington, DC)

Peace of Mind (2020) (Washington, DC)

The PEN/Faulkner Foundation (2021) (Washington, DC)

PEN/Faulkner Foundation (2017) (Washington, DC)
Fosters a love of reading and a connection to writing through public readings and educational programs.
People Animals Love (2022) (Washington, DC)

Per Scholas National Capital Region (NCR) (2020) (Silver Spring, MD)

Perry School Community Services Center (2017) (Washington, DC)
Remedying conditions of chronic poverty through education and employment.
Phoenix Bikes (2021) (Arlington, VA)

Phoenix Bikes (2017) (Arlington, VA)
Teaches underserved teens bicycle repair through a community bike shop.
Piedmont Dispute Resolution Center (2023) (Warrenton, VA)

A Place To Be (2018) (Middleburg, VA)
Music therapy for people with disability, medical, or life challenges.
Platform of Hope (2022) (Washington, DC)

Playworks Mid-Atlantic (2020) (Washington, D)

Pointless Theatre Company (2018) (Washington, DC)
Multi-disciplinary, puppet-based theatre company exciting a passion for adventurous art.
Posse DC (2022) (Washington, DC)

The Posse Foundation (2018) (Washington, DC)
College access and leadership program for high school students.
Potomac Community Resources (2017) (Potomac, MD)
Provides therapeutic, recreational, social and educational programs for teens and adults with developmental differences.
Potomac Community Resources, Inc. (2021) (Rockville, MD)

Potomac Conservancy (2017) (Silver Spring, MD)
Protects the Potomac River through local advocacy and conservation solutions.
Potomac Conservancy (2021) (Silver Spring, MD)

Potomac Riverkeeper Network (2018) (Washington, DC)
Protecting and defending the Potomac River.
Potomac Riverkeeper Network (2022) (Washington, DC)

President Lincoln's Cottage (2019) (Washington, DC)

President Lincoln's Cottage (2023) (Washington, DC)

Prevention of Blindness Society of Metropolitan Washington (2019) (Washington, DC)

Prevention of Blindness Society of Metropolitan Washington (2023) (Washington, DC)

Prince George's Child Resource Center (2018) (Largo, MD)
Supports parents and child care providers so children can thrive.
Prince George's Child Resource Center (2022) (Largo, MD)

Prince William Area Free Clinic (2018) (Woodbridge, VA)
Free medical clinic serving low-income, uninsured patients.
Prince William Conservation Alliance (2018) (Woodbridge, VA)
Inspiring action and working together to create sustainable communities for all.
Prince William Conservation Alliance (2022) (Lake Ridge, VA)

Prince William County Community Foundation (2021) (Woodbridge, VA)

Progressive Maryland (2019) (Largo, MD)

Progressive Maryland (2023) (Largo, MD)

Project Change (2018) (Olney, MD)
Students achieving positive change in themselves and their community.
Project Create (2017) (Washington, DC)
Creative youth development for children experiencing homelessness and poverty.
Project Create (2021) (Washington, DC)

Protect Our Defenders (2018) (McLean, VA)
Assistance and advocacy for victims of military sexual trauma.
Protect Our Defenders (2022) (Alexandria, VA)

Public Allies Washington, DC (2019) (Washington, DC)

Public Allies Washington, DC (2017) (Washington, DC)
Leadership and professional development that connects young adults to careers.
Rainbow Families (2023) (Washington, DC)

Rainbow Families (2019) (Washington, DC)

Rainbow Place Shelter for Homeless Women (2021) (Rockville, MD)

Reach Incorporated (2017) (Washington, DC)
Develops literacy leaders by training teens to be tutors.
Reach Incorporated (2021) (Washington, DC)

REACT DC (2023) (Alexandria, VA)

Read Early And Daily (READ) (2023) (Arlington, VA)

Reading Partners (2017) (Washington, DC)
Tutoring program for low-income elementary students.
Reading Partners (2019) (Washington, DC)

Reading Partners (2023) (Washington, DC)

Real Food for Kids (2018) (Great Falls, VA)
Advocates for improving school food/educating students on healthy choices.
Real Food for Kids (2022) (McLean, VA)

REAL School Gardens (2017) (Washington, DC)
School gardens and comprehensive teacher training for Title 1 schools.
Rebuilding Together DC Alexandria (2020) (Alexandria, VA)

Rebuilding Together Montgomery County (2020) (GAITHERSBURG, MD)

Rebuilding Together Montgomery County (2021) (Gaithersburg, MD)

Recovery Cafe DC (2023) (Washington, DC)

Recreation Wish List Committee (2021) (Washington, DC)

Red Wiggler Community Farm (2020) (Germantown, MD)

The Religious Coalition (2021) (Frederick, MD)

RESET (2021) (Washington, DC)

Reset180 (2023) (Reston, VA)

Resources to Inspire Students and Educators (RISE) (2018) (WASHINGTON, DC)
Helps underserved, low-income DC youth achieve academic and career success
Resources to Inspire Students and Educators (2022) (Washington, DC)

Rising for Justice (2020) (Washington, DC)

Rock Creek Conservancy (2019) (Bethesda, MD)

Rock Creek Conservancy (2023) (Bethesda, MD)

Rock Recovery (2018) (Washington, DC)
Unique and holistic eating disorder recovery services and community education.
Rock Recovery (2022) (Arlington, VA)

Ronald McDonald House Charities of Greater Washington, DC (2019) (Washington, DC)

* Ronald McDonald House Charities of Greater Washington, DC (2023) (Washington, DC)

* Safe Shores - The DC Children's Advocacy Center (2018) (Washington, DC)
Provides services to child victims of abuse in Washington, DC.
Safe Shores-The DC Children's Advocacy Center (2021) (Washington, DC)

The Safe Sisters Circle (2021) (Washington, DC)

SafeSpot Children's Advocacy Center of Fairfax (2021) (Fairfax, VA)

* Samaritan Inns (2018) (Washington, DC)
Provides housing, treatment, and recovery services to homeless/at-risk individuals.
Samaritan Ministry of Greater Washington (2018) (Washington, DC)
Supporting, coaching, training our unhoused/unemployed neighbors to reach their goals.
Samaritan Ministry of Greater Washington (2022) (Washington, DC)

San Miguel School (2020) (Washington, DC)

SCAN (Stop Child Abuse Now) of Northern Virginia (2018) (Alexandria, VA)
Child abuse prevention through public/parent education and child advocacy.
SCAN of Northern Virginia (2022) (Alexandria, VA)

ScholarCHIPS, Inc. (2019) (Washington, DC)

ScholarCHIPS (2023) (Washington, DC)

School Justice Project (2020) (Washington, DC)

* Seabury Resources for Aging (2018) (Washington, DC)
Providing services and housing options for vulnerable older adults.
* Seabury Resources for Aging (2022) (Washington, DC)

* Seabury Resources for Aging (2017) (Washington, DC)
Social and housing supports to low-income elderly.
Second Story (2019) (Vienna, VA)

Second Story (2023) (Vienna, VA)

SEED SPOT (2020) (Washington, DC)

Senior Services of Alexandria (2017) (Alexandria, VA)
Fosters independence to enable Alexandria seniors to age in place.
Senior Services of Alexandria (2021) (Alexandria, VA)

Shepherd's Center of Northern Virginia (2021) (Vienna, VA)

Shepherd's Table (2020) (Silver Spring, MD)

Shout Mouse Press (2018) (Washington, DC)
Writing program and publishing house for unheard voices.
Shout Mouse Press (2022) (Washington, DC)

Silver Spring Village (2019) (Silver Spring, MD)

Silver Spring Village (2023) (Silver Spring, MD)

Sitar Arts Center (2019) (Washington, DC)

Sitar Arts Center (2023) (Washington, DC)

* Sixth & I Historic Synagogue (2018) (Washington, DC)
Meaningful cultural programs in an inspired community setting.
Smith Center for Healing and the Arts (2019) (Washington, DC)

Smith Center for Healing and the Arts (2023) (Washington, DC)

Smithsonian Anacostia Community Museum (2021) (Washington, DC)

SMYAL (2020) (Washington, DC)

So What Else (2021) (Rockville, MD)

Solutions in Hometown Connections (2020) (College Park, MD)

Southeast Ministry (2019) (Washington, DC)

Special Olympics District of Columbia (2018) (Washington, DC)
Sports programs for people with intellectual disabilities.
Special Olympics District of Columbia Inc (2022) (Washington, DC)

Spend Yourself Food Pantry, Columbia Baptist Church (2019) (Falls Church, VA)

Split This Rock (2021) (Washington, DC)

Split This Rock (2017) (Washington, DC)
Presenting, teaching, and cultivating the next generation of socially engaged poets.
St Ann's Center for Children, Youth and Families (2021) (Hyattsville, MD)

Stepping Stones Shelter (2018) (Rockville, MD)
Emergency shelter for homeless families with children in Montgomery County.
Stepping Stones Shelter Inc. (2022) (Rockville, MD)

Stone Soup Films (2017) (Washington, DC)
Amplifies nonprofit impact through storytelling and video.
Story District (2021) (Washington, DC)

Story Tapestries (2018) (Germantown, MD)
Using the arts to power literacy, create understanding, and building community.
Story Tapestries (2022) (Poolesville, MD)

StoryBook Treasures (2022) (Ashburn, VA)

Street Sense Media (2020) (Washington, DC)

Stroke Comeback Center (2018) (Vienna, VA)
Support programs for stroke and brain-trauma survivors.
Stroke Comeback Center (2019) (Vienna, VA)

Stroke Comeback Center (2023) (Vienna, VA)

Studio Acting Conservatory (2023) (Washington, DC)

Suited for Change (2018) (Washington, DC)
Providing professional attire and job-readiness support.
Suited for Change (2022) (Washington, DC)

Sunflower Bakery (2018) (Gaithersburg, MD)
Skilled job training and employment for individuals with learning differences.
Sunflower Bakery (2022) (Rockville, MD)

Synetic Theater (2018) (Arlington, VA)
Movement-focused theater offering performances, education, and free community programs.
Synetic Theater (2019) (Arlington, VA)

Synetic Theater (2023) (Arlington, VA)

* Tahirih Justice Center (2018) (Falls Church, VA)
Protecting immigrant women and girls fleeing gender-based violence.
Tahirih Justice Center (2022) (Falls Church, VA)

Teaching for Change (2020) (Washington, DC)

Teens Run DC (2018) (Washington, DC)
Youth mentoring and distance running program for underserved DC youth.
Teens Run DC (2019) (Washington, DC)

Teens Run DC (2023) (Washington, DC)

Tenants and Workers United - Inquilinos y Trabajadores Unidos (2021) (Alexandria, VA)

Tephra Institute of Contemporary Art (2023) (Reston, VA)

ThanksUSA (2019) (McLean, VA)

The Theatre Lab School of the Dramatic Arts (2018) (Washington, DC)
Award-winning provider of theatre education for children, teens, and adults.
The Theatre Lab School of the Dramatic Arts (2022) (Washington, DC)

Thomas Circle Singers (2023) (Washington, DC)

Thrive DC (2020) (Washington, DC)

Together We Bake (2018) (Alexandria, VA)
Job training and personal development program for women in need.
Together We Bake (2022) (Alexandria, VA)

Torture Abolition and Survivors Support Coalition (2021) (Washington, DC)

Touching Heart (2023) (Oak Hill, VA)

Touching Heart (2017) (Herndon, VA)
Provides children with tools to become the compassionate leaders of tomorrow.
Tracy's Kids (2019) (Bethesda, MD)

Tracy's Kids (2023) (Bethesda, MD)

The Training Source (2023) (Seat Pleasant, MD)

Traveling Players Ensemble (2019) (Great Falls, VA)

Traveling Players Ensemble (2023) (Great Falls, VA)

Turning the Page (2021) (Washington, DC)

Tzedek DC (2018) (Washington, DC)
Safeguarding the rights of low-income DC families facing debt-related crises.
Tzedek DC (2022) (Washington, DC)

* United States Capitol Historical Society (2018) (Washington, DC)
Enhancing and perpetuating the history and heritage of the US Capitol.
* Urban Alliance (2020) (Washington, DC)

Urban Ed (2021) (Washington, DC)

Urban Ed (2017) (Washington, DC)
Transforms lives by creating hope and opportunity through information technology and skill development.
Urban Adventure Squad (2023) (Washington, DC)

The Veterans Consortium Pro Bono Program (2020) (Washington, DC)

The Virginia Hospital Center Medical Brigade (2017) (Falls Church, VA)
Improves community health in the Comayagua region of Honduras.
Visionaries of the Creative Arts (VOCA) (2023) (Washington, DC)

Voices for a Second Chance (2018) (Washington, DC)
Serving justice-involved citizens pre- and post-release.
Voices for a Second Chance (2023) (Washington, DC)

Volunteer Fairfax (2019) (Fairfax, VA)

Volunteer Fairfax (2023) (Fairfax, VA)

Wanda Alston Foundation (2019) (Washington, DC)

Wanda Alston Foundation (2023) (Washington, DC)

Washington Area Bicyclist Association (2018) (Washington, DC)
Advocacy, outreach, and education for better bicycling for everyone.
Washington Area Bicyclist Association (2022) (Washington, DC)

Washington Area Community Investment Fund (2020) (Washington, DC)

Washington Bach Consort (2018) (Washington, DC)
Professional baroque ensemble serving residents of all ages in DC.
Washington Bach Consort (2022) (Washington, DC)

Washington English Center (2017) (Washington, DC)
English classes and workforce development programs for adult immigrants.
Washington English Center (2021) (Washington, DC)

Washington Improv Theater (2018) (Washington, DC)
Longform improvisational theater company offering classes and performances.
* Washington Jesuit Academy (2020) (Washington, DC)

Washington Legal Clinic for the Homeless (2017) (Washington, DC)
Legal services, advocacy, outreach, and education to address homelessness and affordable housing.
Washington Legal Clinic for the Homeless (2021) (Washington, DC)

The Washington Literacy Center (2018) (Washington, DC)
Literacy and workforce training for adults.
Washington Literacy Center (2022) (Washington, DC)

Washington Revels (2018) (Silver Spring, MD)
Creating community and celebrating cultural traditions through music, dance and drama.
Washington School for Girls (2019) (Washington, DC)

* The Washington School for Girls (2023) (Washington, DC)

Washington Tennis & Education Foundation (2021) (Washington, DC)

Washington Urban Debate League (2018) (Washington , DC)
Providing after school debate in under-served communities.
Washington Urban Debate League (2022) (Washington, DC)

Washington Youth Garden (2020) (Washington, DC)

We Are Family Senior Outreach Network (2017) (Washington, DC)
Services for low-income seniors to help them age in place.
* Wendt Center for Loss and Healing (2017) (Washington, DC)
Mental health services for victims of trauma, grief and loss.
* Wendt Center for Loss and Healing (2021) (Washington, DC)

Western Fairfax Christian Ministries (2017) (Chantilly, VA)
Western Fairfax's go-to referral for emergency needs assistance.
Western Fairfax Christian Ministries (2021) (Chantilly, VA)

* A Wider Circle (2020) (Kensington, MD)

Wilderness Leadership & Learning (2017) (Washington, DC)
Develops life skills for youth with experiential learning, leadership training, and service.
Wilderness Leadership & Learning (2021) (Washington, DC)

WETATi Academy (We're Empowered To Achieve The impossible) (2023) (College Park, MD)

The Women's Center (2019) (Vienna, VA)

* The Women's Center (2023) (Vienna, VA)

Women's Learning Partnership for Rights, Development, and Peace (2017) (Bethesda, MD)
Strengthens women's technology, communication, and advocacy skills to support democratic and ethical practices, and enhance human rights.
Woodley House (2017) (Washington, DC)
Provides mental health housing and support services to adults with chronic and persistent mental illness.
Woodley House (2021) (Washington, DC)

Words Beats and Life (2023) (Washington, DC)

The Writer's Center (2019) (Bethesda, MD)

Yachad (2020) (Silver Spring, MD)

Yellow Ribbon Fund (2017) (Bethesda, MD)
Provides programs to make daily life more manageable for wounded service members and their family caregivers.
Yellow Ribbon Fund (2021) (Bethesda, MD)

Young Artists of America (2017) (Rockville, MD)
Excellence in vocal and instrumental training for youth.
Young Artists of America (2021) (North Bethesda, MD)

Young Ladies of Tomorrow (2019) (Washington, DC)

Young Playwrights' Theater (2017) (Washington, DC)
Uses the art of playwriting to enhance student literacy, creative expression, and communication.
Young Playwrights' Theater (2021) (Washington, DC)

Young Women's Project (2017) (Washington, DC)
Builds the leadership and power of DC young people.
Youth Activism Project (2022) (Bethesda, MD)

Youth Leadership Foundation (2017) (Bethesda, MD)
Enriching underserved youth and families in the DC area with mentorship and character education.
Youth Leadership Foundation (2021) (Washington, DC)

YouthBuild Public Charter School (2020) (Washington, DC)

YWCA National Capital Area (2022) (Washington, DC)

Total: 859