Catalogue Class of 2020-21
Congratulations!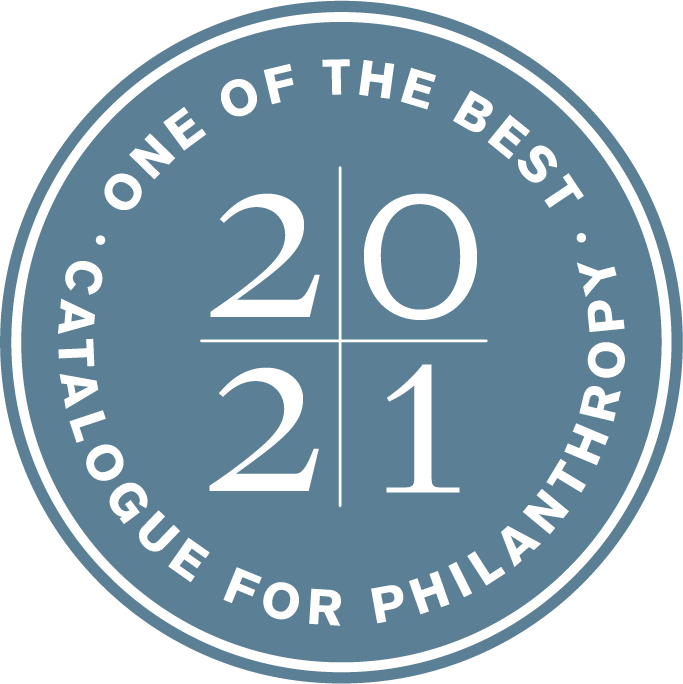 As we celebrate our 18th year, the Catalogue for Philanthropy: Greater Washington is proud to announce the Class of 2020-21. Each of these nonprofits has been chosen, from a competitive applicant pool, as "one of the best" local nonprofits in the region.
The organizations listed below have successfully passed a rigorous review process conducted by a team of 170+ pro bono reviewers from foundations, corporate giving programs, peer nonprofits, local government agencies, and the philanthropic advisory community. Let them know that you are proud of their achievements: congratulate them with a "shout out" on social media, send them an email, or support their work.
Add your name to our mailing list
Adding your name to our list will ensure that you receive a complimentary
copy of the Catalogue when it is released in November 2020.
Print Catalogue

CULTURE
Performing, Literary & Visual Arts
1st Stage
BlackRock Center for the Arts
Dance Place
Environmental Film Festival in the Nation's Capital
Federal City Performing Arts Association
GALA Hispanic Theatre
interPLAY Orchestra
MOVEIUS Contemporary Ballet
The Andrew Keegan Theatre

Youth & Community Arts
Arts on the Block
CREATE Arts Center
DC Youth Orchestra Program

EDUCATION
Adult Literacy & Learning
BEACON for Adult Literacy
LAYC Career Academy Public Charter School
Montgomery County Coalition for Adult English Literacy

Mentorship & College Access
New Futures

Youth Education & Enrichment
826DC
An Open Book Foundation
CIS of the Nation's Capital
FAME - Foundation for the Advancement of Music & Education
For Love of Children
Horton's Kids
Inner City-Inner Child
KID Museum
Passion for Learning, Inc.
Peace of Mind
Teaching for Change

HUMAN SERVICES
Basic Needs, Food, & Housing
Calvary Women's Services
Casa Ruby
Charlie's Place
Destiny, Power & Purpose
Food Recovery Network
L'Arche
Rebuilding Together DC & Alexandria
Red Wiggler Community Farm
Shepherd's Table
The Father McKenna Center
Thrive DC
Yachad

Children, Youth, & Families
Adoptions Together
Northern Virginia Therapeutic Riding Program
SMYAL
The First Tee of Greater Washington, DC

Community & Civic Engagement
Black Swan Academy
Community Forklift
Main Street Connect
Nonprofit Village
SEED SPOT
The Federated Charities Corporation of Frederick

Women & Girls
DC Rape Crisis Center
Girls on the Run - DC
HER Resiliency Center
The Northwest Center

Health, Wellness, & Senior Services
Arlington Free Clinic
Arts for the Aging
Brain Injury Services
Christ House
Culmore Clinic
NAMI Prince George's County
Northwest Neighbors Village

Immigrant & Refugee Services
AsylumWorks
Central American Resource Center
Many Languages One Voice
Solutions in Hometown Connections

Legal Services & Justice Programs
Amara Legal Center
Asian Pacific American Legal Resource Center
CASA for Children of DC
Conflict Resolution Center of Montgomery County
DC Affordable Law Firm
Offender Aid and Restoration of Arlington
Rising for Justice
School Justice Project

Life Skills, Training & Employment
Britepaths
Computer CORE
Washington Area Community Investment Fund

Veterans & Military Families
Armed Services Arts Partnership
Operation Renewed Hope Foundation
The Veterans Consortium

NATURE
Environment & Animal Services
Animal Welfare League of Arlington
Friends of Kenilworth Aquatic Gardens
Washington Youth Garden
New Partners Community Solar


Web Re-Featured Nonprofits
EDUCATION
Adult Literacy & Learning
YouthBuild Public Charter School
Youth Education & Enrichment
Aspire! Afterschool Learning
Fairfax Library Foundation
Horizons Greater Washington
Main Street Child Development Center
Multicultural Career Intern Program
San Miguel School
HUMAN SERVICES
Basic Needs, Food, & Housing
Community Lodgings
HomeAid Northern Virginia
Rebuilding Together Montgomery County
The Brain Foundation
The Dwelling Place
Girls & Women
Girls on the Run of Montgomery County, MD
Immigrant & Refugee Services
Liberty's Promise
Life Skills, Training & Employment
Per Scholas National Capital Region
Street Sense Media
Growth Partners over $4 Million Budgets

EDUCATION
Youth Education & Enrichment
Washington Jesuit Academy

Mentorship & College Access
Urban Alliance

HUMAN SERVICES
Basic Needs, Food, & Housing
A Wider Circle
FACETS Cares, Inc.
Miriam's Kitchen

Children, Youth, & Families
Center for Adoption Support and Education, Inc.
Community of Hope

Health, Wellness, & Senior Services
Iona Senior Services

Life Skills, Training, & Employment
Housing Up

NATURE
Environment & Animal Services
Audubon Naturalist Society