Inspiration to Action 2012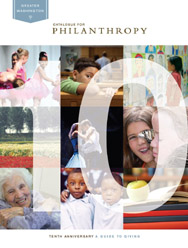 Celebrating Ten Years of Connecting
Caring Citizens with Worthy Community Causes
Here in the Capital Region.



Join Us As We Honor Catalogue Nonprofits
Celebrate a Decade of Extraordinary Achievements
And Look to the Future



---


December 3, 2012

Sidney Harman Hall
610 F Street NW
Washington, DC



5:30 pm Reception
6:30 pm Program
7:30 pm Dinner and Live Auction (by reservation only)

Dress: Business Attire

The main event (Reception and Program) is open to this year's featured nonprofits, organizations previously featured in the Catalogue, sponsors, reviewers, guests, press, and other friends of the Catalogue.
Tickets are free, but limited. To RSVP please use the reply form attached to your previously emailed invitation, or call 202-955-6538.

For the first time this year, we are also hosting an intimate benefit dinner (and live auction) following the program. Meet and mingle with Catalogue donors, corporate sponsors, nonprofit ambassadors, and other friends of the Catalogue as we celebrate the power of the Catalogue initiative – toasting the ten years past and looking to the possibilities of the next ten.
Call the office for more information: 202-955-6538

Click here for directions and other travel information.


---
Live Auction!

Dinner attendees will have the opportunity to bid on these exclusive, one-of-a-kind auction items:



Aspiring Dancer's Dream
Four orchestra tickets, a walk-on role for one aspiring dancer or stage struck actor, and a backstage, meet-the-dancers tour for Septime Webre's magical THE NUTCRACKER. Choice of dates in 2012 or 2013.
Donated by The Washington Ballet


Inside the Institute
Aspen Insider's Pass to 2013 East Coast events. Join a select group of thought leaders and friends; meet distinguished authors such as Walter Isaacson & Evan Thomas; senior policy officials such as Madeleine Albright & Condoleezza Rice; and noted journalists such as David Wessel & Hedrick Smith. Scoop a seat at the Washington Ideas Forum (DC) and the Tisch Leadership Series (NYC).
Donated by The Aspen Institute


Flight of Fancy
Two hours in the Fighter Demonstration Center for a complete orientation and the opportunity to fly the F-35 Lightning II and the F-22 Raptor cockpit demonstrators.
Donated by Lockheed Martin Corporation with Capital Area Food Bank


Mastering Mixology
'Hemingway Happy Hour' at Hank's on the Hill, Chef Jamie Leeds's latest restaurant. Cocktail & appetizer pairings for four, influenced by Hemingway's "A Moveable Feast." Mixologist Gina Chersevani will teach your guests how to make drinks as the masters do. No shortage of oysters.
Donated by Share Our Strength


Sports Fanatic Favorites
For the sports fanatic in your family: Washington Capitals autographed hockey stick and Washington Wizards autographed jersey.
Donated by The Leonsis Foundation


Fundraiser for Free
A fundraiser for the charity of your choice in the beautiful, downtown Pepco Edison Gallery. Includes venue and catering for 100 by DC Central Kitchen's Fresh Start.
Donated by Pepco Holdings


Fundraising Innovation Forum
Full-day event strategy & design forum with a team of innovators, creative architects, and x-factor strategists to help create an experience that will truly inspire. Includes audience targeting, development of the "value proposition," format & flow of a fabulous event.
Donated by 360 Live Media Charitable Fund


Knowing Your News
Newsroom tour at the Washington Post headquarters (10 adults). See where the Watergate scandal was unearthed and where today's top news is produced. A 30-minute discussion with a Post news personality, a Washington Post press plate, and signed book by a Post author.
Donated by The Washington Post




---


Benefit Sponsors


Capital Group Private Client Services
CGI
360 Live Media
Harman Family Foundation
Jennifer Hillman and Mitch Berger
Michael Lainoff and Kathryn Kincaid
Lipman Hearne
National Geographic



---
See below our album of photos from last year's event.
For the best view, click the album cover and choose "slideshow" on the upper left corner.


We look forward to seeing you on December 3rd!