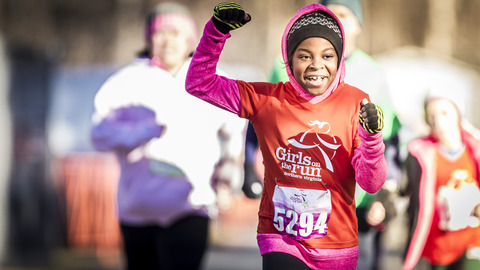 A recent study showed the average American girl's self-esteem peaks at age nine and then plummets. Diminishing confidence makes every hurdle in friendships, school, and home life more difficult. But each year, Girls on the Run of NOVA teaches 5,000 girls in grades 3-8 that they are strong, healthy, and ready for any challenge. Trained volunteer coaches lead girls through a 10-week season of interactive lessons and running clinics. The research-based curriculum addresses the whole girl, inspiring healthy habits and choices that impact emotional and social well-being, as well as physical health. And at the culminating, region-wide 5K fun run, families cheer for the girls from the sidelines or even run beside them.

GOTR NOVA works. Regardless of background or income level, girls emerge from the program more likely to engage in exercise, with stronger relationships with both their peers and supporting adults, and with higher self-esteem. GOTR NOVA is currently only reaching 25% of local girls. Help us reach more girls with our life changing curriculum. Our goal of $3,000 will allow us to launch a new team at a school in an underserved community, offering scholarships to all participating girls and supporting our volunteer coaches with the training and materials they need to be effective.
---
About the Catalogue for Philanthropy: The Catalogue selected us as one of its featured nonprofits! Each year 120 expert reviewers evaluate applicants for distinction, merit, and impact. Each featured charity has been successfully site visited and its financials given the thumbs up. The Catalogue for Philanthropy charges no fees and raises funds separately to support its work. Since 2003, it has raised over $40 million for charities across Greater Washington. The Catalogue for Philanthropy looks to friends like you to keep our services independent and entirely free of charge. Consider a small contribution to the Catalogue to cap off your gift and help the causes you care about get the full support they deserve!
---
Contact Girls on the Run of Northern Virginia:
Katey Comerford
Executive Director


10301 Democracy Lane Suite 100
Fairfax, VA 22030
703.273.3153
gotrnova.org