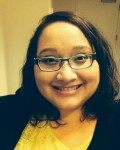 This week, the Catalogue for Philanthropy "7 Questions" series welcomes Rebekah Mason, of Legal Counsel for the Elderly, an affiliate of AARP. Rebekah is an LCE Staff Attorney who works on their Veteran's Advocacy Project, which reaches out to elderly, low-income veterans to make sure they are receiving the benefits owed to them. 2015 marks the 40th anniversary of Legal Counsel for the Elderly. Today, they continue to provide free legal and social services to DC's most vulnerable seniors. Welcome, Rebekah!
1. What motivated you to begin working with this organization?
I have always been motivated to work for causes that bring justice to the most vulnerable populations. Many members of my family suffered greatly due to Hurricane Ike and were displaced. As a fellow at the National Low Income Housing Coalition, I was fortunate to be an advocate on behalf of vulnerable low-income folks who needed access to safe and decent affordable housing after being displaced by a natural disaster. When reviewing opportunities for poverty law in the District of Columbia, Legal Counsel for the Elderly, an affiliate of AARP, stood out to me. LCE serves DC's most vulnerable seniors in a way that motivated me to make DC a permanent home.
2. Tell us a little bit about a current project you're working on with them.
I consider myself very fortunate to be working on traditional legal services cases which help ensure DC seniors have the income and benefits and health care coverage that they are entitled to receive. I am currently working to grow our Veteran's Advocacy Project. LCE works with low-income senior DC veterans who may owe money to the Department of Veterans Affairs. We help request payment plans, waivers of the debt and other remedies for our clients. We also help clients apply for VA Pension. For many of our clients who are very low income or even homeless, these benefits can be life-changing.
Another project thanks to special funding from the DC Mayor's Office of Latino Affairs is our Latino Outreach project. LCE works to reach out to Latino seniors who may not know about our free legal services to ensure greater access to justice for this traditionally underserved population. We help many bilingual and monolingual Spanish speaking clients who need access to public benefits and other legal services to remain safe and independent in the community.
3. Who inspires you (in the philanthropy world or otherwise)?
My family has many Marines, Army, Air Force and a few Navy veterans. I feel proud to honor the service and sacrifice they made to our country, by serving our DC veterans in need of access to justice and legal services. My late cousin Frank M. Tejeda was a decorated Marine who served during the Vietnam conflict and received a Bronze Star, Silver Star and a Purple Heart. Frank later proudly served as a Democratic leader in the Texas House of Representatives, the Texas Senate and finally in the United States House of Representatives. He was a strong advocate for veterans as he served on the House Armed Services Committee and the Veterans Affairs Committee. After his passing, he has been honored in Texas and throughout the country as a true advocate for our nation's veterans. I like to think that I am honoring his incredible legacy, a legacy which drives my own passion for serving those who have served our country. Frank Tejeda and all of my friends and family who have served in the military, and the countless veteran clients we see every day they are the inspiration behind the work we do in our Veterans Advocacy Project at LCE.
4. Do you have a favorite story about the impact of your work in the community?
I once worked with a wonderfully vibrant DC senior. As we went to court to appear for her case, she mentioned to me that she had received a beautiful gift from Legal Counsel for the Elderly. I was unsure what she was referring to, but she was all smiles as she pulled from her binder a worn and frayed copy of a flyer that LCE developed and passes out to educate the DC community about a tax credit that DC seniors are eligible for called Schedule H. Because the benefit is often overlooked by the very people it could benefit, LCE conducts outreach and legal clinics and creates education materials about this often under-utilized benefit.
My client explained that she was approached by someone in South East DC, who gently handed her the flyer and said something along the lines of "Maybe this benefit will help you." What a heartwarming story this could be, even if it ended there. My client, as a grandparent caregiver, is active in DC organizations that serve this unique population. As an advocate herself, she went to her next caregiver meeting and stood in a room of DC seniors to speak about the tax credit and that LCE helps folks obtain this benefit. My client told me that so many people were excited about the benefit, that the group leader made copies of the flyer for everyone who wanted one. When I think about this story, and share it with your readers, I think about the power of one person making a difference in the community.
5. What is the single greatest challenge that your organization (or project) faces and how are you dealing with this challenge?
A problem we often face is meeting clients when they are in one crisis and learning of other legal issues that they have dealt with in the past without seeking the advice or counsel of an attorney. For example, a client might call LCE because they are being evicted, and we may learn that their benefits from the Department of Veterans Affairs were wrongly reduced six months ago but the client did not understand their right in appealing the decision.
We conduct a great deal of community outreach, and use social and traditional media to educate the community about our free services. Every mention from a former client, intern, colleague or family member of someone we previously helped, means we may reach one more DC senior who might need and be able to access our services in the future.
6. What advice do you have for other people who want to get involved in this work?
If you are interested in poverty law or social work, then find a way to meaningfully spend time with the client population in an ongoing volunteer capacity. Find your local homeless shelter or veteran organization or senior wellness center and inquire about volunteer opportunities. LCE has several opportunities for retired volunteers, as well as law student volunteer internships. Surrounding yourself with the folks that you may see as a poverty lawyer or social worker, will give you the sense of the targeted population you may feel compelled to work with. Many organizations like Legal Counsel for the Elderly have ongoing needs for committed and dedicated volunteers who can help expand our capacity this will be a double blessing for you and the community.
7. If your organization has a special end of year event or fundraising appeals, please tell us about them.
This year Legal Counsel for the Elderly celebrated 40 years of serving vulnerable DC seniors in need of access to justice. In honor of our 40 years of service, Legal Counsel for the Elderly encourages you to join us as a Sustaining Partner with a recurring gift of $40 per month or $40 per quarter. It's quick, easy and safe to set up your automated donation via LCE's GiveDirect site at http://bit.ly/LCEdonate. Your generosity gives our older neighbors a chance at access to justice!