Written by Diane Dauplaise, Network for Victim Recovery of DC Bilingual Staff Attorney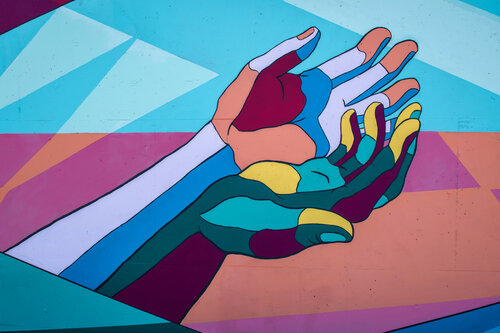 One of the things they don't teach you in law school is that practicing law at a nonprofit is an exercise in creativity. But nothing in my previous five years of practice prepared me for the effect of COVID-19 on a caseload filled with some DC's most vulnerable populations. As DC Superior Court began curtailing operations down to the most essential court functions, our organization worked overtime assessing the impact these changes would have on crime victims' rights. As an organization we also anticipated that COVID-19 would affect correctional facilities' ability to safely house inmates thus requiring the release of some inmates. The challenge would be to find a way to give victims a voice, balanced with the very real threat facing incarcerated men and women from this disease.
People who have experienced crime often struggle with a sense of powerlessness. Many people don't realize the burden crime victims' shoulders in the weeks, months and even years after their victimization. Consequences such as medical bills, hours missed from work, moving expenses can pile up on someone who is still trying to process the trauma of what has been done to them. This impact can be felt even more so when you are the victim of crime at the hands of a loved one. Suddenly child custody, housing, and public benefits are all called into question. Being a victim of any crime is a process full of uncertainties – and that was before COVID-19 changed the entire landscape of crime victims' rights.
Cases in Washington, DC are covered by both the Crime Victims' Rights Act (CVRA), 18 U.S.C. 3771, and the DC Crime Victims' Bill of Rights, DC Code Section 23-1901. These two pieces of legislation essentially guarantee crime victims' rights such as being treated with "fairness and respect," being notified of court proceedings, and receiving information about the conviction, sentencing, imprisonment, detention, and release of the offender. While these rights do not allow a victim to "direct a prosecution," they do ensure that victims are given reasonable notice about crucial decisions, such as charging, plea offers, or a defendant's decision to elect a trial. These rights not only keep victims informed; they are also crucial in keeping victims safe. For instance, if a prosecutor alerts a victim that the defense will be seeking pre-trial release for a defendant that victim can then safety plan with an advocate and take additional precautions to keep themselves safe if the offender is eventually released. Courts and prosecutors work to strike a delicate balance between these rights and the rights of defendants facing a criminal prosecution.
This delicate balance became all the more challenging in light of COVID-19. Many defense attorneys expressed rightful concern that their clients who are elderly, immunocompromised, or had a variety of underlying health issues would not fare well in a correctional facility where many inmates live in close quarters. In response to these concerns the criminal division of the DC Superior Court issued an order creating a "Motion for Release from Detention Based on the COVID-19 Pandemic." This pleading would allow defense attorneys to argue why an inmate's condition made them vulnerable to the pandemic allowing the court to weigh that against the charges facing the defendant and the amount of time served. The motion further directed that defense attorneys shall notify the government when filing such a motion.
The team at Network for Victim Recovery DC (NVRDC) advocated to have this order amended to require that "the Government shall certify that is has made efforts consistent with its obligations pursuant to DC Code 23-1902 Notice to crime victims and 18 U.S.C. 3771," essentially ensuring that prosecutors had to make efforts to alert crime victims if a defendant is even seeking release via a COVID-19 motion. NVRDC made similar arguments in a letter to DC leaders. Notice is crucial for crime victims especially in a time where quarantines have limited the safe places a victim can go and stay. Many victims rely on the homes of elderly relatives as a safer alternative of where to stay if they know their abusers are at liberty; however, in light of risks to older populations this isn't a viable option for many of our clients. Advocates have been helping connect our clients to Crime Victims Compensation for housing alternatives when victims have expressed a concern for their safety. In additional to all of these reasons, the notice is important because it is a step in returning power to a victim who may have been left feeling powerless after an assault.
In addition to the DC Superior Court's order the DC Department of Corrections also expanded the "good time credit" for inmates, which is a calculation that allows inmates to earn time off of their sentences for completing months of "good behavior," i.e. no disciplinary violations. This change in calculations led to several of our attorneys finding out that defendants were to be released within a day. This presents an extra challenge because, unlike a COVID-19 Release Motion, good time credit is decided wholly within the Department of Corrections and many times prosecutors are not alerted when a defendant is released, meaning our crime victims' rights attorneys are not formally alerted either. Our attorneys have been signing themselves up for automatic notifications available through Department of Corrections to at least be notified when a release occurs. This allows us to give our clients the most up to date information and take any precautions necessary.
As the avenues for a defendant's release were expanding the DC Public Defender Service filed an emergency motion seeking the release of all inmates serving misdemeanor sentences. NVRDC responded with an amicus brief, not opposing the motion, but asking that the court treat cases of domestic and sexual violence. as well as stalking. on a case-by-case basis affording the victims notice and an opportunity to be heard. NVRDC specifically noted that domestic offenders who reoffend are most likely to do so quickly after their release. Giving victims the opportunity to be heard on these cases allows for case specific requests, such as GPS monitoring or stay away orders, which could directly impact the victim's safety when there is an articulable basis for concern.
Throughout all of these challenges, NVRDC has recognized the potential safety risk to incarcerated defendants and has never sought to oppose the wide release of incarcerated defendants. The recurrent theme through our motions and briefings has been to give victims a voice in a confusing and uncertain time. It really all goes back to the powerlessness of being a crime victim. NVRDC truly feels that every time we can at least give victims notice, information, and an opportunity to be heard we are helping to replace the loss of power felt by victims of crime. By restoring power, dignity, and self esteem crime victims can thrive and provide thoughtful insight to help the criminal justice system function better, and help judges and prosecutors make the best decisions possible about defendants' fate. I am proud to work for an organization using creativity, ingenuity, and teamwork to empower crime victims even through an uncertain and confusing time.
This blog post was originally published on April 14, 2020 on the NVRDC website.