Written by Leah Paley, Executive Director of Laurel Advocacy and Referral Services
What a year it has been. COVID-19 served a devastating blow to those who were already experiencing hunger, homelessness, and fear of an uncertain future. I will personally never forget the shaky voice of the mother who called us from a motel with her four children crying in the background. At the height of the pandemic, she was running low on food and money to keep her family sheltered for another night. This call was just one of hundreds we have received over the past six months.
I asked our frontline staff to reflect on what things have been like at Laurel Advocacy and Referral Services (LARS) since the start of the pandemic. This is what our Emergency Services Manager, Alli Milner, shared with me:
What has work and/or life in general been like for you over the past few months since the pandemic started?
"During the pandemic it seems like even the simplest task has become complicated. Before, we could easily unlock our doors and allow clients to come in and sit down. We could easily hand them clipboards with their paperwork and collect their information. Now, our doors are locked and we have to wear masks and gloves. We try to avoid handing things like pens and clipboards to clients, and when we do, they are sanitized after use."
What feelings have you had?
"Some days, I feel like we go non-stop. Right now, there are so many people who need support and it can get overwhelming. But, it has been great to see how people in the community are stepping up and supporting one another."
What feelings or worries have your clients expressed?
"Clients are expressing a lot of concern for the future. Many of our clients have lost employment or they have been furloughed. There are also concerns for safety and some feel that by leaving their home to get help they are putting their health at risk."
Although Maryland's infection rate is declining, thousands of residents across Prince George's County are terrified of losing their housing now that the moratorium on evictions has been lifted. The National Low Income Housing Coalition (NLIHC) reported that "Before the pandemic struck, a quarter of all renters – and 71 percent of extremely low-income renters – were paying over half their incomes for housing, too often leaving them one emergency away from eviction. Now we're seeing millions of people all have those emergencies at once."
Across Laurel's four zip codes, the average housing wage (the hourly wage one must earn to afford a modest two-bedroom rental home without spending more than 30% of their income on rent) is $34.80, or $72,400 per year. This is more than three times the earnings of a minimum wage worker. A single parent working as a grocery store cashier would need to work over 120 hours PER WEEK just to afford basic shelter for their family. Essential workers in food, transportation, health, and other service industries are the backbone of our community, and this pandemic has made that even clearer. Yet these vital members of our community are up against impossible odds. The numbers simply don't add up.
Despite the disheartening state of the world right now, we have also witnessed incredible acts of kindness in our community, like City of Laurel employees who helped us quickly transport food to that family in the motel, along with many of our senior and immuno-compromised clients. Or the young man who collected over 200 bags of toiletries for LARS in lieu of birthday gifts. And LARS' Permanent Supportive Housing participant who called us to meet him at Giant to collect a cart full of groceries he had just purchased for our food pantry. Or LARS' Self-Sufficiency Program participant who received a bonus at work and donated it to LARS to pass on to someone in greater need. Often, we see that those who have the least give the most. Because they know what it's like to go without their basic needs met, and the difference it makes when that worry is lifted.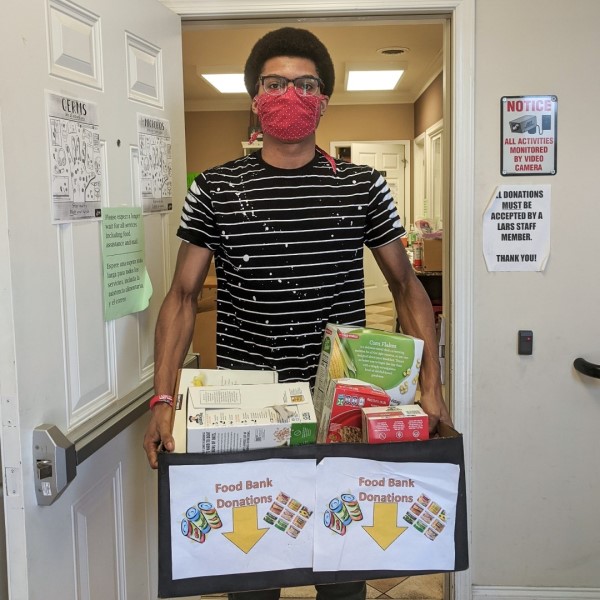 Kindness, gratitude, and hope have propelled our organization forward through this dark time. Let us make this collective experience a lesson on the importance of caring for all members of our society in good times and in bad.
For more information on LARS and how to get involved, visit www.laureladvocacy.org.