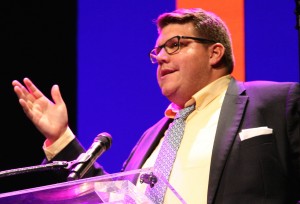 "What brought me to 826DC was the opportunity to help thousands of students in the District find their voices, to tell their stories, and to develop of love for writing and words"
In honor of National Poetry Month we welcome Joe Callahan, Executive Director of 826DC. 826DC is dedicated to supporting students ages 6-18 with their creative and expository writing skills, and to helping teachers inspire their students to write. They provide drop-in tutoring, field trips, after-school workshops, in-schools tutoring, help for English language learners, and assistance with student publications. Joe Callahanjoined 826DC in June of 2010. Prior to this, he worked as a writing professor at both American University and the George Washington University. In addition to teaching, he has worked and consulted for a wide range of non-profit organizations, including public policy institutions, museums, and a renowned literary magazine.
What motivated you to begin working with your organization?
Before joining 826DC, I was an adjunct professor teaching writing at two local universities. I loved being in front of a classroom, but I witnessed students at the college level struggle significantly with writing, organizing their thoughts, and crafting arguments. I thought about my experience learning to write having a couple great teachers who took the extra time to encourage me to explore, discover, and create arguments. I thought about my experience as a young student having teachers who encouraged me to dream up imaginative stories, and reinforced a love and power of words. Finally, I thought about those who might not have those opportunities or those teachers. It drew me to 826DC, then in its infancy. I started as a volunteer and eventually joined the staff, and soon thereafter became the Executive Director. What brought me to 826DC was the opportunity to help thousands of students in the District find their voices, to tell their stories, and to develop of love for writing and words.
What exciting change or innovation is on your mind?
At 826DC we have a small staff and we can only do what we do because of an amazing army of supremely dedicated volunteers. Locally, we have about 1,200 volunteers in our database, and each of them bring a unique blend of skills (and availability) to our work. I am excited about finding creative ways for engaging, recruiting, managing, and appreciating our volunteers one that leverages technology but doesn't eliminate the important personal side of community building. Nonprofits need to re-think how they engage volunteers and how they provide opportunities for volunteers to contribute whether it be micro volunteering, skills-based, or direct service. By creating an environment that supports and encourages volunteering, we can better deliver our services to our students.
Who inspires you (in the philanthropy world or otherwise)? Do you have a hero?
This is a tough one. There are so many people out there that I respect who are doing such great work. I really look up to the disrupters that are trying to change philanthropy for the better – I am thinking about people like Clarence Wardell III and Karan Jain of tinyGive, who are using technology to create systems to make donating easy and seamless. By eliminating barriers to philanthropy and making it accessible, we can motivate more and more people to participate in philanthropy. As for my hero, I'd say Kurt Vonnegut. Not only my favorite author, he was a fearless storyteller. He ignored genres and conventions and wrote as only he knew how, telling his stories the way he wanted to tell them.
What was your most interesting recent project/partnership?
This spring, 826 National released a STEM and creative writing book called STEM to Story. It is a series of STEM (Science, Technology, Engineering, and Math) experiments that connect with creative writing, like writing the zombie apocalypse, that are structured to help enliven STEM programming while also inspiring students to take on scientific exploration. Locally, we are working with the Points of Light Foundation to recruit a VISTA to help us launch the curriculum. I'm looking forward to working with writing teachers to bring science to their classrooms, and reaching science teachers who may not be familiar with our work.
What is the single greatest challenge that your organization faces (besides finances) and how are you dealing with this challenge?
Strategic Capacity Building. The need for our services is clear. Over the last five years, we have grown from serving a few hundred students to now more than 4,000. In the upcoming school year we hope to serve 5,000 DC public and public charter school students. This growth needs to be thoughtful. It needs to make sense for us as an organization. This growth requires more staff, more volunteers, a larger and more comprehensive infrastructure, and yes, of course, more money. By having a strong strategic plan, and a commitment to our vision, we are able to find the right partners to help us grow steadily but strategically. Our board and staff are passionate about this plan and this growth, and their involvement and investment is imperative. But, this growth takes constant vigilance in order to be successful.
What advice do you have for other people in your position?
I have two major pieces of advice first, being an executive director can be lonely. Build a network of people who understand what you are going through, and what you have to do. They will be huge resources, and don't undervalue that type of contribution. Second, find something you love that has absolutely nothing to do with work and do it. You need to make time for it. It's unsustainable if you don't. For me, my creative passion is writing. I need to do it. I need to create worlds and characters and stories that have nothing to do with my job. I love to play golf and go to baseball games. When I do these things, I can forget about work for a little while and I get to create some distance. And when I get back to the office I am refreshed.
What's next/coming up for you?
April, National Poetry Month, is a really exciting month. We are partnering with the Academy of American Poets on a project, Read This Poem, which features local poets and their work. It is a great way for us to connect professional poets to our students and to shine a light on the creative community here in D.C.
To read more about Catalogue nonprofits that help grow the writing and poetry community in our DC-Metro Region, click here!