In this week's edition of #WhatsUpWednesday, we have volunteer opportunities to uplift young girls, a recipe that is both delicious and nutritious, and snapshots of our nonprofits in action: celebrating the joy of reading in schools, ensuring the safety and health of those living on the street, and showing off agricultural achievements!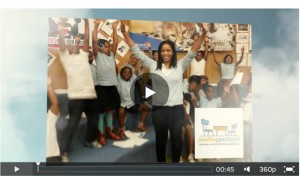 Girls on the Run – DC
Girls on the Run – DC relies on amazing volunteer coaches to help our teams of 8-15 girls recognize their inner strength! Apply today to be a GOTR-DC Fall 2015 coach!
Georgetown Ministry Center
Gunther and Dr. Crosland from Unity Health Care Inc. were doing street outreach and bringing healthcare to people who live on the street. Whether it's 10 degrees or 100 degrees, they are out there making sure people are okay!
Reading Partners DC
Reading Partners celebrated reading and the end of the school year, and took a great picture from Wheatley Education Campus (see that photo in the video above!).
Crossroads Community Food Network
The Crossroads Community Food Network is serving up Swiss Chard Wraps at the Crossroads Farmers Market's weekly nutrition education lesson, in partnership with University of Maryland Extension! Want the recipe? Get it here: http://eatsmart.umd.edu/recipe/swiss-chard-wraps. Come visit the market each Wednesday from 11-3 in Takoma Park for healthy produce, tasty lunch offerings, great music, activities for kids, nutrition education and more!
2Seeds Network
Mama Tatu from the Bombo Majimoto Project proudly showed Anderson from the Masoko Project the group's greenhouse and newly planted garlic!