This following post was written by the Greater Washington Girls on the Run councils (comprising of DC, Northern Virginia, and Montgomery County councils). The Catalogue for Philanthropy is proud to feature the GOTR councils for our first collaborative fundraising campaign on April 7th!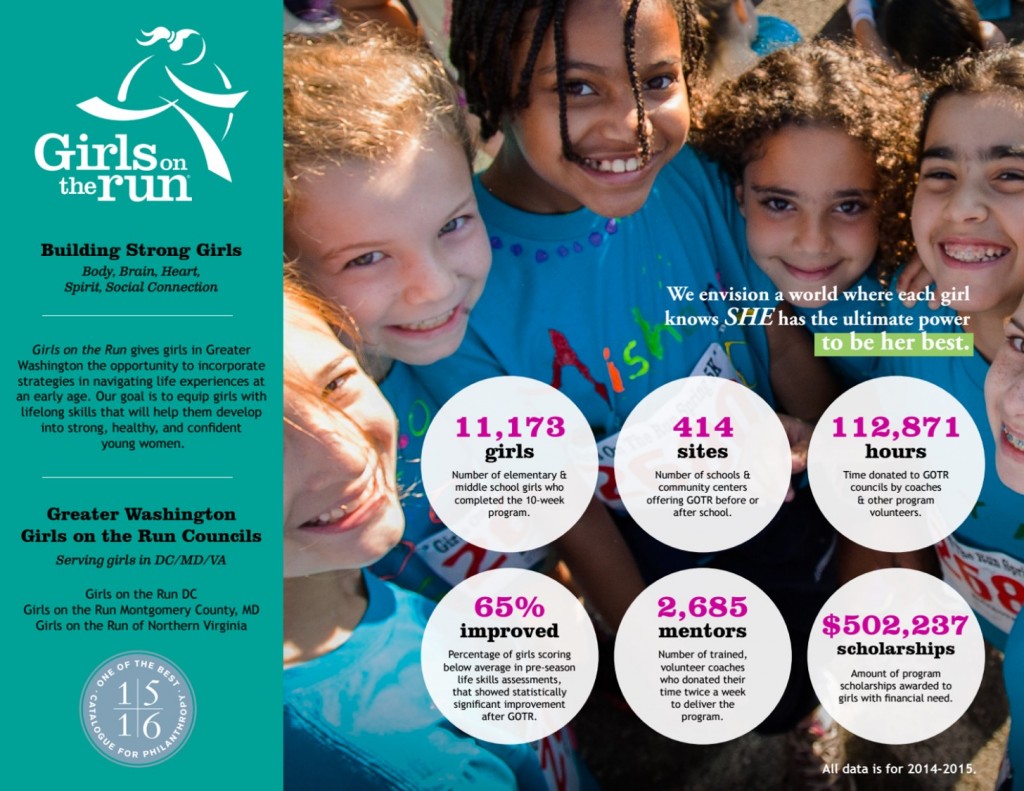 Girls on the Run (GOTR) is an empowerment program for girls in 3rd-8th grade – giving each participant the skills and experiences she needs to navigate her world confidently and to unleash her limitless potential! We teach girls life skills through a curriculum of engaging lessons and fun running activities. At each season's conclusion, the girls complete a celebratory 5K run that gives them a lifelong memory of accomplishment.
The result? Healthy, Confident girls who Can!
The GOTR program unifies girls around the region. It teaches them to embrace differences and find strength in connectedness, creating a common bond across all socioeconomic lines. The Greater Washington Girls on the Run councils provided $502,237 in program scholarships in 2014-2015 to girls with financial need. Financial support can make a difference in the lives of young girls throughout the region by providing critical resources or influence for more girls to learn valuable life lessons and know their limitless potential!
And, it works! To ensure program quality and efficacy, all of the councils in the Greater Washington area participate in a national survey of our program. The study is designed to determine the impact of program participation on girls' confidence, competence, connection, character, caring, contribution, and physical activity/inactivity. Since Girls on the Run is a physical activity-based youth development program, we also assess pre- to post-season change in physical activity and sedentary behavior. Findings provide evidence that Girls on the Run is having a positive impact on youth development, particularly for girls who need the program the most.
Our impact on girls speaks to the quality of our curriculum, and the support of our volunteers. Like many youth development programs, GOTR believes in the power of mentorship. We believe in it so strongly that it is part of our program model. Each team of girls is led by a female Head Coach who creates a safe space that supports girls' growth and development. This Coach, along with her Assistant Coaches contribute to this powerful and unique environment, together modeling healthy and supportive relationships. During the 2014-2015 program year, 2,685 people volunteered to be a coach and a mentor to the girls in our program throughout the region.
The Girls on the Run councils of the Greater Washington Area are partnering with the Catalogue for Philanthropy to host a one-day giving campaign on Thursday, April 7th. You can help us raise enough funds by giving 90 more girls the opportunity to be healthy, strong, and confident!