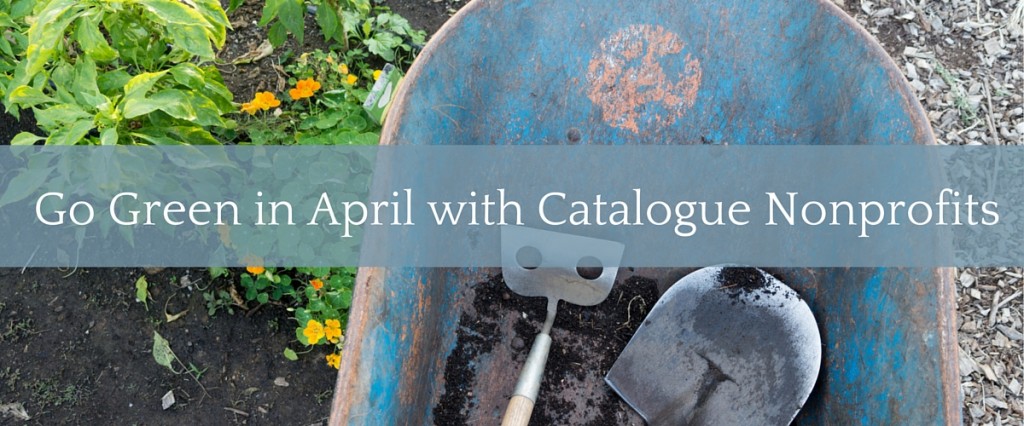 Looking for direction on how participate in Earth Day celebrations all month long? Look no further. We have 6 local nonprofits and dozens of opportunities for you to volunteer and help Greater Washington become a greener community: one park, garden, and river at a time! In addition to the nonprofits listed below, be sure to check out our full listing of local charities serving the environment.
Alice Ferguson Foundation Annual Potomac River Watershed Cleanup
The Annual Potomac River Watershed Cleanup has become a decisive catalyst for progress that ignites people throughout the watershed with the Alice Ferguson Foundation's community spirit. The largest regional event of its kind, the Cleanup provides a transforming experience that engages citizens and community leaders and generates momentum for change.
Date: 04/16/2016
Time: 9:00 am – 12:00 pm
Event information: http://fergusonfoundation.org/trash-free-potomac-watershed-initiative/potomac-river-watershed-cleanup/
Locations: http://trashnetwork.fergusonfoundation.org/map/
Note: Potomac Conservancy, Potomac Riverkeeper, and Rock Creek Conservancy, also members of the Catalogue network, will be participating in this event as well.
Potomac Conservancy's sites can be found here
Potomac Riverkeeper here.
Rock Creek Conservancy here
Anacostia Watershed Society – Earth Day Cleanup
Volunteer with the Anacostia Watershed Society in the area's premiere annual Earth Day Cleanup. Join over 2,000 AWS volunteers cleaning up our neighborhoods, parks, streams, and the Anacostia River.
Date: April 23, 2016
Time: 9:00 am – 12:00 pm
Location: Thirty-one sites around the Anacostia Watershed in Washington DC, and Montgomery and Prince George's Counties in Maryland.
More information: http://www.anacostiaws.org/earthday2016/
Common Good City Farm Season Opener
It's time to officially kick-off the season at Common Good City Farm's Season Opener! This free, family-friendly, community event will feature a seedling sale, cookout, farm tours, Spring herb walk, cooking demo, and fun farming activities for kids & adults. Come on out to the farm and help start the season off right!
When: Saturday, April 16th 11am-1pm
Where: Common Good City Farm, V Street NW, between 2nd & 4th Streets NW, next to The Park at LeDroit.
More Information: http://commongoodcityfarm.org/node/352
Dumbarton Oaks Park – Come Enjoy the Return of Spring
When:
April 9th: 9am -11:30am
April 23rd: 9am – 1:00pm
Meet: We meet at the top of Lovers Lane, approximately 3060 R St NW
Wear: Please wear long pants, long sleeved shirt, socks and closed-toe shoes for protection. Dumbarton Oaks will supply: Gloves, tools, training, snacks, water and fun!
RSVP/More information: info@dopark.org / http://dopark.org/volunteer/
Potomac Conservancy – Spring Family Tree Planting!
Spring has sprung! And what better way to celebrate, than by joining Potomac Conservancy and Stream Link Education as we plant native trees along streams in Frederick County, MD.
You and your family will learn by doing, helping get 750 trees in the ground in the second phase of this reforestation project. You will also learn about the essential link between trees and healthy rivers all while getting outside and enjoying the nice spring air!
When: Saturday, April 23, 9:00am – 11:00am
Where: 11308 Woodsboro Pike Keymar, MD, 21757
For more information and to register, visit: https://www.eventbrite.com/e/growing-native-family-tree-planting-frederick-county-maryland-tickets-22124060661
Rock Creek Conservancy – 8th Annual Rock Creek Extreme Cleanup
Each spring, we organize and promote the Rock Creek Extreme Cleanup, with trash cleanups at over 75 locations along the 33-mile length of Rock Creek. Our goal is a total stream cleanup of Rock Creek and its tributaries, the parks connected to Rock Creek, and the neighborhoods near Rock Creek where trash originates. We work closely with the National Park Service and Montgomery County Parks.
The Extreme Cleanup is part of the Alice Ferguson Foundation s annual Potomac River Watershed Cleanup, which occurs in four states and the District of Columbia in April. We do our part for a trash-free Potomac River by cleaning up Rock Creek, which flows into the Potomac near the Watergate Complex and the Kennedy Center for the Performing Arts in Washington, DC.
When: April 23rd, 9:00-12:00
More information: http://www.rockcreekconservancy.org/what-we-do/upcoming-events/8th-annual-rock-creek-extreme-cleanup