In the nonprofit world, you get used to making do. The holiday party is a no-frills potluck in the conference room. The office computers are long past their prime. The 21-year-old college intern is the technology consultant you've been waiting for.
As a group, we're comfortable with these compromises. With limited funding sources and seemingly endless needs, this is the price of prioritizing our mission above all else. Funding goes to those we serve.
But what happens when resources feel so scarce that our organizations struggle to grow? When we're only able to do the bare minimum for those who need so much more?
With over thirty years of experience, Carpenter's Shelter has learned that we can provide shelter day in and day out but without affordable housing, we'll never have long-term solutions to homelessness. We needed to create more opportunities for our clients to succeed. But how?
For us, the way forward was partnership. After more than a decade of thoughtful planning, Carpenter's Shelter partnered with the Alexandria Housing Development Corporation (AHDC) to redevelop our property, owned outright, on the north end of Old Town Alexandria, Virginia. Together, we drafted blueprints for a modern, multistory building with a 60-bed, purpose-built homeless shelter, 87 affordable apartments, and 10 permanent supportive housing units. When we complete construction in 2020, AHDC will own and operate the affordable apartments while we own and manage the shelter, run our programs, and provide wraparound services to the permanent supportive housing tenants living upstairs.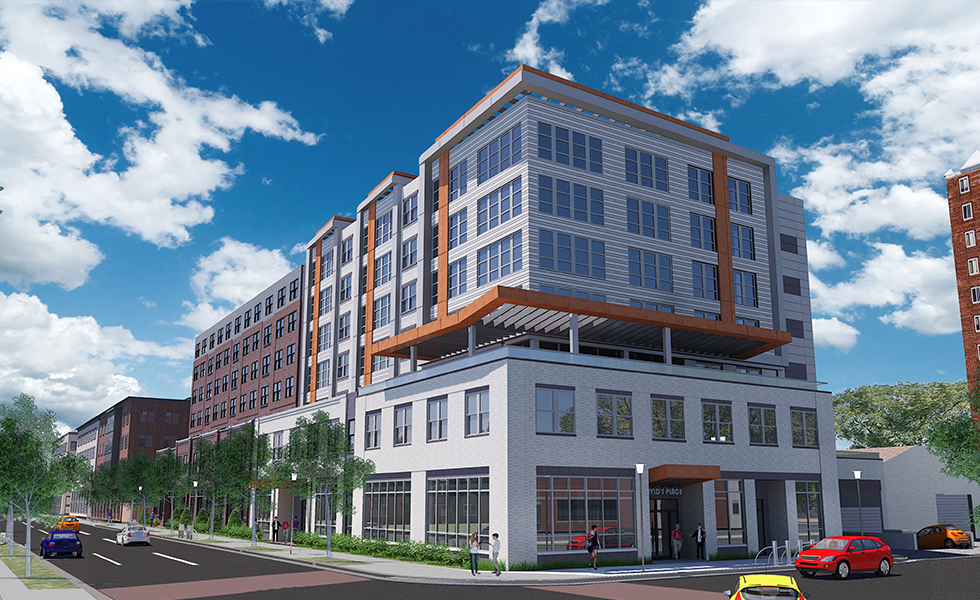 In order to make this dream a reality, we needed to vacate our longtime location and make way for demolition. As the providers of critical services, we also needed to find a temporary facility that could sustain our residents, programs, staff, and volunteers during construction. Simply closing our doors for 18 to 24 months wasn't an option. We had to think outside of the box and spend minimally to preserve funds for our brand new building. Where could we go?
Once again, the answer was partnership. After more than a year of what felt like wheel spinning, pieces of a plan began to come together. Our attempts to contact The Howard Hughes Corporation (HHC) finally landed, generating innovative conversations. As we talked, merging their business acumen with our nonprofit mission, ideas became action. Soon, we leased space in one of their properties, the largely vacant Landmark Mall, and retrofitted it to meet our needs. HHC was so enthusiastic about supporting their community that they waived base rent, leaving us to cover only our utilities and a portion of security, a shared building amenity.
Now, a year and half after connecting with HHC, emergency shelter residents eat their breakfast, do homework with their children, and plan for their futures in the Ladies' Activewear section of a former Macy's. Meanwhile, only six miles away, AHDC is beginning to lay the foundation of a building that will serve us and our community for decades to come.
This experience has taught us to think big and ignore the nagging voice inside that says, "That's impossible!" Instead, we've learned to see every connection, every potential partnership, as a doorway to the possible. Carpenter's Shelter may have had the initial vision and the land but we needed AHDC's expertise and HHC's openness to create something truly incredible. Now, we're only a year away from returning to our forever home.
Nonprofit organizations are always called upon to do more with less. But sometimes, when belt tightening and compromising just isn't enough, we have to do more…with others.
———
Written by Shannon Steene, Executive Director of Carpenter's Shelter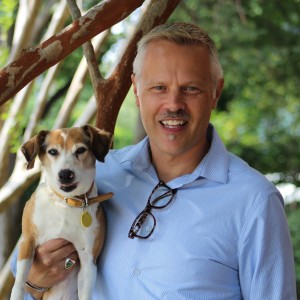 Shannon Steene became the Executive Director of Carpenter's Shelter in 2015. With over twenty years in the nonprofit industry, Mr. Steene leads overall operations at Carpenter's Shelter and serves as the primary spokesperson in the broader community. Prior to leading Carpenter's Shelter, Mr. Steene served on the staff team at Lutheran Services in America, leading the national nonprofit's member engagement efforts with more than 300 health and human service organizations. Before that, he spent 13 years at Good Shepherd Housing & Family Services, an award winning homelessness prevention nonprofit in southeastern Fairfax County; he served as the Executive Director for nine years of his tenure.
Carpenter's Shelter's mission is to support the homeless to achieve sustainable independence through shelter, guidance, education, and advocacy. To learn more about their programs and the New Heights Redevelopment Project, please visit www.CarpentersShelter.org.