It's your first day of fourth grade. You wake up after a night of tossing and turning with excitement to meet your new classmates and put on your first day of school outfit. You're heading out the door to hop on the bus and reach for your brand new backpack — but it isn't there. When your new teacher asks you to pull out the three-ring binder listed as "mandatory" on your school supplies list, your desk is empty. Your classmates start to laugh. You feel defeated, and you've only been at school for half an hour.
Everyone is familiar with some version of the back-to-school dream. In one way or another, you're unprepared for class, and your back-to-school dream becomes a back-to-school nightmare.
Horton's Kids, a non-profit that works in one of the most under-resourced communities in Washington, DC, recognizes that a backpack and school supplies are an important first step in a child's academic confidence and success. For some kids, back to school shopping is the most exciting time of the year. For others, it can feel overwhelming and impossible. The children we serve live in Wellington Park, a neighborhood without easy access to stores and public transportation. The average income in the neighborhood is $10,000 per year, and 80% of adults lack a high school diploma. As classroom supply lists get longer and longer, this can mean difficult decisions for the families we serve, between purchasing back-to-school supplies, and providing essential items the family needs.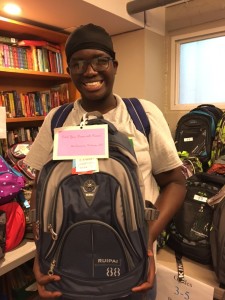 To help set the kids of Wellington Park up for success in school, Horton's Kids hosts Operation Backpacks, a school supply drive that collects durable backpacks and other fundamental school supplies. With the help of donors across the DC area, 110 children in grades K-5 and 95 children in grades 6-12 can pick a backpack of their choice filled with all of the notebooks, pencils, and other necessities for the school year.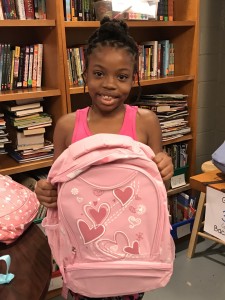 A solid foundation is critical for children to succeed academically- and a backpack and school supplies are an important piece of that foundation. Supplies prepare kids physically and mentally for class; they walk into a new school year assured that they have the tools they need to learn. For kids without the binder or backpack on the first day, school can become more of an obstacle than a catalyst of growth.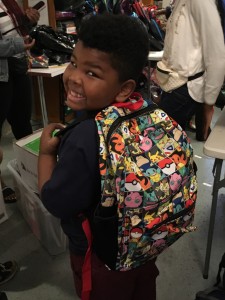 But what use is a backpack filled with paper and pencils and books if it doesn't get opened after the final bell rings? As an organization, Horton's Kids understands that there is so much more to back to school than supplies. This is why we provide year-round after-school tutoring with the support of more than 500 dedicated volunteers who tutor and mentor Horton's Kids participants. Supplies are foundational to learning, but highlighters don't help kids with reading comprehension or college applications by themselves. Development for Horton's Kids participants outside of school relies on a lot people, including family members, staff, volunteer tutors and mentors, and hard-working participants. If you want to help support a child through tutoring, homework help, or mentorship, we want to hear from you! We are still in need of volunteers for the 2019-2020 school year. If you're interested, fill out an application on our website or email volunteer@hortonskids.org.
Operation Backpacks helps fill the backpack with supplies, and the volunteers, staff, and participants at the heart of Horton's Kids fill it with confidence and success both in and beyond the classroom. By the end of the year, even though their backpacks might be empty of supplies, Horton's Kids participants are full of knowledge — This year, 100% of Horton's Kids kindergarteners can read on grade level, and for the past two years, 100% of Horton's Kids seniors have graduated from high school.
Imagine you're back in math class. A backpack full of supplies doesn't equal success alone, but a backpack full of supplies + dedication + support + a willingness and excitement to learn definitely does. Operation Backpacks is an integral part of that equation for Horton's Kids participants, and we are so excited to see where it takes each of them this year.
Horton's Kids empowers children living in one of Washington DC's most under-resourced communities so that they can graduate high school ready for success in college, career, and life. The children we serve live in a community with one of the highest rates of violent crime in DC, where the average family income is less than $10,000 per year. Children in Horton's Kids are twice as likely to graduate from high school.