This post was written by Nancy Erickson, Communications Coordinator of the Catalogue for Philanthropy
It was a hot, Saturday morning in August. I was fanning myself with a brochure seated at a table under a tent, one among many, in a church parking lot. In between greeting people walking by, I took in the smell of hotdogs, the sound of blaring hip hop, and the sight of kids jumping on a moon bounce. If it sounds like I was hanging out at a barbecue, you're right! But it was also my most recent volunteer experience with another one of the Catalogue's nonprofit partners, Housing Initiative Partnership.
Housing Initiative Partnership (also known by their fun acronym "HIP") has been a Catalogue nonprofit partner since 2013. Their mission is to revitalize neighborhoods and create economic/housing security in Prince George's and Montgomery Counties. They renovate foreclosed homes and develop new multifamily and single family homes to provide low and moderate income families with environmentally-friendly and high-quality affordable housing. Additionally, they provide financial counseling, helping some people prepare for first-time home ownership, and helping others avoid foreclosure.
I first found HIP while looking for volunteer opportunities on the Catalogue website. I reached out via email and got in contact with Lesia Bullock, their new Director of Resources and Communications. HIP has been a vital community resource for over 30 years and yet is still a "best kept secret" that many people don't know about. Lesia doesn't want it to be a secret anymore. So, she actively looks for opportunities to improve HIP's community outreach and raise public awareness about their services.
She invited me to be her volunteer helper in promoting HIP at the Palmer Park Back to School Block Party and Community Resource Fair, hosted by Maryland State Delegate Alonzo T. Washington. Delegate Washington had invited HIP and other local nonprofits to set up tables at the fair to share their resources with community members. My role as volunteer was to help her set up the table, hand out written materials and swag to passersby, and answer questions about HIP's programming.
It was already hot when I arrived at the Park View Baptist Church at 10:30 in the morning; I bathed myself in sunblock and donned my massive skin-cancer-prevention straw hat. Lesia got delayed at the thrift store where she was buying goodies to hand out to kids, so I went ahead and picked our table out for us. (Turns out I picked poorly — we were situated right next to the DJ, which meant that we would end up having to sometimes yell about HIP's wonderful services into people's ears.)
Once Lesia arrived, I helped her unload her car and set up the bright blue and green HIP collateral for our table. The wind was strong that day, which required some cleverly situated weights and clips to avoid HIP branded papers from flying everywhere.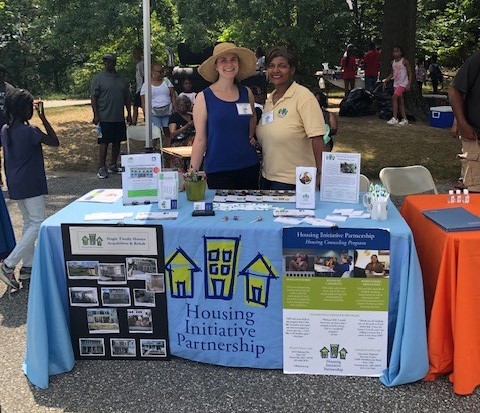 Some of these papers advertised HIP's upcoming housing opportunities just around the corner in Palmer Park. Right now, nine new NetZero Ready certified townhomes are already under construction. People interested in buying must take required homebuyer education courses with HIP.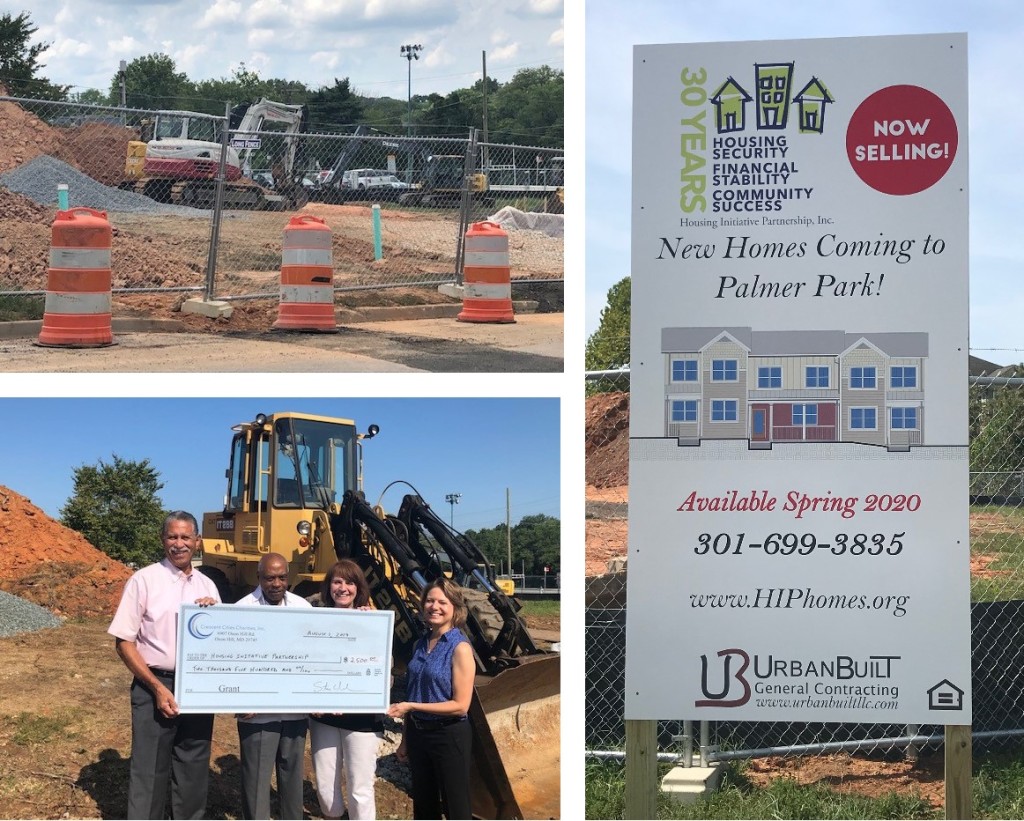 Lesia was in her element tabling. Not only did she know a thorough answer to every question asked her, she also seemed to know just about everyone at the block party (or at least that's how it felt to me).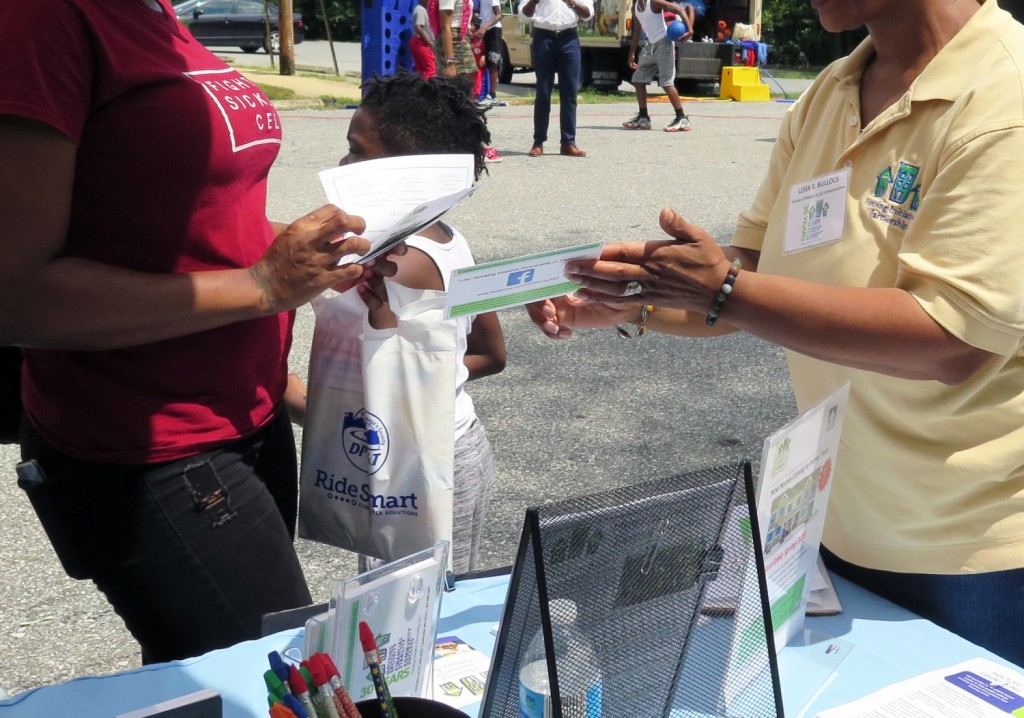 In addition to having a good relationship with our block party's charming host, Delegate Washington, she also knew US Representative Anthony Brown who swung through the event for a while to shake hands and give a speech. It was a pretty neat surprise to meet a member of Congress that morning. See, this is why you should volunteer! You never know who you'll run into.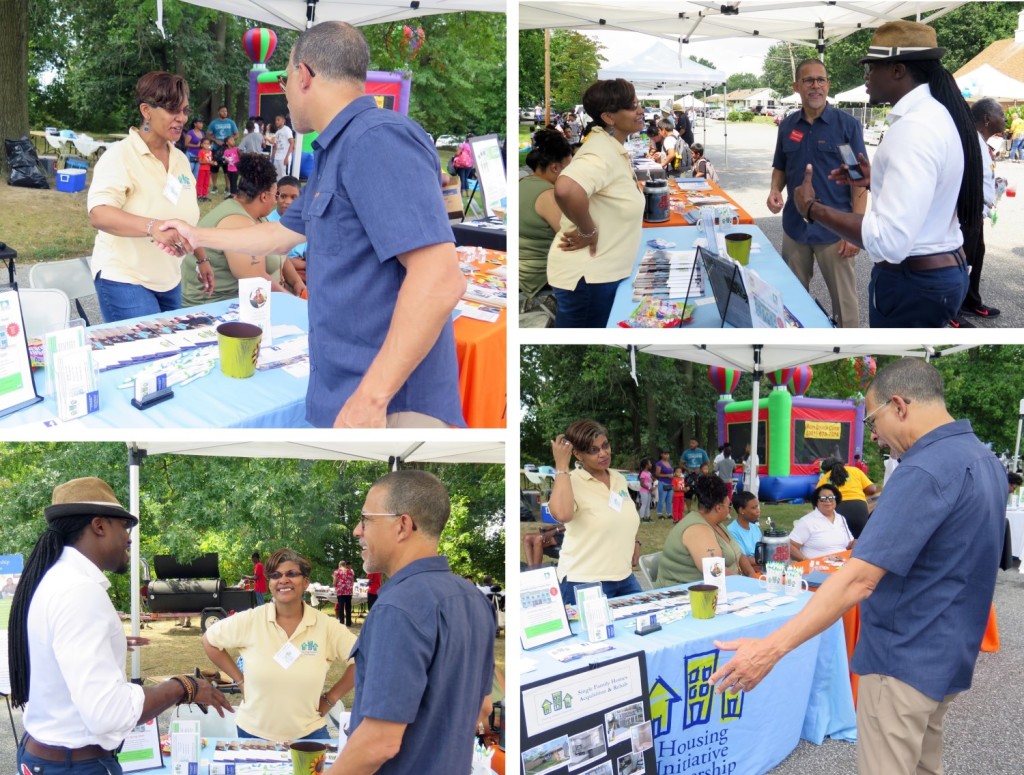 I recommend volunteering at community events and parties, because parties are fun! There were speeches, games, line dances, giveaways, and even a karate demonstration by a local studio.
Around 2 pm, I helped pack up and carry HIP materials back to Lesia's car and thanked her for the opportunity to learn more about HIP and help run the table with her. All in all, the block party/resource fair had been an easygoing volunteer experience. I enjoyed visiting a new community, seeing civic engagement in action, and learning more about one of our nonprofit partner's contributions to their community.
As Lesia continues to look for more ways to spread the word about HIP's work, you can potentially join her as a table volunteer at future public events like the one I helped out at, or their upcoming 30th Anniversary Networking Reception in November. Also, HIP can benefit from weekly administrative volunteers at their Hyattsville and Germantown offices to help take the load off of their hardworking counselors. If you're passionate about affordable housing and financial literacy, you can help out a trusted, community-based nonprofit by visiting HIP's website.