For many, Sundays are for football, worship and trying to not think about anything related to school and work. It is the last refuge before a Monday, a sanctuary day when no one is supposed to do anything for as long as they can.
Yet, on Sunday January 10th, we saw the next generation of mental health activists come into their own on the Our Minds Matter (OMM) zoom stream. Our Minds Matter hosted its Winter Leadership Training where over 75 students from 45 schools across the country joined to learn about how they can end the stigma against mental health in their school environments. Each student is a leader of an Our Minds Matter club and together with other student leaders and members, they work together to promote mental wellness and increase access to mental health support among their student body. These clubs have the potential to save lives and change the story around mental health; over 80% of participating students in OMM's summer 2020 wellness series reported an improved sense of well-being from the program.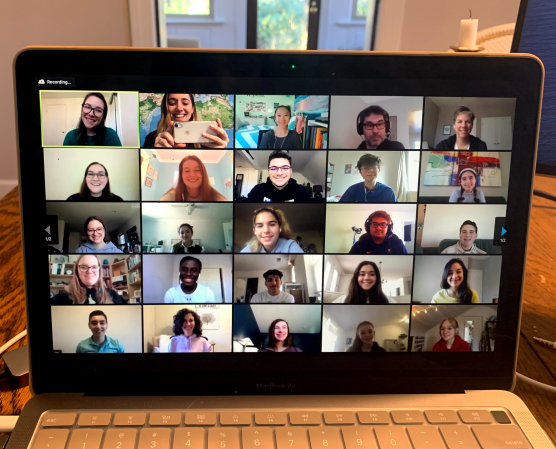 Led by Laura Beth Levitt and Catherine Royston of the Our Minds Matter program team, OMM's club network has seen explosive growth through its mixture of competent mental health wellness programming and peer-to-peer club model that allows teens to really become leaders of their own social movement. Student leaders work hand in hand with school officials, teachers, and mental health experts to help them speak out about their mental health issues and find adequate support. As COVID-19 has increased rates of depression and anxiety among teens according to the CDC, Our Minds Matter is working with teens to counteract the next public health crisis before it occurs.
The training touched on different aspects of leadership development, teaching students to be attentive leaders in both the administrative responsibilities of their club as well as build their interpersonal skills. A panel of student leaders presented tips, tricks, and challenges on the following topics: student recruitment, leveraging OMM resources, making online meetings interactive, school-wide campaigns, and leadership transition planning.
The most exciting part of the leadership training was seeing how each of these teens valued making a difference overall. During the question-and-answer section of the program, student leaders were asked about what they hoped for most in 2021 and their answers were powerful:
To be someone people can talk to in my community.
To bridge divides between people and communities.
To normalize the discussion of mental health.
To create a community for everyone to feel safe and welcome.
To build a life where I feel I made a difference.
To be a hotline for someone in need.
To leave behind a club that can make an even more long lasting impact.
Each student sees themselves as part of a larger movement, one that is building a world where mental health is treated with the importance it deserves. These student leaders directly see how their work needs longevity, that the change must persist after they graduate and embark on the next chapter of their life.
This is the level of civic engagement that Our Minds Matter promotes. We work with teens to help them realize their own power to influence social change. We already have young leaders hosting townhalls, working with government officials to provide more mental health support and challenging long-standing and archaic norms around mental health.
The session ended with a mindfulness exercise that focused on self-compassion. The calming energy could be felt even over Zoom.
This is all to build a world where no teen dies by suicide. Our Minds Matter student leaders are going to make a difference in 2021. We should all be in their corner, providing them support to succeed.