Main Street Connect creates dynamic opportunities through affordable, inclusive housing and community engagement so people of all abilities can live their best lives. In August 2020, we were thrilled to open our flagship affordable apartment community, with 25% of the units set aside for adults with varying disabilities. The building is spectacular, but what we are most proud of is the people. We offer a community of support, dynamic programming and an affordable place to live, belong, and thrive. With George Floyd's death earlier this year, we wondered how we could use our platform to bring our community together, how we could be true to our ethos of creating a space for belonging, and use our outrage at the current state of things to ultimately ask the question, WHY DO BLACK LIVES MATTER?
In collaboration with key partners and local leaders, including the Montgomery County Collaboration Council, Donte's Boxing and Wellness Foundation, and Virtues Matter, we collectively present an informative series of conversations to educate, support and make change! Thanks to support from Maryland Humanities, the National Endowment for the Humanities, and a generous donor, Conversations Matter was born. It is a free, four-part virtual series, open to all and intended to educate and address why Black Lives Matter, through the lenses of our local Black history and the intersectionality of race and disability. Our third and fourth sessions will share ways to take action in our local communities and sustain the change we all seek. To join the next Conversations Matter session, please register here.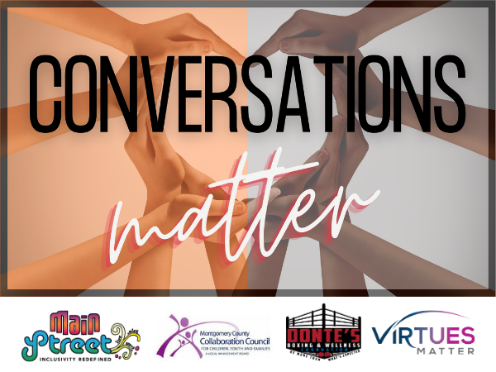 Our first session kicked off on January 19th, and focused on our local Black history, connecting what transpired in our own backyards with key moments in history and how those moments resonate today. The panel covered many different moments and key places in local Black history, including the U Street Corridor, also known as Black Broadway. Panelist Shellee Haynesworth, producer of Black Broadway on U Street, shared thoughts about how Black Broadway came to be: "Black communities built hubs out of necessity and served as early incubators for Black arts, commerce and culture. By 1920 there were 300 African American owned businesses on the U Street corridor, locally known as Black Broadway on U. It was insulated, a safe haven,?and they had all they needed so didn't need to leave and deal with the unpleasantness beyond their area." It was an area built by the Black community, for the Black community. Many in attendance during our first session wondered what happened to these Black corridors – many of them were wiped out due to gentrification and urban renewal.
Our second session explored the intersectionality of race and disability. Speakers Tatiana Lee, actor, model and Hollywood Associate at RespectAbility, and Lachi, performing artist, disability champion, and speaker with RespectAbility's Disability Speakers Bureau, shared their stories of the impact of working in the entertainment industry as a woman of color with a disability. As we work toward more diversity and equity in our communities, Lachi reminded us that, "Disability should be included as diversity."
Our third and fourth sessions will address ways to take action to support and expand racial justice in our own community and sustain the change we seek. We hope you can join us to learn more and get involved. We hope the connections made through our Conversations Matter series can be a resource to propel you to action and help sustain you as more informed community members and better neighbors. We have a long way to go, but we believe in the power of conversation to help us build a better world for ourselves and our children.
To register for upcoming sessions, click here.
Resources from the first session can be found here.