Local Nonprofit Bulletin
4.1.22
Philanthropic resources, news from small nonprofits in the DMV, upcoming events, and more! Have questions or something you want featured? Reach out to Amanda, our Communications and Marketing Coordinator, for shoutouts and collaborations!
Quick Word from the Catalogue
For small nonprofit professionals, our upcoming National Small Nonprofit Summit will cover actionable and effective ideas for fundraising, communications, and more — all rooted in Values-Based Growth! Register now to join us on April 7-8. Tickets are $25 or free for Catalogue nonprofit partners.
As the world begins to reopen, hear from our nonprofit partners on May 19 about what has sustained them and what gives them hope for the future. RSVP now for our Give Local Gala: Hope Springs!
Shoutouts
"The best investment in science is an investment in teachers," Jeanne McCarty, CEO of Out Teach, wrote in District Administration. Her article outlines three key steps to elevate science instruction district-wide for the long term.
Congratulations to the Prince William County Community Foundation for receiving the 2021 Nonprofit of the Year award from Mayor Derrick Wood, Town of Dumfries! From distributing meals and buddy boxes to awarding scholarships and micro-grants, we're excited to recognize their impact!
So What Else's Food Pantry in Montgomery Village, Maryland, recently hit record-breaking days of service to the community, providing approximately 51,000 meals to over 2,000 families during two recent Fridays! Their walk-up pantry is open every Tuesday through Friday from 10:00 AM – 4:00 PM and they host tours every Friday morning for community members to get involved and see their pantry services in action.
"HIV should be part of a self-care conversation, a conversation that speaks about the importance of caring for oneself," Elenilson Ayala, HIV Testing Coordinator at the Latin American Youth Center, spoke with WUSA in a segment on raising awareness about HIV testing among youth.
"When we put Black women's interest at the forefront of maternal health issues we'll be able to solve a series of issues," Raven Freeborn, Senior and Advocacy Policy Manager at Mamatoto Village, explained in Devon Haynes's 730DC article.
Get farm fresh produce grown for you by black farmers delivered to your door! Dreaming Out Loud is changing the food system through Black Farm CSA. They source the freshest produce available from a network of small to mid-sized socially disadvantaged producers and you can get freshly harvested produce from their trusted community of farmers.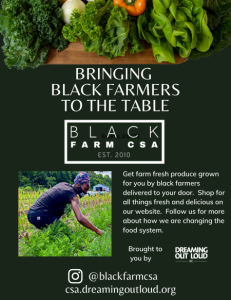 Events
March 25-April 24 | Visibility Art Lab's 2022 Exhibition
April 1-14 | Down To Earth: The Exhibit at Kenilworth Aquatic Gardens
April 3 | Young Artists of America's Spring production of AIDA and 10th Anniversary Celebrations
April 6, 12:00 – 1:00 PM | Bridges to Independence Listen & Learn
April 28, 9:30 AM – 12:45 PM | The Barker Adoption Foundation Annual Conference: Trauma-Informed Parenting
April 28, 7:00 – 9:00 PM | Bikes & Bow Ties: Celebrating 15 with Phoenix Bikes
May 1 | The DC Center's annual Gay Day at the Zoo
July 11-15 and August 1-5 | Girls Rock! DC's Summer Camp
Resources
Everything You Ever Wanted to Know Series | YNPNdc
Have you ever wanted to know more about how nonprofit leaders got to where they are? Join YNPNdc's new virtual speaker series to hear the stories of nonprofit leaders in our nation's capital! The series kicks off with an event on April 13 about Mentorship and the Value of Relationships with Lisa Rice, President and CEO of the National Fair Housing Alliance.
How Funders of Collective Impact Initiatives Can Build Trust | Stanford Social Innovation Review
This article by Victor Tavarez, John Harper, and Fay Hanleybrown explores four ways funders of collective impact efforts can help foster trust to strengthen collaboration and achieve greater impact.
Understanding the Fundamentals of Nonprofit Organizations: An 8-Part Business Law Course for Nonprofit Leaders | DC Bar Pro Bono Center
Beginning April 6, this business law course is designed for non-attorney nonprofit leaders with significant management responsibilities and other staff that seek to develop their management capabilities. Taught by expert lawyers and accountants with experience dealing with nonprofit organizations, the course will give you an overview of critical legal issues that apply to nonprofit organizations.
Taking Action | Empower DC
Every Tuesday at 1:00 PM, join Empower DC for an hour-long podcast about critical issues facing DC's low-income communities of color. Hosted on WPFW 89.3, the show brings in DC residents — the real experts — to talk about the challenges our communities face and solutions designed to uplift our people.
Multiple Resources | CORE
The Council Office of Racial Equity creates training, tools, and processes for local officials, staff, and the community to intentionally identify and disrupt implicit biases and systemic inequities in policymaking. From developing a racial equity assessment tool to collecting open data sets to designing Racial Equity Impact Assessments, CORE has created and linked to multiple resources on their website.