An Open Book Foundation: Learning is Like Planting Seeds
"I never knew birdwatching could be so fun," a student, and now citizen scientist, at Cleveland Elementary School exclaimed while on a nature walk around the school.
Earlier this May, students were visited by Lenora Todaro, sidewalk naturalist and author of Sea Lions in the Parking Lot: Animals on the Move in the Time of Pandemic, a children's book containing twelve real-life stories of creatures around the globe who reclaimed their habitat during the COVID-19 quarantine. Over the course of three days, students brought the urban wildlife lessons from the book to life with discussions of the habitats they found around DC and how to make these more welcoming for birds. They also build seed bombs together – clay balls filled with dirt and seeds that can be tossed anywhere for wildflowers to grow.
In a previous residency, students worked alongside author-scientist Heather Montgomery to build model bridges that would conserve wildlife by helping them across busy expressways.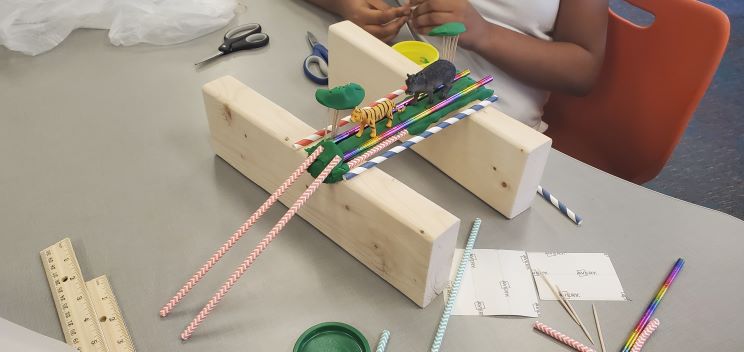 These hands-on activities are intentionally coordinated by the team at An Open Book Foundation, a children's literacy nonprofit that just launched a new STEM residency program to connect different writers, scientists, and researchers with classrooms across the Greater Washington area. "Science tells us that the probability of learning something is (higher) when we're actually doing it," says Josarie Molina, their Education Director. "(That's why) we're creating opportunities that are concrete and experiential, and those are the ones that'll most likely stick."
As someone who's melding her previous experience as an art teacher, school librarian, museum educator, and more in this role, Josarie knows how to create and iterate spaces that are collaborative, experimental, and, most importantly, joyous. "Stress is not conducive to learning or teaching. So, what An Open Book does is the total opposite. We're creating spaces (where students are comfortable and happy), so they can just enjoy knowing each other, the books, and learning. I think that is certainly paying off."
Inspired by another program they started during the pandemic that brought artists and illustrators into classrooms, these STEM residencies allow An Open Book (AOB) to excite students who are already interested in nonfiction and figuring out how things work while providing teachers with one more way to align with school curricula.
Prior to each residence, teachers and authors are invited to engage with each other so that teachers can share what their students are interested in, what the classroom culture is like, and what students have been studying recently, while authors can inform teachers of how to prepare for the residency environment. This ensures that authors can really connect with students and share their experiences from a genuine place.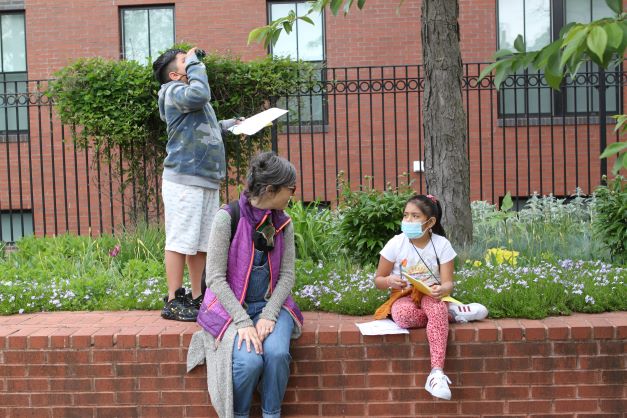 The AOB team then assembles all the materials students will need into packages that they deliver to students at school. From the book students will read to pens and pencils to items like binoculars for the nature walk, no item is too small for these packages, which also come with a short letter telling students – in both English and Spanish – that these materials are now theirs to keep and use during the residence and beyond.
"This is another aspect that's really important for the residence," Josarie states. "There's a vision and hope that students will pick up a practice that they can continue working on. With the (urban wildlife) residence, hopefully the students will continue using their binoculars and paying attention to all the city wildlife, looking at birds in different ways, and talking to other people about it."
86% of students who participated in the STEM residence program said they'd like to learn more about science – a strong indicator that AOB's experiential model makes an impact. In addition to giving students pre- and post-program surveys, the AOB team also collects quantitative and anecdotal feedback from the teachers and authors they work with to continually refine and improve their programming.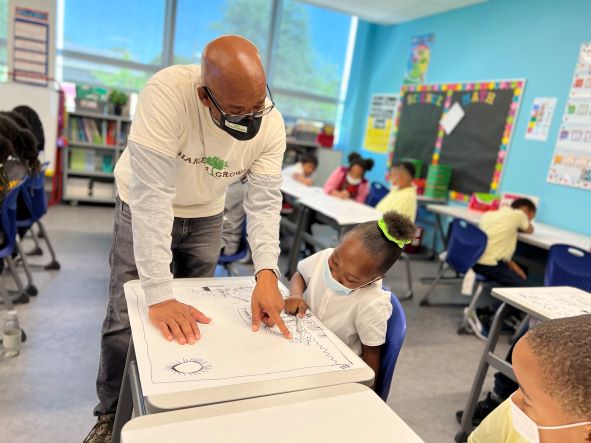 Most recently, students at Houston Elementary School connected with Tony Hillery, Founder and Executive Director of Harlem Grown, a nonprofit that inspires youth through urban farming, and the author of a book by the same name that tells the true story of students from an underfunded school who turned a vacant lot into a functional farm. The AOB residence ended with students planting their own seeds that they can return to, and watch grow.
"I like to think these students will carry this as a positive experience throughout their lives," Josarie shares. "We're metaphorically and physically planting a seed. In my mind, that's how I see the residence – it's like planting something that will continue."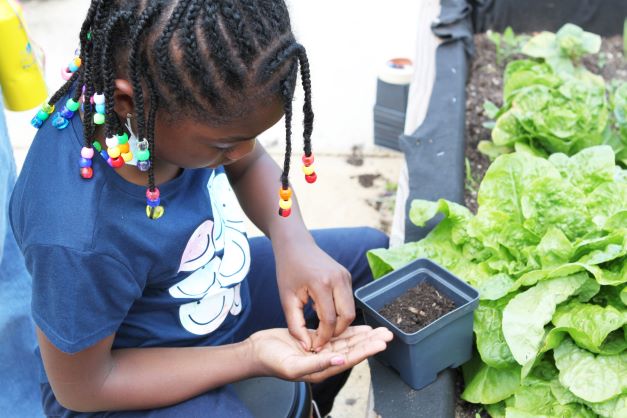 You can support An Open Book Foundation by donating, visiting their website, and staying updated on their work through email, Facebook, Twitter, and Instagram.