BEACON Celebrates its 30th Anniversary with 30 Student Success Stories and the Introduction of its $30 for 30 Years Monthly Giving Program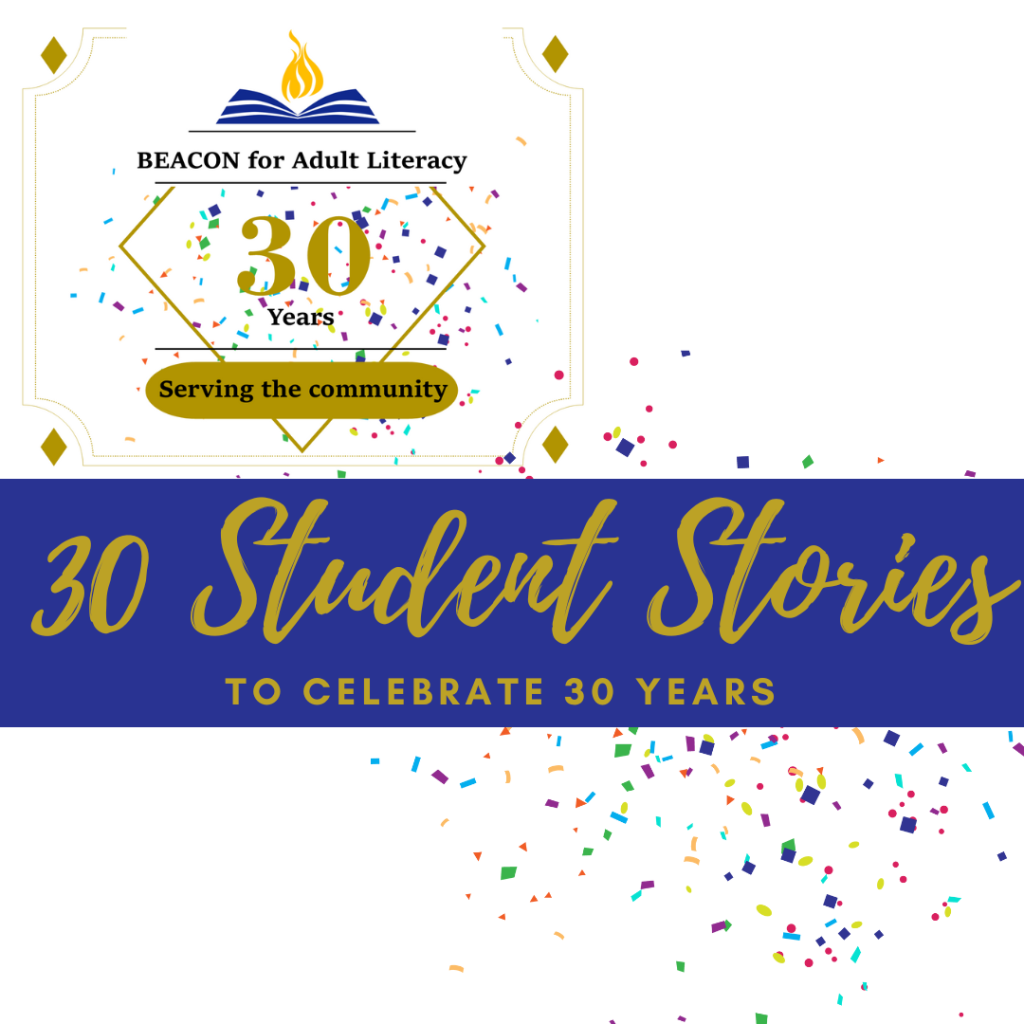 BEACON was founded in 1992 by the Benedictine Sisters of Virginia. A secular program inspired by the Benedictine love of learning, BEACON empowers its adult learners to enhance their quality of life through English language and literacy.
Our humble beginning started with Sister Eileen Heaps teaching a handful of adults to read and write using the only space available to her – a small kitchen of the Monastery. The program has grown to serve more than 400 students each year, powered by 100+ volunteers at three class site locations in the Prince William Community.
In celebration of our anniversary, BEACON is taking a trip down memory lane and sharing 30 student stories for 30 years of service. These stories give a glimpse into the lives of the learners served, sharing why the learners enrolled in classes, and the impact our program has had on their lives.
Over the years, adult learners from more than 47 countries have attended tutoring, small group, and classroom instruction in a variety of offerings centered around literacy, language, and citizenship. The 30 student stories series highlights accomplishments such as:
After taking ESOL and GED classes in 2007, Amelia pursued an Associates degree in architecture at Northern Virginia Community College.
In 2008, Bruno obtained his GED.
Claudia voted for the first time in 2008 after becoming a U.S. Citizen.
Naly worked with a BEACON interview coach in 2020 and got a new job.
Powered by passionate volunteers, BEACON goes beyond skills building. Students complete the program with more confidence, a greater sense of belonging, and hope for a better future.
One student returned 20 years later to tell our staff, "I really appreciate all that the BEACON program did for me and I don't know where I would be if I hadn't been able to take the classes. The teacher was wonderful and so encouraging."
Saeema, who was born in Afghanistan and grew up in Pakistan as a refugee, shared, "BEACON truly is a beacon of hope for people like me. BEACON's services are very well tailored for the needs of new immigrants, and I appreciate the friendly environment it has created for people like me, particularly women. I can get my education, something that I would not have imagined at my age and as an illiterate woman in my society in my home country."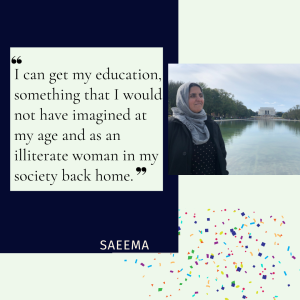 Grace, who became a newly naturalized U.S. Citizen after taking BEACON citizenship classes in 2018, also shared, "I'm so blessed to have found BEACON… I believe that BEACON has helped so many people, not only with the citizenship interview, but also with learning English and the American culture, so that we can feel like we have a place here in America and can work toward making a better life for our families."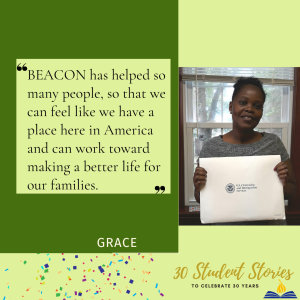 Another father shared with our staff that he gained the confidence needed to read to his 5-year-old daughter, and he saw her reading improve as a result of their time together.
While BEACON has taken the time to celebrate our impact over the last 30 years, we have also taken measures to ensure the sustainability of the next 30 years. Our board of directors recently completed a 3-year strategic plan, revised mission and vision statements, and the tagline, "BEACON for Adult Literacy" has been changed to "BEACON for English Language and Literacy" to acknowledge the difference between learning a language and learning how to read.
For those interested in supporting BEACON's next 30 years, there are many ways to get involved. We invite donors to join Sister Eileen's Legacy Circle by becoming a monthly donor. This year's goal is to obtain monthly donors at $30 or higher to help BEACON thrive for the next 30 years.
We are also currently recruiting for volunteers for the fall class session, which begins in August, for assignments such as testing/registration support, teaching classes both online and in-person, and special events. To learn more about how you can get involved, visit our website or apply here.
The 30 Years 30 Stories series continues into September, BEACON's official birthday month. Don't miss another #30years30stories student story! Stay connected with BEACON on Facebook, Twitter, Instagram, or sign up for our newsletter here.