Washington English Center: Building, Celebrating, & Empowering Community
For nearly three decades, Washington English Center (WEC) has provided affordable English-language instruction and workforce programs to adult immigrants using volunteers. From English-language classes to citizenship preparation to digital literacy training, they work with hundreds of volunteers each term to deliver their various support programs to thousands of immigrants from over 70 countries.
Since introducing online classes during the pandemic, WEC has been able to welcome even more volunteers and students from all over the world, in addition to helping students who live in the DC area but who may face barriers to attending in-person classes, such as access to transportation or childcare. This summer, the Catalogue for Philanthropy got a chance to speak with their Associate Director of Volunteers, Yaritza Abrego, and their Director of Development, Phillip Carlisle, about how WEC truly builds, celebrates, and empowers its community.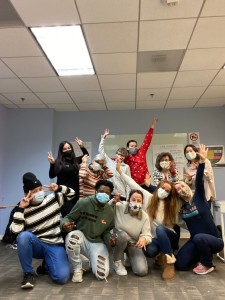 Catalogue: How would you define and describe the WEC community?
Phillip: Our community is resilient and warm. Resilient in that our students have come from around the world — because of economic reasons, changing climate, or political strife — yet they come to WEC wanting to learn more and improve the way they read, write, listen to, and speak English. Some of our students are in their early 20s, looking to go to college in the United States or find a fulfilling job and community among their peers; other students are grandparents who have lived in the United States for decades and raised their children here, but now they are looking to read to their grandchildren in English.
Along with students from so many backgrounds comes warmth. Our students know what it's like to be a stranger in a new country and what it takes to acquire English, gradually, through practice and memorization. No matter the proficiency level, it's not easy and takes time. That's part of why they are so interested in supporting one another through the process — with a number of our past students returning to volunteer and to give back.
Yaritza: The WEC community is a melting pot of different cultures, languages, experiences, and ages but all with the same goal, which is to be able to connect and communicate with others.
Catalogue: Who in your community are you inspired by and why?
Yaritza: I am inspired by both our students and volunteers. I think it is inspirational to see our volunteers give so much of their time and effort to our students. Many of them are brand new to teaching so, in a sense, it is a true act of courage. Many, if not all, of our students display courage — coming to a new country and not knowing the language is challenging and scary. Many of our students have faced hardships back in their home countries and yet, here they are, showing up day after day to learn a new language and acclimate to their new home.
Phillip: For me, it's helpful and humbling to remember that these are adults — many are parents — with busy social schedules and demanding jobs. No one has made them attend class, but they choose to become students. They make time in their schedules and apply themselves to the classwork. For some, that means becoming students again for the first time in fifty years. For others, it means giving up their evenings (almost ninety hours of class a term!) to improve the way they read, write, and speak English. How amazing is that?
Catalogue: How does WEC empower its volunteers and students?
Phillip: Every year, 740 individuals volunteer with WEC to teach group classes, to tutor students one-on-one, to host clubs, and so much more. Those volunteers spend hours preparing to teach, and teaching, because of the folks we serve. In total, over 1,250 immigrants and refugees from 70 countries come through our doors or join us via Zoom to improve their understanding of the English language. These students are eager to learn and we are ready to meet them wherever they are.
Yaritza: Our Academic Programs team empowers volunteers by creating opportunities to show appreciation to them. Each term, we have an online volunteer appreciation event where we show videos that we have compiled of students thanking our volunteers for their time. During the event, we give out awards to volunteers who went above and beyond.
We also give out prizes and cards to all our volunteers at the end of their volunteer service, and we have online and in-person volunteer socials. Additionally, we provide training and continuous professional development opportunities that help volunteers gain confidence and enhance their teaching skills in the classroom.
For students, we put together our online graduation event where we celebrate our students' achievements throughout the term. During the event, we display student certificates and recognize students who had perfect attendance. Everyone in the WEC community is welcome to attend — and if you're reading this, you're a part of our community. We have also recently encouraged advanced students to become teachers and serve as role models themselves!
Catalogue: What about your work with WEC brings you joy? And what about it brings joy for others?
Phillip: Our students bring me joy. When a student is grappling with a phrase or pauses to think of the exact right way to express themselves in English, there's this pride that shines through once they've conquered the phrase and with it comes joy. I think any of our teachers could tell you, there's something really wonderful about a student who shows up, wants to learn, and is determined to get the most from their class. And WEC is filled with those students.
Yaritza: I think the best part about WEC is seeing our students succeed and gain confidence in their speaking and writing abilities. I also love to walk through our hallways and see students interacting and building friendships with one another.
Something I am never asked is why I choose to work at WEC. In a way, I am relieved because it is very personal to me and stirs a lot of emotions. My mother and father both immigrated to the US from Central America and left everything behind. In the '70s and '80s, there were little to any resources available to immigrants. I saw firsthand how difficult it was for the two of them to communicate with others, which led to many different challenges, from finding jobs to housing to healthcare to schools, etc. A lot of the burden fell on me to be a translator for them, which I know, even today, a lot of first- and second-generation children face to help the family.
I think organizations like WEC help alleviate a lot of that and empower immigrant families and parents to learn English and ultimately advocate for themselves. In a nutshell, working at WEC is a way to honor my parents and others like them. My work has also given me the opportunity to honor my own experience as the daughter of immigrants.
Interested in becoming a volunteer with the Washington English Center? Visit their website to learn more, or sign up to receive their newsletter and stay up-to-date on their volunteer opportunities, upcoming teaching workshops, and social events!