Written by Nancy Erickson, Communications Coordinator of the Catalogue for Philanthropy
At the Catalogue for Philanthropy, we shine a light on the best small, local nonprofits all year-round. But we do a little extra on one especially important day of the year: GivingTuesday. This global day of philanthropy follows Black Friday, Small Business Saturday, and Cyber Monday — once people have finished all of their holiday shopping, they're encouraged to then give back! GivingTuesday is a pretty big deal here at the Catalogue, to say the least.
Since grassroots nonprofits focus most of their limited resources on their direct programming, they may not have much left over for self-promotion. That's where the Catalogue comes in. In addition to providing educational support to our nonprofit partners, we also promote and showcase their work to wider audiences. GivingTuesday is the perfect opportunity to share the incredible difference they're accomplishing and we took full advantage of this global movement to amplify local giving.
We began to lay the groundwork for our GivingTuesday campaign months aheadoftime. We knew that one of our strategies would be to coordinate "in-person activation," a way to energize online-giving through on-the-ground events. We reached out to businesses throughout the DC metropolitan area, encouraging them to get involved through hosting an event, donating funds, or promoting giving through their networks. We even created a helpful one-pager to hand out.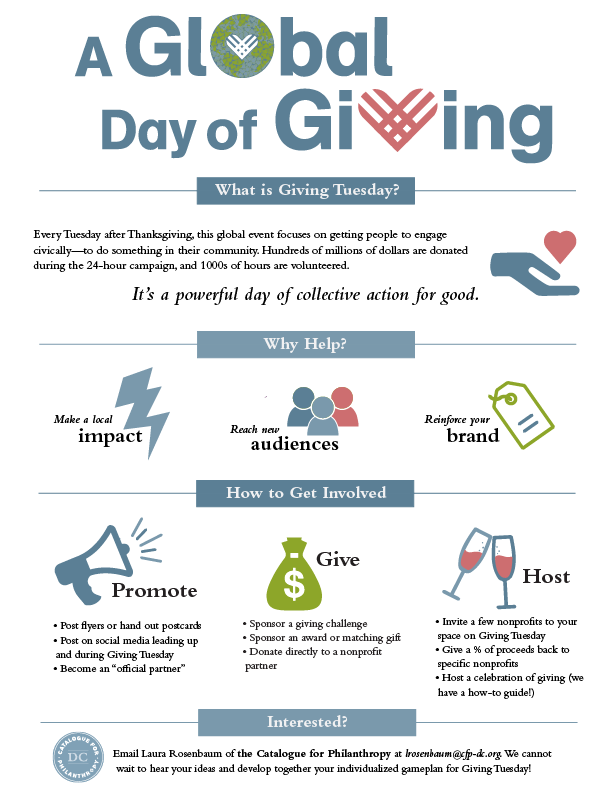 In addition to multiple businesses agreeing to post GivingTuesday flyers, Pacers Navy Yard donated a generous runner's dream gift bag and CorePower donated a month of unlimited yoga for our GivingTuesday happy hour door prizes! One of the most exciting collaborations was with Craft Beer Cellar. They initiated the idea of a Give a Can – Get a Can food drive; for every can of food that a person donated to their shop, they would receive in exchange a can of beer! The cans of food were donated to three Catalogue nonprofits: Common Threads in DC, Nourish Now in Maryland, and Spend Yourself Food Pantry in Virginia. Beer cans were donated by local breweries DC Brau Brewing, Manor Hill Brewing in Maryland, and Old Ox Brewery in Virginia. As the official GivingTuesday partner for the Greater Washington region, we knew that we needed to work hard to stand out among all of the campaigns taking place across the country and internationally. This meant marketing designed to emphasize our motto: #GiveLocal. We put together a sleek online platform for donations at the aptly-named givelikealocal.org, created and distributed online and print flyers, an infographic timeline, and even created in-house an animated video.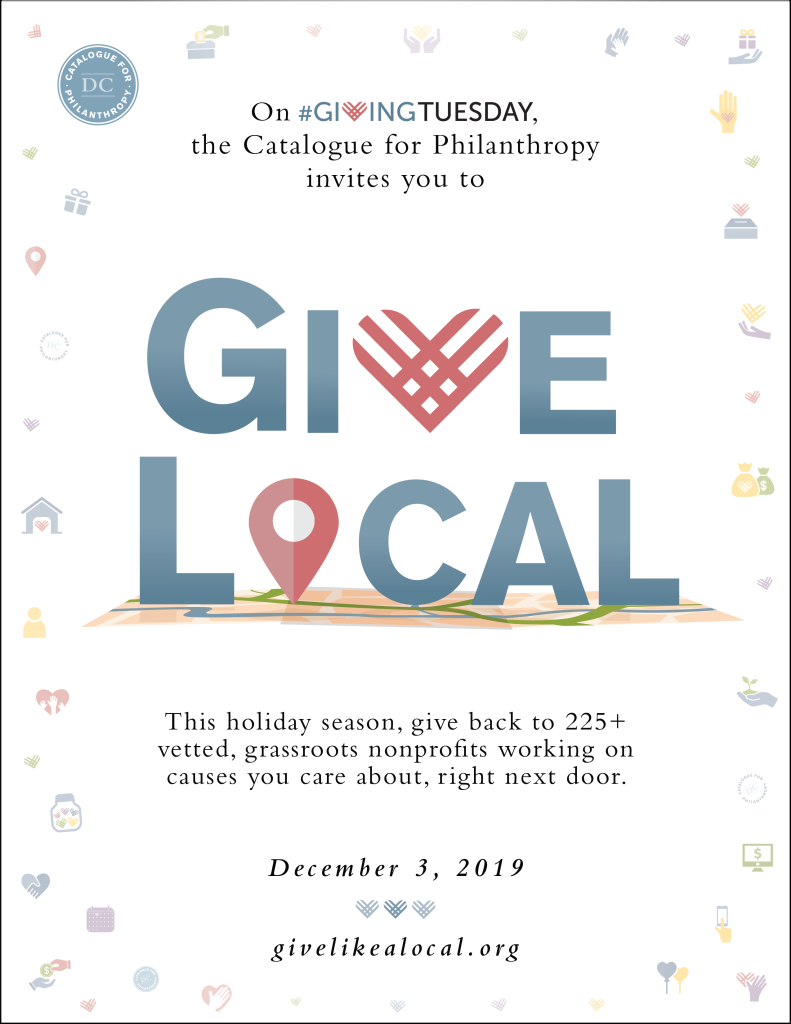 Because our nonprofit partners are smaller organizations, we knew that many of them have limited materials, time, and staff. To give them a leg up for the big day, we created a variety of resources for them. These included sample thank you letters, a stewardship plan, social media templates and graphics, sample supporter emails, a sample donor pyramid, and tutorials on setting up?personal GivingTuesday fundraising pages. Our staff set aside blocks of time (that got booked very quickly!) to meet with nonprofit partners one-on-one to give personalized feedback and guidance on their GivingTuesday campaigns. We also hosted two webinars, a lunch and learn, and a workshop on how to make GivingTuesday a success. And this doesn't even begin to cover the dozens of daily emails and phone calls we received from excited partners getting prepped!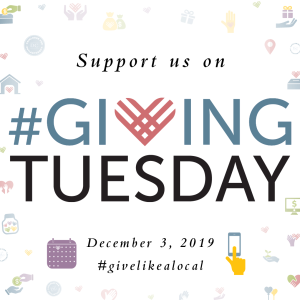 The big day finally arrived! At givelikealocal.org, over 200 of our nonprofit partners hosted their own campaign pages, with goals ranging from $250-$50,000. It was exhilarating (and fun) every time we hit refresh on our website and watched the overall thermometer go up. Because research shows that people are more likely to give when they have a time pressure, and because we wanted to encourage widespread engagement over and above dollars raised, we incorporated the use of "Power Hours." These were one-hour periods during which the nonprofit with the most unique donors won an extra $1,000. The four winners ended up being our partners 1st Stage (9-10am), DC Scores (12-2pm), City Dogs Rescue & City Kitties (3-4pm), and The Josh Anderson Foundation (8-9pm). Throughout the day (and weeks leading up as well) we were continuously active on social media. We were honored to have Instagram influencer Austin Graff on board that day. Via his Instagram stories, he promoted his ten favorite nonprofits participating in our campaign. Another thrilling development: we got to take over the We the People DC handle for the day! This was exciting news for us and our nonprofits because We the People DC has over 50,000 followers on Instagram. What a fantastic opportunity to promote charitable giving on GivingTuesday! Some of our posts that day included visiting our partners Free Minds Book Club, LearnServe International, Sixth & I, and Suited for Change.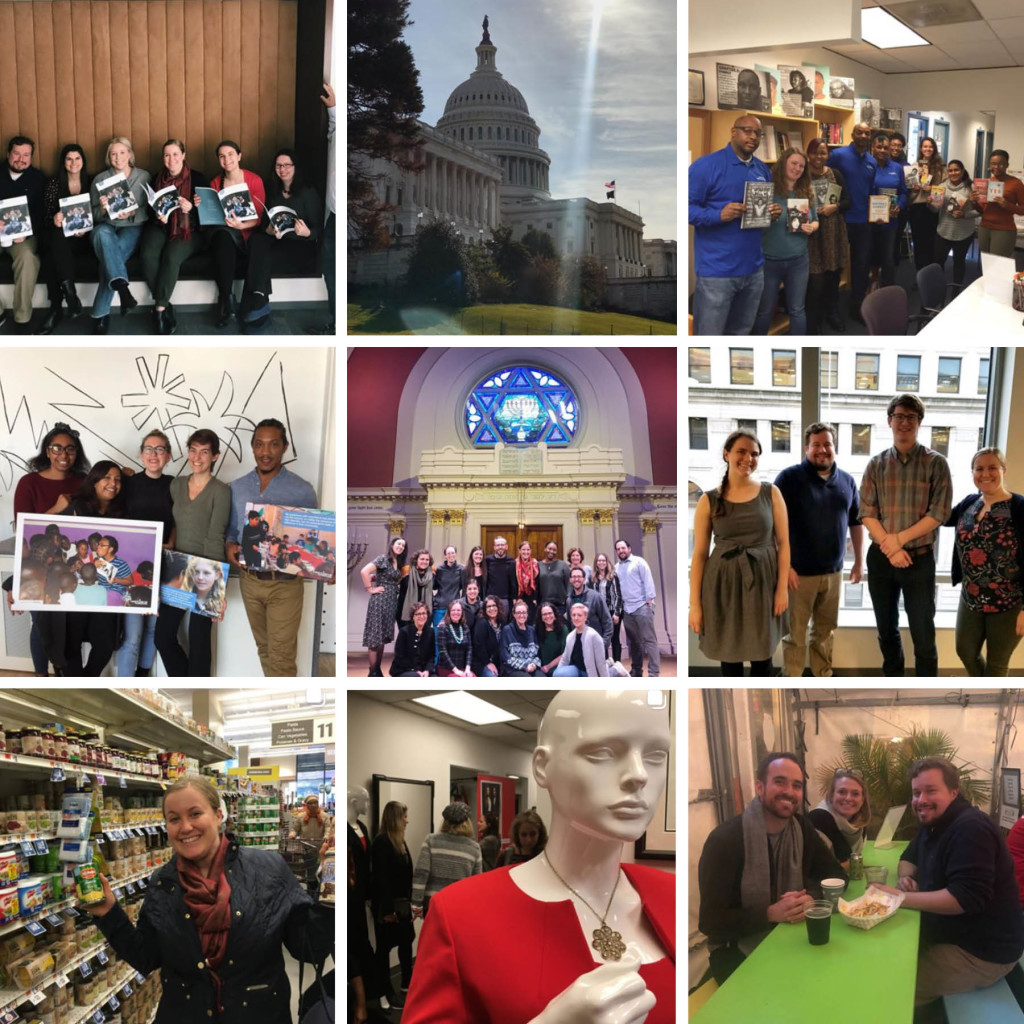 As the evening came to a close, we held a celebratory happy hour with partners at Wunder Garten. We had reason to celebrate: our initial overall goal of $400,000 had been surpassed! With the help of 5,270 donors, we raised $637,828 for small, local nonprofits! Our months of preparation, collaborations, and hard work had paid off. We feel incredibly inspired by the level of generosity and community engagement we witnessed on GivingTuesday. It is moments like these that we remember why the work of the Catalogue is so vital in lifting up the work of local nonprofits. We feel honored and proud that as the official GivingTuesday partner for the DC region, we were able to host this platform for local philanthropy. As we start a new year, we're excited to continue our work here at the Catalogue. After all, it's never too early to begin planning for GivingTuesday 2020!