People often ask me how I got involved in dog rescue. The story is surprising, even to me. Dog rescue was not something I had planned on doing, and was not something I grew up wanting to do. I fell into it while living in DC because I was lonely – I wanted a friend, even if that friend had four legs instead of two.
I found Sparky after a lot of googling. His photo showed him trotting along with a pink ball in his mouth. His bio said he loved playing fetch and soccer with his family. It was love at first sight (at least, for me).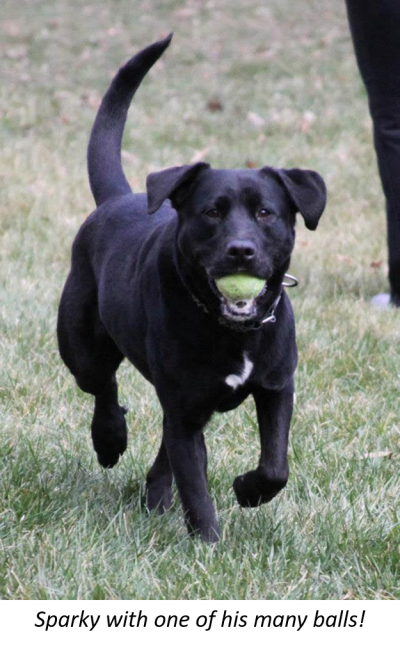 Sparky was living in Richmond, and it wasn't important to me that there were rescues to be found in my own backyard. Sparky was it – my dog. But after coordinating a time to pick Sparky up, I began to have second thoughts: was I really up for caring for a living being? I couldn't even keep plants alive.
Sparky was clearly overwhelmed when I first picked him up. His tail was tucked, and he was shaking with nerves. If I had known then what I know now, I may have not moved forward with the rescue. Nervous Sparky deserved better than a first-time dog owner: he needed someone who knew what they were doing, or maybe someone who had other dogs to give him confidence. But he got me.
I loaded Sparky, along with his pink ball, dog food, and crate, into my car and drove back to DC. Despite Sparky's nervousness and my own hesitations, I was getting excited. Sparky and I would have a great time together. We could go on hikes and walks. We'd play fetch. It would be perfect.
Nothing is ever perfect.
For the first 24 hours, we went on multiple long walks, but he didn't pee. Not once. I called the Rescue frantically, asking if something was wrong with him. They told me to "Just wait. He'll pee when he's ready." Well, he did. On my carpet. Standing next to me.
Later, I decided to take Sparky to a dog park. We were playing fetch and bonding a little, until a car nearby backfired and Sparky bolted. He ran all the way home-crossing two streets with traffic–with me crying the whole way behind him.
After some time had passed, I was ready to give up. My relationship with Sparky was characterized by things I had not anticipated: I was sneezing at home, I had to get up earlier and stay up later, and I was running home at lunch and running back to the office. Everything was different.
Different was scaring me.
Not long after I brought Sparky home, I sat on the floor and called my mom. Trying desperately to hold it together, I told her that I had failed: I wasn't able to care for the dog, I just couldn't do it. My mom listened to my litany of troubles. Then, she asked: "Where is Sparky?"
I told her, "He is lying down across from me. He is staring at me. I think he knows I failed."
"No," she said, "he is telling you he needs you."
When I looked back at Sparky, I saw an animal who needed me as much as I needed him. Who, like me, was afraid of "different", but who, with me, could learn to love it. After some time together, I began to feel Sparky's unconditional love for me, too.
And that started my journey into rescue.
- Mirah Horowitz
Founder and Executive Director – Lucky Dog Animal Rescue
_____________________