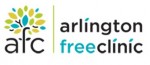 May is Mental Health Awareness Month, and today we're getting a glimpse into the important work of Arlington Free Clinic, and its Behavioral Health program. Arlington Free Clinic provides free high-quality medical care to low-income, uninsured Arlington County adults. In the following piece, AFC's Behavioral Health Program Manager, Jyl Pomeroy RN, discusses some of the health struggles that immigrants face as a result of their experiences before, during, and after arriving in the United States, and how AFC's Behavioral Health Program offers its support.
Many Arlington Free Clinic (AFC) patients are immigrants who have fled countries where poverty, war, and gang violence are part of everyday life. They've been the victims of trauma, rape, physical/emotional abuse, violence, or have witnessed the ravages of war on their family, friends or neighbors. Many of our women patients from Central or South America have had to endure leaving their young children behind in their home countries, as they came to the US in hopes of earning money to help their families survive back home.
Many of our patients arrive in the US, often after a difficult journey, in poor health. With limited access to social services previously in their home countries, they come to us with deeply embedded and multi-layered concerns. It can be hard for them to imagine that addressing trauma and learning strategies to manage long-term stress is an important part of achieving overall good health.
The Behavioral Health program at AFC provides linguistically and culturally competent supportive care for patients who are suffering from the symptoms of depression, anxiety, PTSD and other conditions that interfere with their ability to care for themselves/their families, hold a job, or contribute to their community. Six volunteer psychiatrists and seven volunteer counselors provide medication management and supportive psychotherapy to patients in personal or family crisis; to those who are experiencing the lingering effects of trauma; to those who have never before told anyone about abuse suffered at the hands of someone who was supposed to protect them; and to those who have had their lives threatened, and as a result, continue to live in fear every day. Yoga, group support, exercise education and community resources supplement the care provided by AFC's psychiatrists and counselors to help patients develop strategies to manage stress, cultivate wellbeing and prevent the development of lifelong health problems.
To learn more about Arlington Free Clinic — including their wish list, and how you can get involved as a volunteer — visit their page here. And don't forget to connect with them on Facebook and Twitter!