Center for Inspired Teaching is proud to be recognized by the Catalogue for Philanthropy as one of the best local nonprofits in the DC area. At Inspired Teaching, we envision a future in which every person is prepared to thrive in and contribute to our ever-changing world. Our mission is to transform the preK-12 school system by cultivating and partnering with change-making educators who authentically engage their students as active learners and empathetic critical thinkers.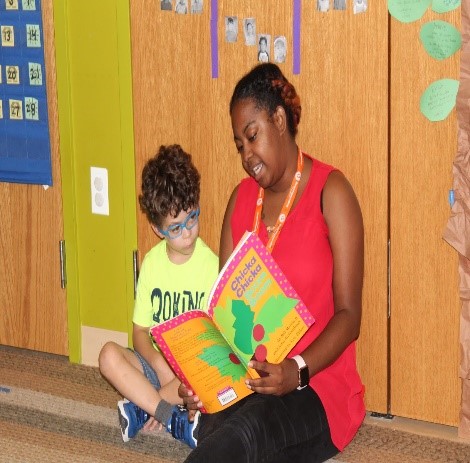 As we begin 2019, all of us at Inspired Teaching are deeply appreciative of the educators and students who made 2018 a joyful and meaningful year of learning. We are proud to share some of our favorite highlights from the last twelve months as we reflect on the moments that inspired us:
Inspired Teaching Youth Lead Dialogues on Social Issues at Speak Truth
Inspired Teaching Youth kicked off 2018 with an International Night of Dialogue via Speak Truth, a program which brings students across the District together to engage in discussions meant to expose one another to new perspectives. High school students spent the year enthusiastically leading and participating in discussions around a variety of social justice topics, like: gun violence, toxic masculinity, the Brett Kavanaugh hearings, Colin Kaepernick and the Nike boycott, and many others. One student remarked, "I've talked about issues like this before, but went deeper than conversations in the past."
Inspired Teaching Fellows Create Engaging Learning Opportunities
Over the summer, the 2017 Fellows created interactive educational experiences for students at Capital City Public Charter School. These experiences culminated in a learning showcase where students proudly shared their STEM projects: from exploring ways that humans can lessen or reverse the effects of climate change to creating inventions inspired by animal adaptations, students connected their learning to their own lives in meaningful and fun ways. After finishing the summer on a high note, the Inspired Teachers embarked on another exciting journey – beginning their first years as teachers of record at 13 schools throughout the District.
Inspired Teaching Alumni Influence the Broader Education Landscape
2018 has also been an exciting year for Inspired Teaching alumni who have received recognition on the local and national levels. 2014 Inspired Teacher Leader Paul Howard was selected by OSSE as the 2018 DC Teacher of the Year. In addition, several Inspired Teachers were featured as presenters at conferences led by Education Week, EmpowerED DC, and EL Education. During the EmpowerED Teacher Voice Summit, Inspired Teacher James Tandaric ('16) spoke during the keynote about a moment that fueled his passion for advocacy:"Recently, I was talking to another teacher about how DC's wards are very racially segregated, and he said that he hadn't known that was an issue. This was shocking to me. As a person of color, and as a person who has worked in a variety of school settings, including Ward 8, I wondered, how can he not see this? The discussion made me more determined to help all teachers be more aware of these racial divides."
Inspired Teaching Staff Travel the Globe to Share Engagement-Based Education Practices
In 2018, Inspired Teaching leaders have traveled internationally to spread Inspired Teaching's message far and wide. Our travels have included leading a teacher training in Chiang Mai, Thailand, contributing to an education thought leadership summit in Oxford, England, and participating in a gathering of educational change-makers in Lyon, France. The launch of the National Alliance for Engagement-Based Education has also prompted Inspired Teaching to travel the country exploring engagement-based teaching & learning practices. Staff had the opportunity to observe classes in several different schools across the nation, discovering effective strategies for building strong school communities.
2019 and Beyond
We look forward to seeing all that our staff, students, and Inspired Teachers will accomplish next year. We are especially appreciative of supporters who help our efforts to transform education.