As I finished my senior year at Wesleyan University, one of the things I was most afraid of for my post-grad life was losing the environment in which everyone is eager to share the learning process with their friends and peers. The desire to preserve that, and the importance of my Jewish communities and experiences to me, is what led me to Avodah: The Jewish Service Corps.
Avodah is based on studying the issues and approaches of our own service work as a way to navigate the centuries-old question central to Jewish life that is: how do Jews meet our obligation to serve? To do this, my fellow 23 Avodah Corps Members in DC and I are placed at leading anti-poverty organizations across the District – where we gain hands-on work experience and learn about the root causes and effects of poverty in this country. We work with individuals facing challenges related to healthcare access, food insecurity, housing insecurity, our immigration and refugee systems, and much more, as we also consider how to best organize the Jewish community toward a more just and equitable future.
For the past seven months, I've been serving as a program associate at N Street Village. N Street Village empowers homeless and low-income women in Washington, D.C. to claim their highest quality of life by offering a broad spectrum of services, housing, and advocacy in an atmosphere of dignity and respect.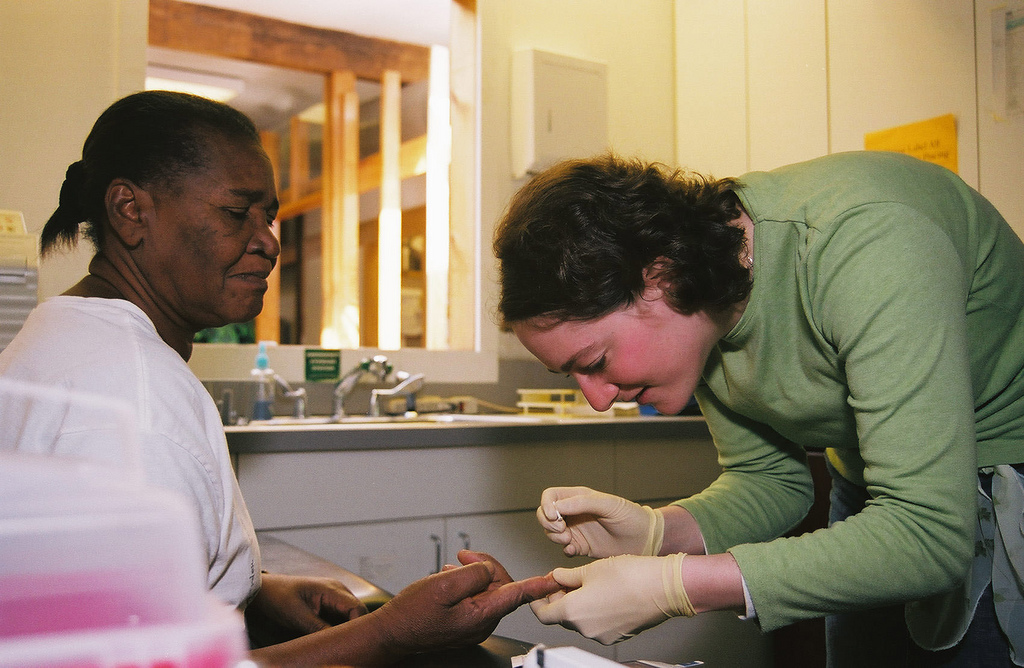 Before I started Avodah, I was worried that my position and responsibilities would be too far removed from the macro-level social justice that I had spent most of college thinking about and cultivating my skills toward; I was nervous that I would not only miss reading, writing, and critically thinking about social justice in these ways, but that I wouldn't be qualified for the direct service work that our clients needed me to do. Within the first few months I definitely faced a steep learning curve, but have also since found that I continue to learn more than I could have ever imagined about the lived experiences at the heart of the issues that I care about. This has been due in part to all of the training and learning opportunities that my placement provides its staff – especially its Avodah Corps Members and social work interns.
One of the areas of learning that has profoundly impacted me this year is trauma-informed care. Trauma informed care is a holistic approach to providing services, based in an understanding of and responsiveness to the impact of trauma. What fascinates me about this framework is that trauma-informed care is more about changing systems than providing brief interventions to navigate traumatic experiences: it's more about how a person who has experienced homelessness feels in a space that is intended to provide care, rather than about agencies checking off boxes of predetermined treatment requirements.
Learning and exploring the principles of trauma-informed care has helped me imagine concrete ways in which the choices that I make at work can be empowering for clients, even when challenges within the systems can be endlessly disempowering for them. Having an understanding of this holistic approach to care, I'm able to better recognize symptoms of mental health instability as related to the traumatic experiences of homelessness and being deprived of basic human needs. Most importantly, this framework helps me as a staff person to focus on the sheer resilience at the core of human responses to stress and crisis, reduce the shame and stigma associated by homelessness and/or other crises, and ideally, help survivors feel respected, connected, and hopeful about their recovery.
Though I describe trauma-informed care as systemic, and at its core it is all about a widespread change to social work and the standards behind providing services, where it really manifests are the personal experiences I have with clients and my coworkers. In the fall, our N Street Village CEO wrote a letter to the organization's staff in the wake of multiple acts of white supremacist violence – from the massacre at the Tree of Life synagogue in Pittsburgh to the murders of Maurice Stallard and Vickie Lee Jones in Louisville, Kentucky. She wrote that in our work at N Street Village, "every day we have multiple invitations to challenge our implicit biases and to seek interpersonal justice. We are invited to acknowledge our well-worn habits of mind which automatically see an 'other' — and instead to exercise new habits of heart which see our commonality and which instinctively reach for connection."
Having experienced this work for the past seven months, and getting to see its impact, I'm so grateful to my workplace and to Avodah as a whole for bringing the interpersonal connections to the foreground in my understanding of justice. I can only hope that through the rest of the year and beyond, my fellow Corps members and I never stop finding ways to fold that interpersonal justice into greater action and movements for progress.
About the Author:
Sammi Aibinder is an Avodah Jewish Service Corps Member. She currently works as a program associate at N Street Village, which empowers homeless and low-income women in Washington, D.C. Ms. Aibinder is a graduate of Wesleyan University.