It's the most wonderful time of year! Well, for the Catalogue team at least. We love each May when we get the chance to unveil to you our brand new 2019 class of nonprofit partners. We hate keeping them secret, so always are looking forward to shouting their names from the mountaintop, exclaiming to all these "best of the best" local nonprofits working to make positive change in our communities.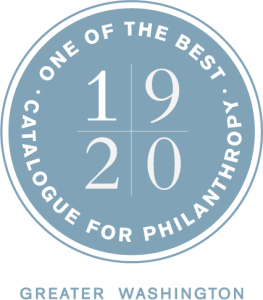 All 112 partners in this year's class went through a rigorous vetting process. We are proud to be able to tell you, with confidence, that your support of these organizations will be well used and leveraged to make a difference in the places we live, work, and play. All organizations went through a three-step process that involved 150+ volunteer reviewers, a financial review, and an in-person site visit. They're legit, and you can donate, volunteer, or advocate for them with confidence.
Our nonprofit partners cover a range of issues. From preserving the rich history of jazz in DC, to providing a safe and nurturing out-of-school time for young girls, this class is working in a variety of ways to move our community closer to the community we want, need, and deserve. Stepping in to fill gaps in the safety net, working on systemic issues, and enriching our cultural opportunities. Holding hands, making meals, and advocating for change. Regardless of the mission or the specific work, all of our partners have in common their passion, expertise, and focus on using their efforts to strengthen our community.
Now, this announcement isn't just about our brand-new, awesome, community-changing partners. It's about you. And us. All of us. We don't announce this class just because we love announcing things we share and lift up these changemakers so you can find an organization that you can become passionate about. Whether it's sharing your time, or wealth, or influence, our partners need your support.
We'd love to give you a challenge today, to do just two things. This might be your first time "meeting" many of these organizations, so we aren't asking you donate or volunteer just yet (but if you do that'd be great!). All our team asks is that you:
Pick one (or more) organization to shout out on Instagram/Facebook/Twitter and say thank you for the great work they're doing in the community. Do it today if you can!
Choose one friend/partner/colleague/chatty person next to you to tell about this organization, or to share this announcement with today.
That's it. You'll have plenty of opportunities over their four-year partnership to get to know these organizations, support them, and become passionate about their dedication, knowledge, and impact. For now, just help us celebrate and spread the word about these local nonprofits, working with small teams and limited resources to make a real difference, close to home.
Sincerely,
The Catalogue Team