This post was written by Nancy Erickson, Communications Coordinator of Catalogue for Philanthropy.
Are you an art lover? Do you want to support people with disabilities? Are you a fan of cheese and crackers? If you answered yes to all three to these questions, then you should consider volunteering with Art Enables, a Catalogue nonprofit partner. I did recently, and I highly recommend the experience.
Art Enables allows artists to make, market, and earn an income from original art pieces. These artists experience a broad range of developmental and cognitive disabilities as well as various mental health challenges. This local nonprofit gives artists opportunities to express themselves through visual art by providing a professional studio environment, art supplies, technical guidance, and exhibitions both on and offsite.
After Art Enables caught my eye on the Catalogue volunteer page, I reached out to their staff to set up a volunteer time that worked with my interests and schedule. To allow me to experience different sides of their work, we decided that I would volunteer at two consecutive events. My first position was as a Studio Volunteer for the 2nd Saturday Workshop, an ongoing community engagement event that Art Enables hosts — you guessed it — every 2nd Saturday of the month. Community members can walk in and create art for free in the style of that week's theme. Past themes have included pop up art, sketch portraits, painted leaves, minimalist watercolors, and more. People get to learn about resident artists' work and the services that their neighborhood nonprofit provides.
When I entered the studio that afternoon, the first three words that came to mind were bright, colorful, and open. Art pieces lined the walls. Large windows flooded the space with natural light. There didn't appear to be any separation between staff desks and studio workspaces.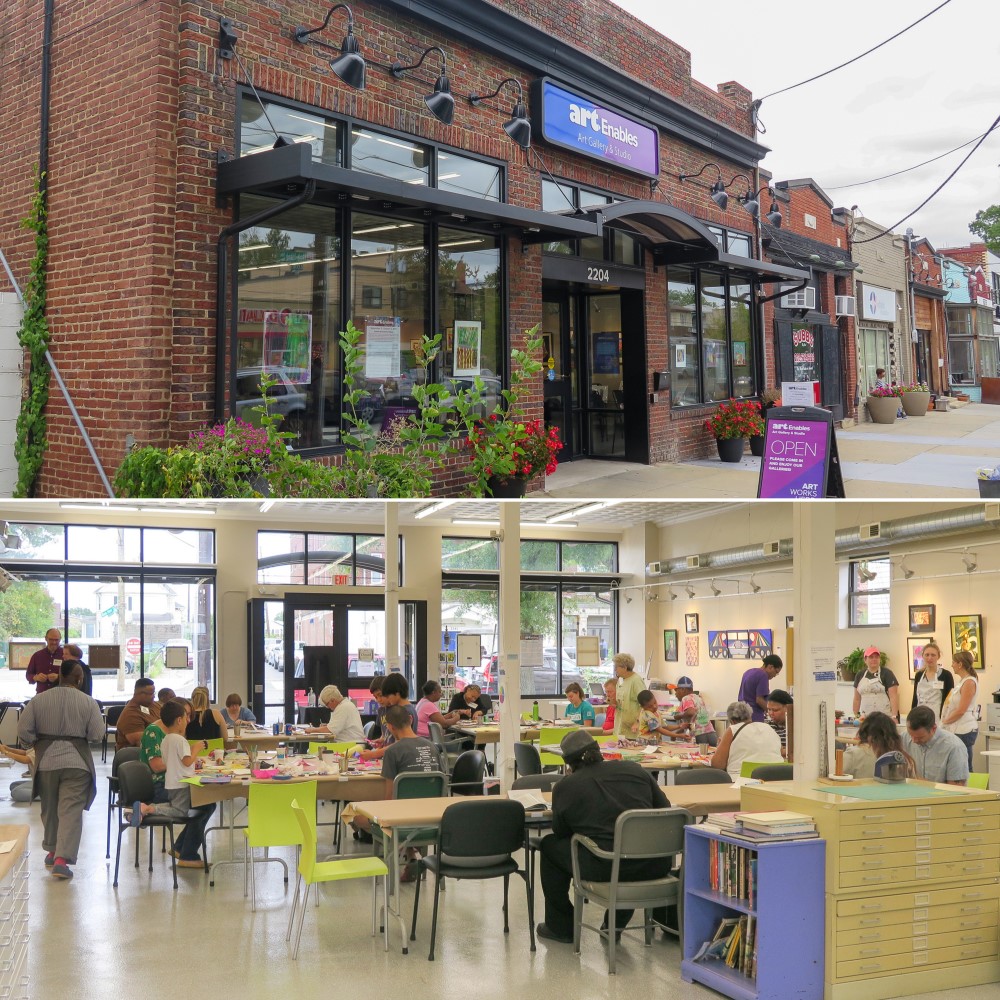 A staff member welcomed me and introduced me to my fellow volunteers (women from the Junior League of Washington) and our guest facilitator for the day, Sonya Michel. She would be leading everybody in creating "assemblages," converting "junk' into 3d-collages.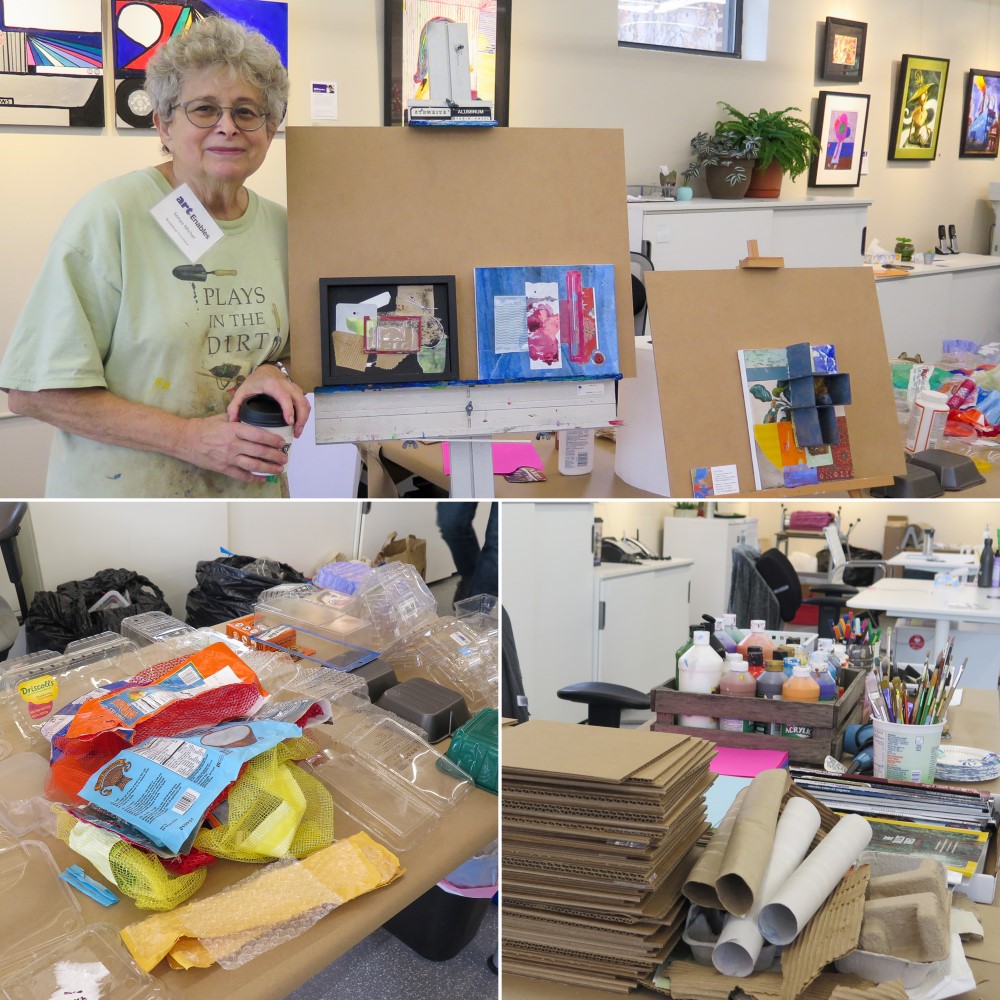 I grabbed an apron, got familiar with our art supplies table (plastic, cardboard, paint, paper, markers, magazines, etc) and began welcoming guests as they trickled in off the street. Throughout the day I refilled dirty paint water glasses, chatted with people and artists, and took plenty of cliche art photos from odd angles. You know, for the gram.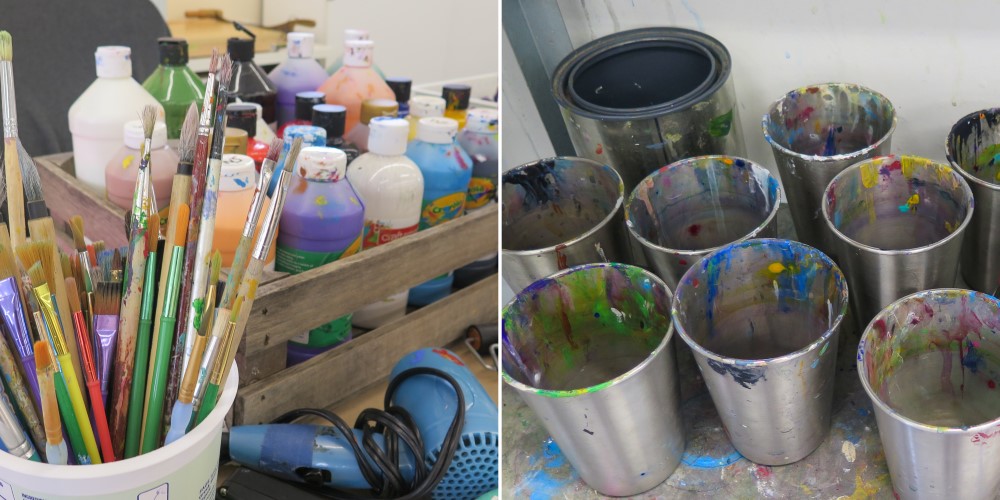 A total of 65 people came that day (typical 2nd Saturdays range from 50-125 people). Community members mingled with resident artists, staff, and volunteers for an easygoing afternoon of making art. When life gets hectic, it's nice to be able to take a minute and decompress by creating art in a communal space. During the lulls of the day, I even got the chance to make my own assemblage; it's now proudly hanging on the corkboard above my desk at work.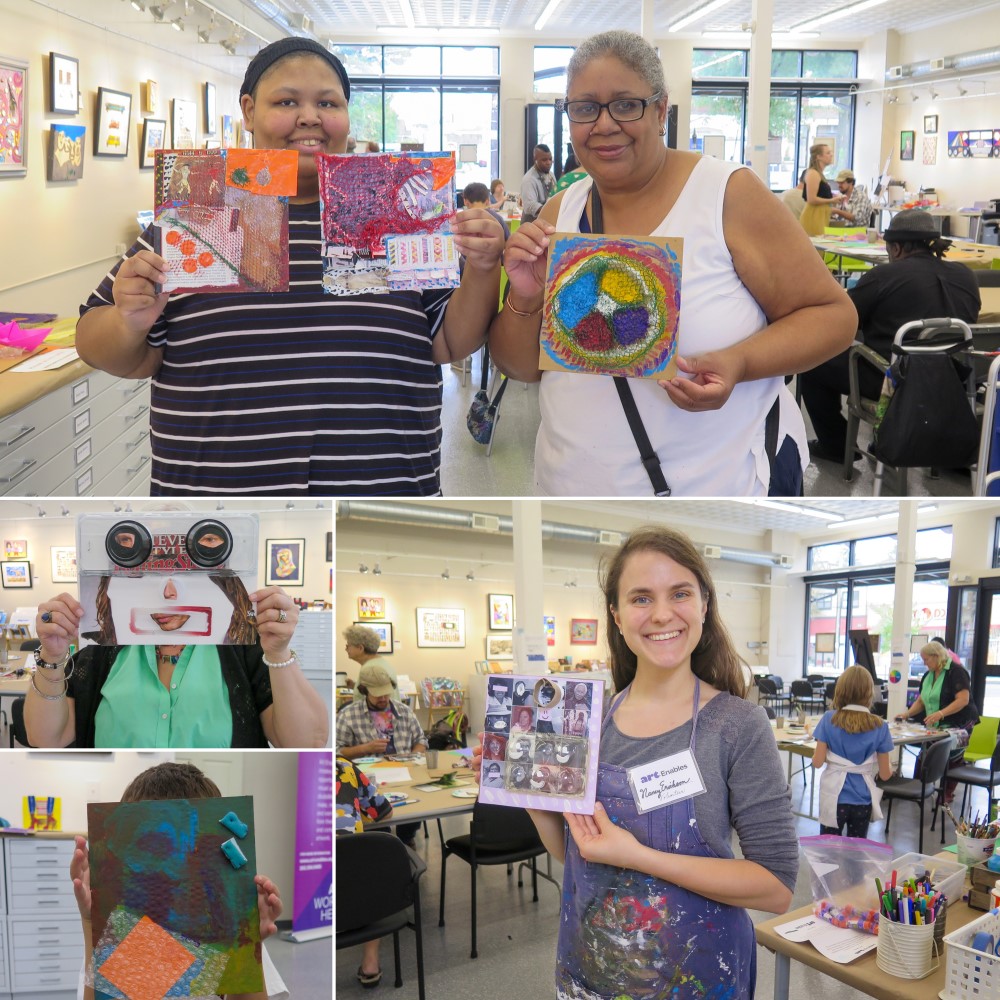 All the artists I spoke with were generous with their time and sharing their pieces with me. Robert showed me how his painting has been transformed into a mug (other Art Enables merchandise includes playing cards, leather bracelets, and coasters).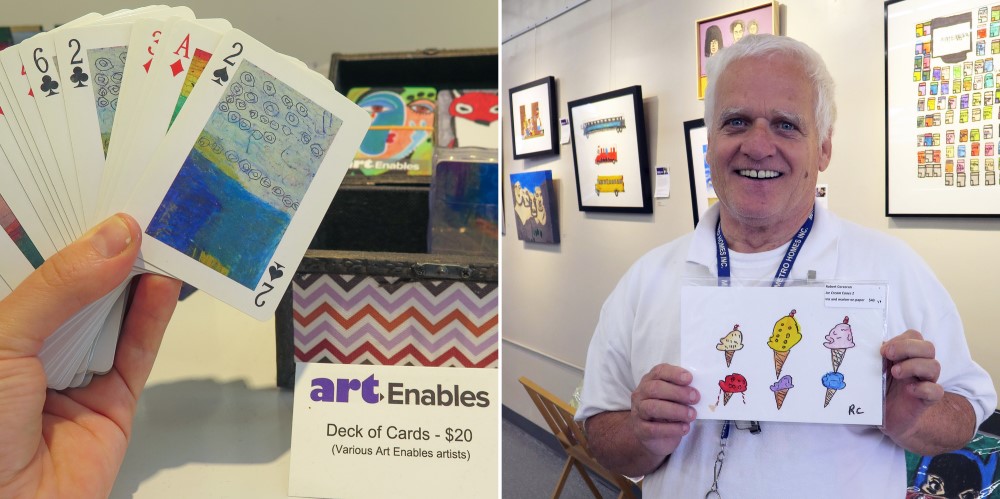 Each resident artist has a drawer with their name on it filled with additional pieces of art (all for sale!). It was a pleasure to recognize the distinctive artistic styles of the resident artists. For example, Shawn is in the midst of a shoe period.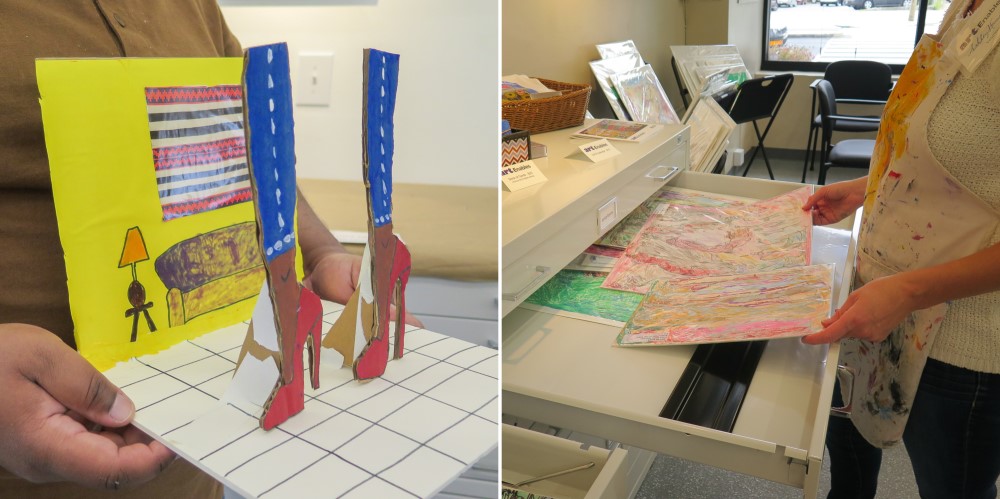 The workshop came to an end and we moved onto the next event for the evening: the opening reception for the 13th Annual Outsider Art Inside the Beltway (OAIB) exhibit. As described by their website, OAIB "has been committed to highlighting and providing self-taught artists who often don't have opportunities to exhibit their work the opportunity to do so. This includes new and emerging self-taught artists, artists with disabilities, and artists from traditionally underrepresented communities." I was to be a Volunteer Gallery Attendant. In preparation, I cleaned up art supplies, wiped up spills, and set up refreshments. Armed with a butter knife, I did a spectacularly mediocre job cutting the cheese for the platter, but they tasted great regardless.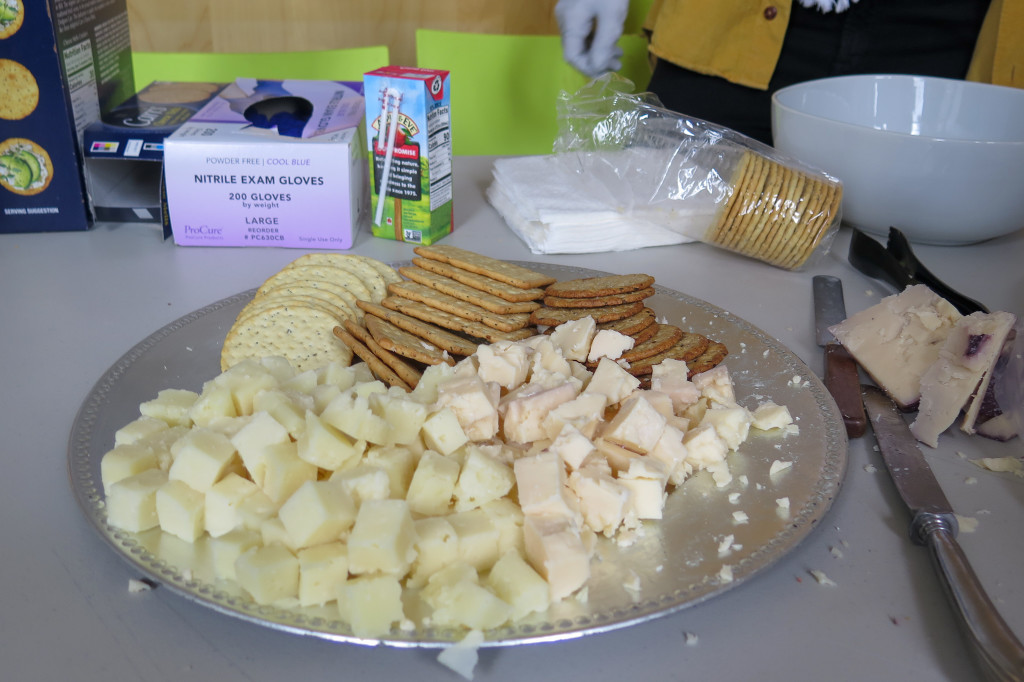 Throughout the reception, I refreshed snacks, welcomed guests, and took photographs. The Art Enables basement exuded hipness, the perfect industrial-chic look for an art gallery reception. I love art galleries, so getting to hang out and chat about art with people while volunteering was a win-win situation for me.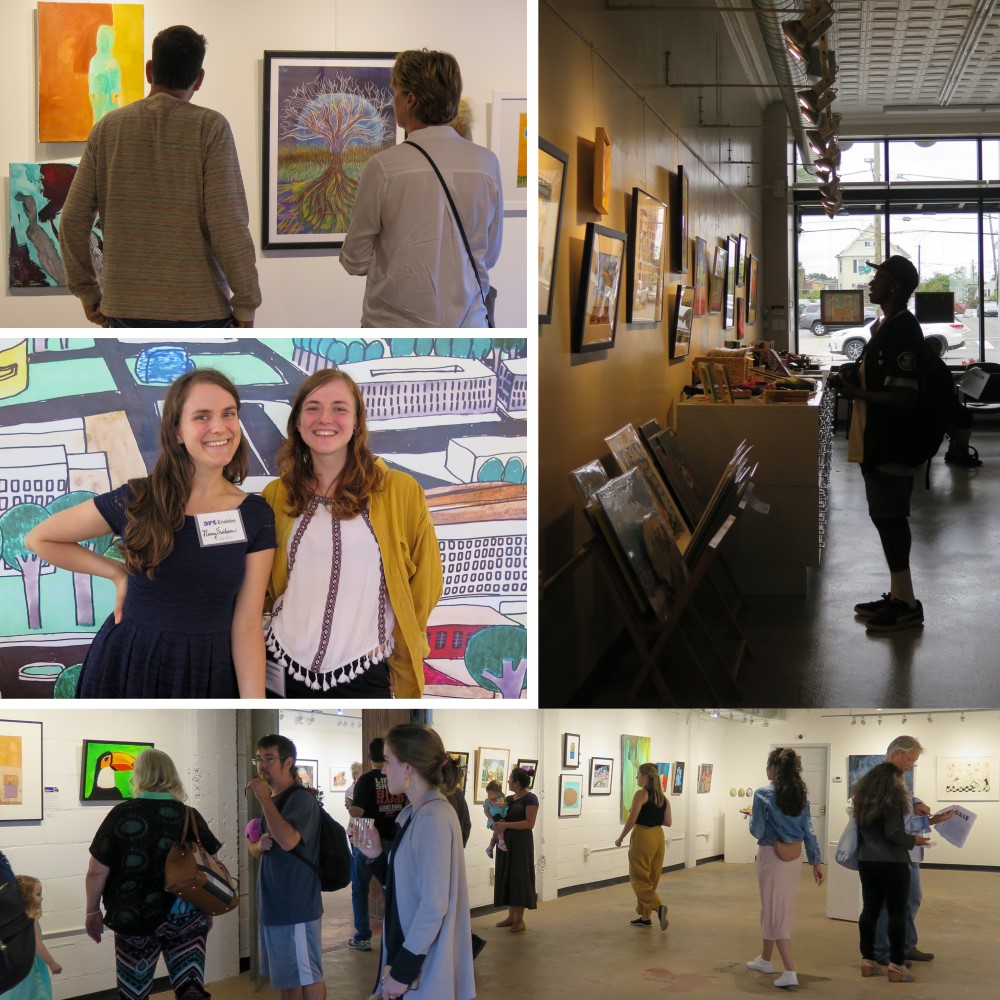 At the end of the evening, I helped put away leftovers, wipe down tables, and clean dishes. It had been a lovely volunteer experience with Art Enables; I met some amiable artists, enjoyed some art, and even got to participate in the art making process myself.
If this sounded like a fun way to spend an afternoon, then you should consider volunteering with Art Enables. Their volunteer opportunities can easily accommodate individuals with busy schedules who can only come once in a while or on a one-time basis. Possible positions include staffing special events and at the studio (like I did), helping out administratively, and even providing professional services, such as marketing or education. Check out their volunteer page to learn more and work with their helpful staff to find an opportunity that appeals to you. Your support can make a real different for artists with disabilities in the DC region.