Written by Tyler French
My work with Story Tapestries began in the summer 2018. I joined the team as a teaching assistant, supporting a visual artist to lead Neelsville Middle School students in Germantown, Maryland to design and create two murals for their school. One student in particular, "John," stands out when I reflect on that summer program. John was incredibly quiet, didn't engage with many of the other students, and never raised his hand when the group was asked a question. When we brought out the paints to start realizing our design, he worked silently on his corner. Cleaning spilled paint out of my hair (one of the tubes had exploded), I saw John working on his corner of the mural, intensely focused. I stopped and watched while he carefully applied the paint, blending from lavender to a deep purple that pulled me into the piece.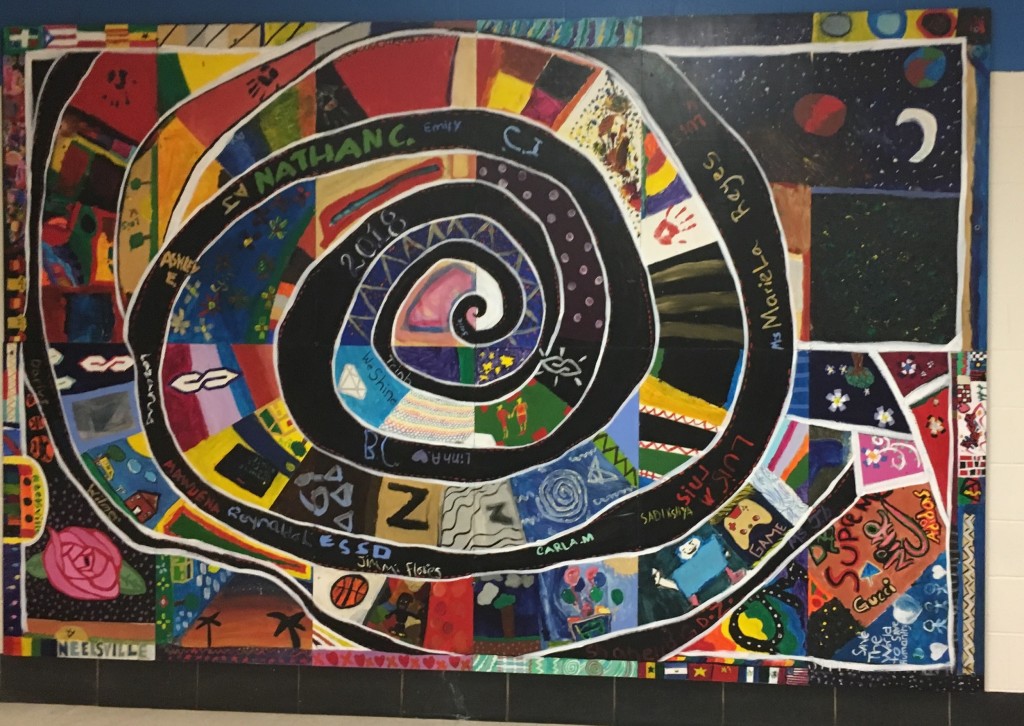 I flashed back to my middle school self as I watched John paint. I recognized his shyness in myself. I recognized his inability to easily engage with his peers, his hesitancy to raise his hand even though he knew the answer to our questions. At the moment, another student was walking behind John, stopped, and asked, "How'd you do that?!" pointing to the gradient purples. From that moment, John became a consultant to other students' mural sections. He helped others blend their paint, get a clean edge, and troubleshoot issues. I witnessed John become visible to himself, to matter.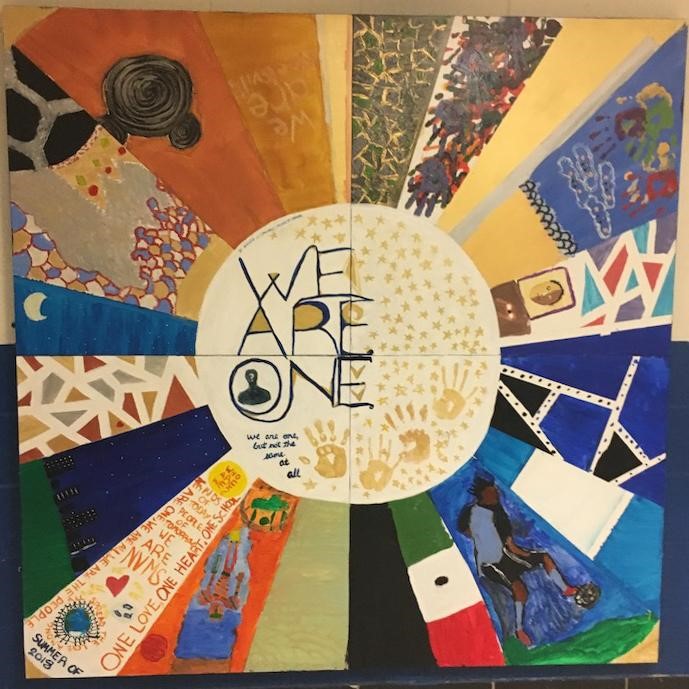 Story Tapestries is continuing to serve Neelsville Middle School students as the Lead Partner on a Trawick Foundation TeamUp Grant. Trawick started the TeamUp grants to promote collaboration among nonprofit partners, decrease duplication, and expand resources. Story Tapestries has the pleasure of collaborating with Aspire Counseling, Conflict Resolution Center of Montgomery County, and NAMI MC (all of whom are also Catalogue for Philanthropy partners). Our various programs at the school blend trauma-informed counseling and training, conflict resolution skill building, and arts integration programs for academic supports and social emotional growth. Story Tapestries sees the power artmaking has to open up youth to others and help them express their thoughts and feelings. Working alongside these other nonprofits, we are able to provide additional supports for youth who may have these experiences in our arts-based sessions, and may also benefit from other services including therapy and coaching.
Every time I visit Neelsville Middle School and pass that mural, I see another section of John's handiwork that I hadn't noticed before. I always pause and take a moment to remind myself what incredible power arts experiences have for students (and had for me, when I was John's age). Working in tandem with these partners, I am excited to learn what impact our various programs and services will have for John and other students. As we move toward collecting data for a midyear report, we look forward to the opportunity to reflect with John and other students to start to evaluate not only the individual but also the collective impact of our programs.
If you would like to know more about Story Tapestries' collaborative framework and the Neelsville mural, or connect about the Trawick Foundation supported collaboration at Neelsville Middle School, please don't hesitate to email Development Director, Lorienne Beals, at lorienne@storytapestries.org.