Written by Melanie Hatter, Communications Coordinator of Homeless Children's Playtime Project
If anyone knows the importance of play, it's children and youth, so it comes as no surprise that Playtime resonates with young people who are interested in giving back to their community.
Back in 2006, before Playtime was even incorporated, one of our first major donations came from then 13-year-old Danny Schwaber, who donated money he received in honor of his bar mitzvah's total of $6,000, which was, at the time, Playtime's entire organizational budget for the year!
Since then, we have been fortunate to benefit from numerous philanthropic efforts by children. Most recently, Girl Scout Troop 42013 from Murch Elementary School in D.C., donated one third of their cookie earnings to Playtime. We were honored to be invited to their bridging ceremony from Daisies to Brownies in June at the Chevy Chase Presbyterian Church where they presented us with $200.
Troop Leader Dana Hedgpeth explained that the 18-member troop decided to use their earnings in three ways: to give, to save, and to spend. They brainstormed several ideas for giving and after reviewing a variety of organizations, the group selected Playtime.
"They liked the purpose, and I think it was something they, at six and seven years old, could relate more to since Playtime helps kids specifically," said Hedgpeth. "They understood that all kids want some fun toys and items to play with."
Playtime Development Director Brandi Stanton, who attended the bridging ceremony, was awed by the Brownies' responses when she asked them why play was important for children living in shelter. They intuitively spoke about Playtime's research-based outcomes for children when they said play helps children do better in school and look forward to the next good thing in their lives.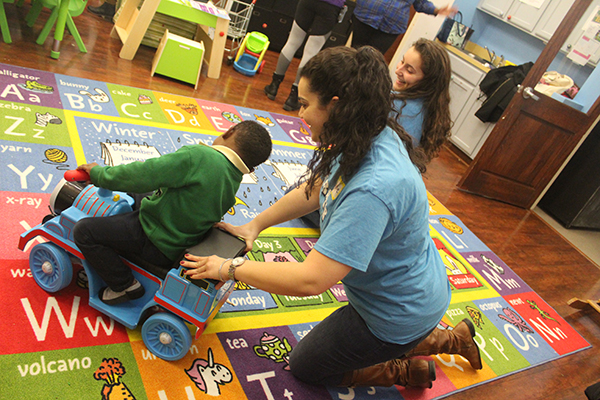 "I think it's important for homeless children to be able to play the same as kids who have homes," said troop member Noura Connor. "If I were homeless, I would want someone to play with me. I love seeing kids being happy, playing and having fun with other kids! I want homeless kids to have fun too!"
In 2017, we were impressed by one young man who started his own business and decided to donate part of his profits to Playtime. Nevan Brundage, 13, was a fifth grader at Grace Episcopal Day School at the time. He's now a rising eighth grader at St. Anselm's Abbey School in Northeast D.C. His business is called Nevan's Neckties and Necklaces – you can find him on Etsy and at local business fairs. And he has continued to support us, sending another check in 2018.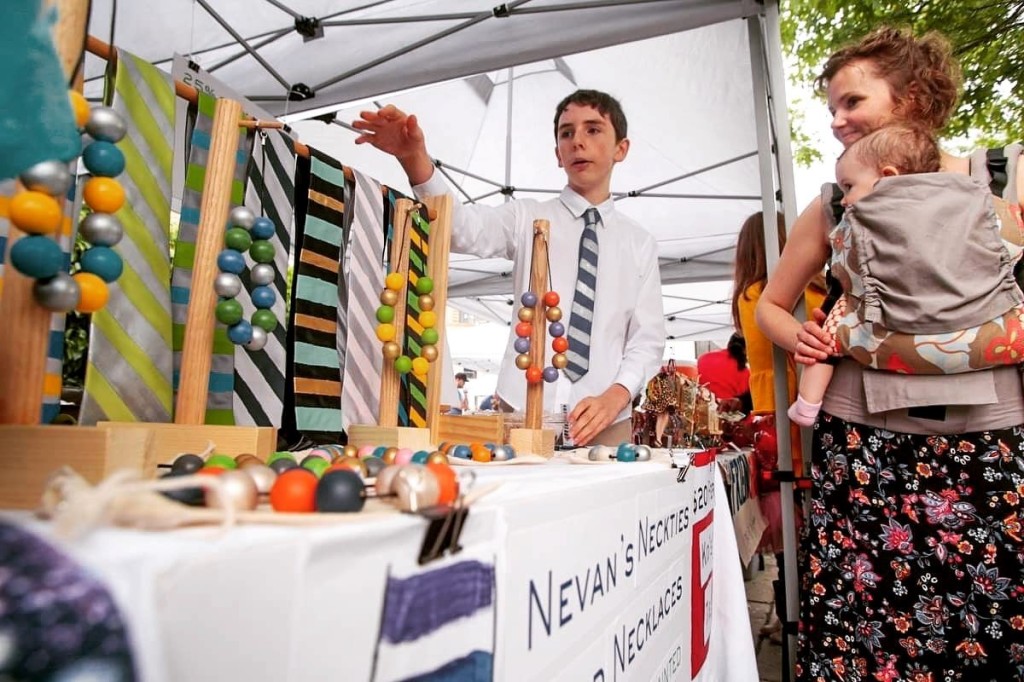 "I feel a lot better about helping the community because I'm not only helping kids have better childhood experiences, but I'm also making the world a better place," Nevan said. He first learned about Playtime when we gave a presentation at his school. "I thought it was a great charity to donate to because it helps kids with tutoring and to make friends when they normally wouldn't be able to due to their family's financial situation. It gives them the childhood experiences that can help them have a successful and happy life."
Earlier this year, third through fifth graders from Wood Acres Elementary School in Bethesda, Md., presented Playtime with a check for $1,000. They were participating in the Kids for Kids Fund, which is part of The Giving Square in Bethesda, where children learn about philanthropy and use "their empathy, sense of injustice, unique insights, and collaboration skills" to select an organization serving children to receive the donation. Most recently the Children in the Shoe Child Care Center, also in Bethesda, held a children's art and bake sale with the proceeds going to Playtime. And last year, Gabby Lewis and her fellow second grade classmates at Mann Elementary School in D.C. held a bake sale to raise money for Playtime.
We have also been the lucky recipient of many donation drives organized by children and youth. In February 2019, Sara Lynn's third grade class at Ashlawn Elementary School in Arlington, Va., collected birthday party supplies and snacks for the children of Playtime.
In 2018, we were touched when a young woman, Nava Mach, selected Playtime for her bat mitzvah project. She assembled 15 baskets filled with art supplies for teens and preteens and donated a variety of household items for their families, including towels and linens.
And the Megalim class of Temple Sinai D.C.'s nursery school collected almost $400 in gift cards for our Playtime children and families, to purchase food and household necessities. The pre-K class of four- to five-year-olds had been discussing homelessness as a result of the new Sesame Street character, Lily, with help from Barbara Duffield of SchoolHouse Connection. The youngsters also sent notes to the children of Playtime. One said, "I hope you find a home."
We're filled with inspiration and gratitude when young people find ways to support the importance of play for children experiencing homelessness! They give us much hope for the future.
This blog was originally published on August 5, 2019 at playtimeproject.org.
All of Playtime's programs are currently on hold in response to COVID-19, but their staff is staying connected to families and providing "Playtime-to-Go" play kits to keep children engaged and entertained in the shelters. To find out more about how they are continuing to support families and children during this time of crisis, please read their response to COVID-19.