Green Space is Good for All of Us: Planting Trees with EcoAction Arlington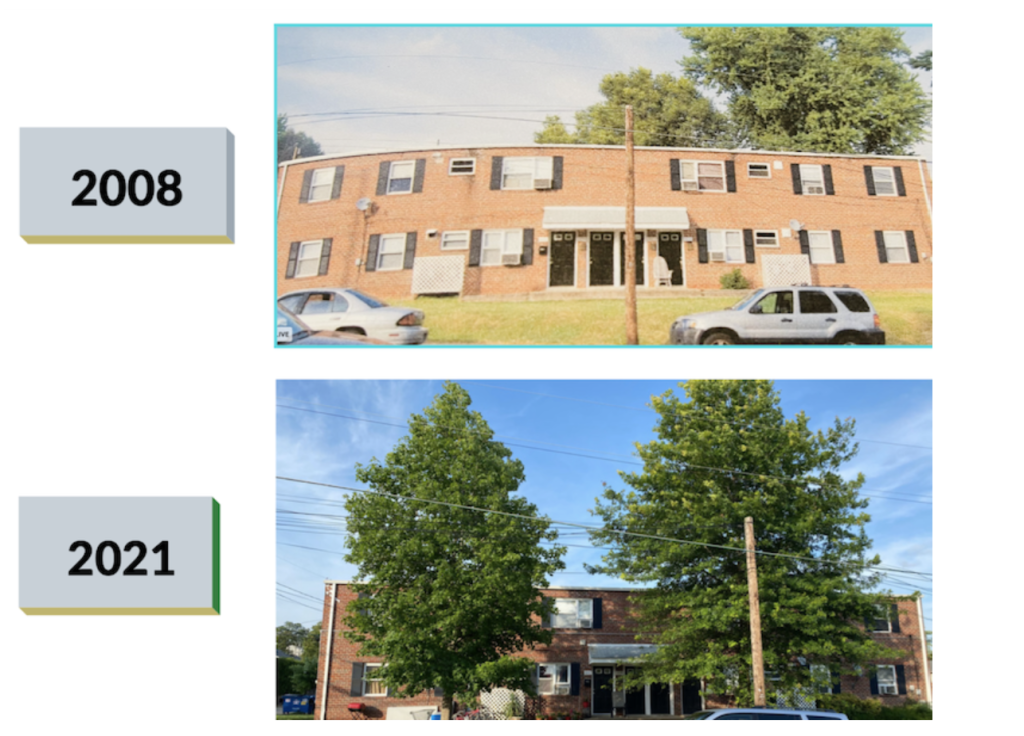 "In the evenings, in the spring and fall and summer, there's just tons of kids and young families and people playing out there," DeShay Williams, Board Member at EcoAction Arlington, described the stark difference between the two photos shown above. Thirteen years after seven trees were planted in front of this housing complex, residents have seen a tremendous increase in shade cover. "It's pretty exciting to see everybody out there just enjoying the space," DeShay told the Catalogue, pointing out the tree swing they've installed. "That's what motivates me to do this work… We're trying to impact the quality of people's lives — not just their physical health, but also their mental (health) — and how they enjoy their homes."
It is well documented that tree canopy cover and proximity to trees greatly impact our physical and social determinants of health, from maternal mortality rates to feelings of safety and reductions in violent crime. This is why Arlington County launched the Tree Canopy Fund in 2007, partnering with EcoAction Arlington to plant more than 3,500 native trees in the last decade and a half to combat Arlington's declining tree canopy.
In 2020, EcoAction Arlington partnered with a data science nonprofit to assess the insights they gleaned from managing the Tree Canopy Fund. Findings revealed that there was a common thread for neighborhoods with the lowest percentage of tree cover — communities with more minority residents and higher percentages of poverty. When Arlington County last measured tree canopy percentages in 2016, the average tree canopy percentage was 41%. Jill Barker, the immediate past Board Chair for EcoAction Arlington, points out that the data captured in 2016 do not provide the whole story. "The problem is that some areas have over 70% tree canopy and (other) areas have 25% tree canopy cover, or even less."
These results reflect a nationwide and historical inequity in green space. An emerging body of research shows a "direct relationship between tree canopy today and discriminatory policies of the past," such as redlining, with The New York Times reporting that the red lines that were drawn around predominantly Black, as well as Catholic, Jewish, and immigrant neighborhoods — intended to dissuade mortgage, health care, and infrastructure investments — "line up very closely with maps showing a lack of tree canopy today."
With trees contributing significantly to our efforts to decrease global warning, and with climate change accelerating the number of heat-related deaths, EcoAction Arlington is prioritizing working towards parity in tree cover across the county.
"I hope people will realize that the (urban) heat island effect is real," Jill emphasized. As part of a study conducted through Marymount University, she helped collect data for a heat island study done throughout Virginia by driving slowly on a predetermined route with a heat detector out the window. The University's project produced a map that hadn't existed before, and that the EcoAction Arlington team successfully used to demonstrate evidence of the effect to residents they canvass.
"When you put out the (heat) map next to the tree canopy map, it was astounding that it almost correlated precisely with the low tree canopy areas," she continued. Because of tree disparities, heat islands can even be 10 degrees hotter than wealthier suburbs with more trees. "Up until now, people had the impression that if we (plant) trees in Fairfax, that's going to benefit the whole region and that's the end of the story. But it really isn't the end of the story."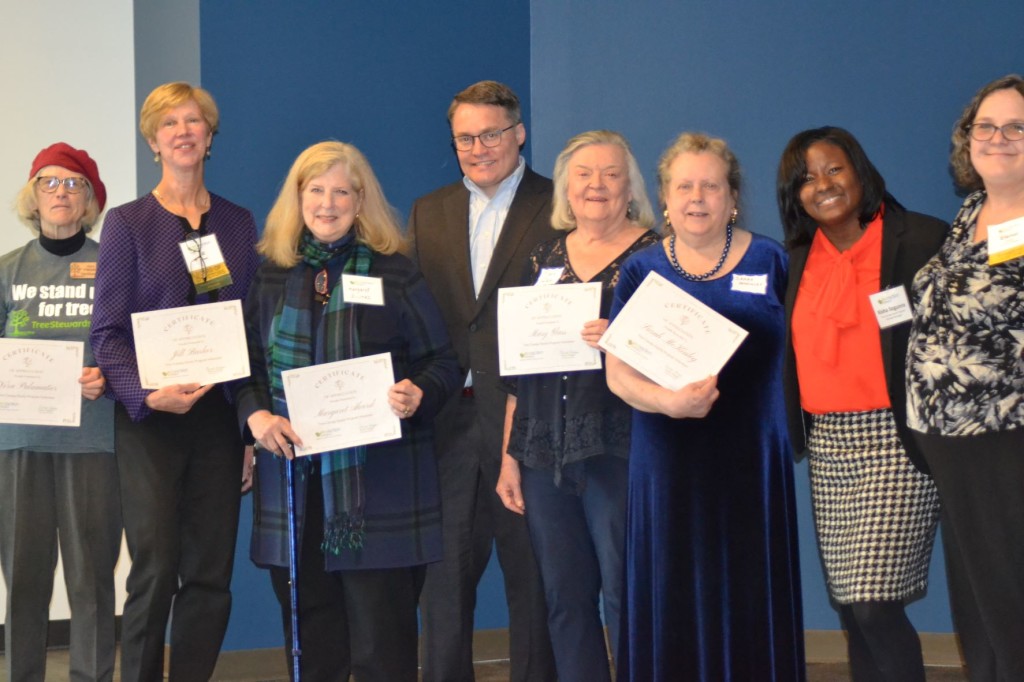 As part of EcoAction Arlington's new Tree Canopy Equity Program, their team is targeting ten specific neighborhoods that would benefit most from sustained tree planting efforts, providing free, native trees to increase their tree canopy from current levels of 17-33% to 40%. Thus far, it's been a deeply collaborative process, with volunteers engaging in door-to-door canvassing, tabling at neighborhood events, and reaching out directly to property owners to spread the word.
"You would think a free tree is easy to give away, but it's not really," DeShay shared when we asked about any surprises or challenges they've faced over their pilot year. Jill echoed this sentiment, noting that planting a tree can be low on people's priority lists and that many people fear "expensive maintenance, the responsibility of watering the tree, and (having) the tree falling on their house or car."
To overcome these barriers, the EcoAction Arlington team not only conducts outreach to increase awareness of their program and its benefits, but also supports residents throughout the entire process. They've hosted garden parties where residents can view available trees, get to know their neighbors, and speak with the tree stewards, master gardeners, and landscape architects who help them select the trees for their property. Various volunteers assist residents with applying for a new tree, reviewing and approving their applications to ensure it's the right tree or shrub in the right place, and then organizing the planting.
Patience, a personal touch, and being community-driven is key to their approach. During their pilot year, for example, an affordable housing partner they worked with decided not to continue with planting 19 trees at the last minute because they were afraid they couldn't pay for the watering contract. The EcoAction Arlington team applied for a grant from the Forestry Department of Virginia and asked if the funding could cover this watering contract as part of the tree maintenance. They said yes, encouraging the affordable housing partner to move forward.
"The most important thing to remember is that we're all neighbors together," DeShay stated. "We all live in Arlington (and) we all look out for each other." From watering trees together to checking up on each other's trees, the relationships that neighbors build with each other is critical to strengthening their health and wellbeing, as well as the health of the environment. This is immediately evident in the impact that EcoAction Arlington is making, with 33% of the people who have planted trees with them going on to plant trees on their own. "(We're) planting the seeds for more trees," said DeShay.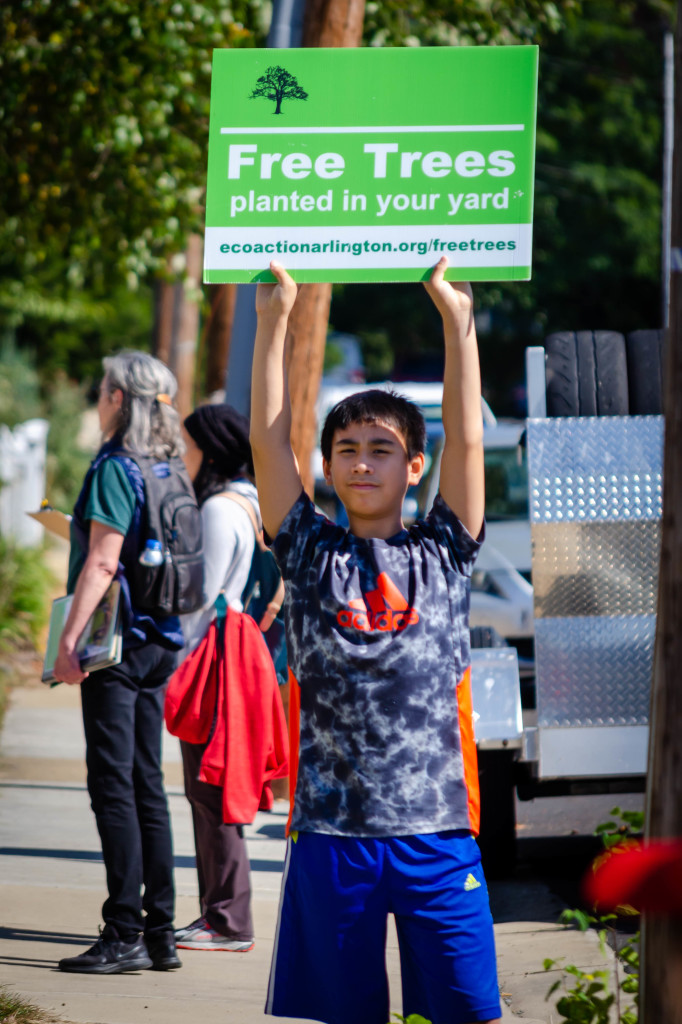 Learn more about the Tree Canopy Equity Program and its background on EcoAction Arlington's website. You can support their work by donating, volunteering, and/or staying updated through email, Facebook, Twitter, and Instagram.