Today's post comes from Girls on the Run – DC whose program teaches over 2,000 girls in DC's eight wards about self-esteem and healthy living through running.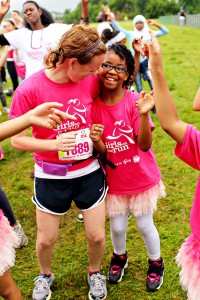 by Kelsey Lyle, Program Coordinator GOTR-DC
"My daughter, who usually complains about walking even a few blocks, came home last week after running almost 2 miles and was so energized and proud of herself that she asked to run around our block a few times. Running a 5K seemed impossible to her when she started, but now she's figured out that she can run further and longer than she ever knew. I'm looking forward to an improved outlook on fitness, which I hope will serve her throughout her life." – Dawn, GOTR-DC Parent of 3rd Grader
This is one of many stories that parents of Girls on the Run DC participants can tell. Girls on the Run DC is an afterschool program that inspires girls to be joyful, healthy and confident using a fun, experience-based curriculum which creatively integrates running. The program takes place over the course of 10 weeks and concludes with a 5k event to celebrate the hard work and accomplishments of the girls in the program.
Our volunteer coaches are the key ingredient to our success as an organization. Volunteer coaches empower girls to appreciate who they are and encourage them to take on a healthy lifestyle. They are what make the program happen- a role that is a blend of teacher, mentor, and friend. Each practice session offers a lesson on topics that include peer pressure, self-esteem, cooperation, and more. In addition to running during practice, the girls are asked to give a thoughtful reflection to the topic of the day. At the end of the program, each team creates and completes a community service project.
This Fall season Girls on the Run DC is in more than 50 schools and has over 70 Girls on the Run teams. Each year we serve over 2,000 girls in the DC metropolitan area. Approximately 60% of our sites receive scholarships, and we, as an organization, fundraise on their behalf.
We rely on volunteers to assist with many different aspects of our organization. We need over 200 volunteers to make our November 24th race day possible. If you would like to help out with Girls on the Run 5K as a race day volunteer please sign up on our website: http://www.gotrdc.org/get-involved/volunteer.
Find out more about Girls on the Run DC at our website, or Like us on Facebook!
photo: Emily Weiss (emilyweissphotography.com)