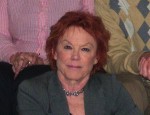 In honor of Hispanic Heritage Month we welcome Rebecca Read Medrano to 7 Questions. Rebecca has served as chief finance and administration officer for GALA Hispanic Theatre since 1976. Medrano has also served as the principal development and marketing staff member, managing GALA's $4.2M capital campaign and developing its strategic marketing plan. GALA (Grupo de Artistas Latinoamericanos) Hispanic Theatre is a National Center for Latino Performing Arts in the nation's capital. Since 1976,GALA has been promoting and sharing the Latino arts and cultures with a diverse audience, creating work that speaks to communities today, and preserving the rich Hispanic heritage for generations that follow.

1. What motivated you to begin working with your organization?
I graduated from Smith College with a degree in Latin American Studies and a minor in dance/theater, and I had pursued dance all my life, since age three. I was fortunate in that both of these fields or disciplines came together when I met my future husband, Hugo Medrano, at an audition for a bilingual children' s theater program at Back Alley Theater in 1974. After two years at the Back Alley, Hugo and I co-founded GALA Hispanic Theatre. We shared a vision and passion for preserving Latino arts and culture in the U.S. and providing a nurturing space where Latino artists could create and produce their work. Of course GALA's founding was also inspired and propelled by the wave of political exiles arriving to DC from South American in the late 1970s in response to repressive military regimes. These were artists seeking a safe place in which to remain connected to their cultures and find freedom of expression. I think that is why GALA has remained so connected to the community it serves after almost 40 years, even though the demographics have changed.
2. What exciting change or innovation is on your mind?
I am most excited now about the installation of a new marquee at our street entrance on 14th Street. Ever since creating our theater space in the Tivoli, we have been hindered by the confusing layout of the building's entrances. In the original plans, GALA was supposed to have the right to construct a marquee at the entrance, but things changed. Since everyone's eye goes immediately to the historic marquee at the corner (which was the original theater entrance but is now a Z-burger) they assume that is the entrance to GALA. Although GALA's street entrance on 14th Street is marked by a large neon sign on the wall above, passersby constantly miss it. The new marquee will mimic the historic style of the one on the corner, but it will also have LED signage to let the public know what is on stage and what is coming. I think this will do wonders to better connect us with the immediate community surrounding the theater, and will attract a new, diverse audience to GALA. It will also be helpful to all of the organizations we partner with who also use our space, such as InSeries, Young Playwrights' Theater, and Landless Theater, among others.
3. Who inspires you (in the philanthropic world or otherwise)? Do you have a hero?
My hero and inspiration is Joseph Papp, the great New York theater visionary and producer. I always admired Papp's passion for culturally specific art and theater by artists of color. He wasn't afraid of taking risks, such as launching (and providing underwriting for) the first International Latino Theater Festival in New York, and producing unknown works by little known artists. I also was inspired by his "Save the Theaters" initiative when he lobbied, against big time developers, to protect historic theaters in New York. Despite his renown, he was humble enough to travel to DC to attend one of GALA's productions of Lorca's House of Bernarda Alba when we had our space at the old Landsburgh Building (where Papp was almost locked out by a guard!). And he took the entire cast to dinner after the performance and critiqued each artist.
4. What was your most interesting recent project/partnership?
To me the most interesting recent project GALA undertook was the national tour of an internationally acclaimed Mexican theater/dance company called Teatro Linea de Sombra. Through a Southern Exposure grant initiative, funded by NEA and the Mid-Atlantic Foundation, GALA partnered with three other groups On the Boards in Seattle, International Latino Theatre Festival of New York, and Cumberland County College in Vineland New Jersey to produce a national tour of Teatro Linea de Sombra's powerful multimedia work, Amarillo. The piece depicted the voyage (s) of nameless migrants who leave their home towns in Mexico or Central America in the hopes of reaching the U.S. border, but they never make it. Every year thousands disappear in the desert, dying of dehydration or hunger, and their families never know their whereabouts or if they ever reached their destinations. The show utilized dance, projections, throat singing, wall climbing, and 800 pounds of sand that poured out of suspended bags that swung back and forth across the stage. The effect was visceral and immediate.
5. What is the single greatest challenge that your organization faces (besides finances) and how are you dealing with this challenge?
Everyone says that we have to face the issue of leadership transition, since the three senior staff members (including Hugo and myself) have all been with the organization for over 35 years. I agree that this is a challenge, particularly since we are a culturally specific organization and it will be difficult to find someone within the U.S. theater community to take on the leadership as Artistic Director. We are beginning to lay the groundwork for that transition, but I also see other equally as important challenges ahead that have to do with external changes in the arts environment.
When GALA started in 1976 there were only 8 other arts groups in DC, and we were the only Latino arts group. Now with so many theaters competing for audiences, everyone needs the Latino audience (one of the fastest growing sectors of the population in our region). As a result many arts groups are doing Latino work to attract these audiences and help their bottom line. But this work has never been integral or critical to their mission, as it has been to GALA, which is a group of Latinos for Latinos. The Kennedy Center is undertaking a flamenco festival, one of GALA's most popular programs for the past ten years; Strathmore is doing Flamenco, everyone is doing tango, and the edgy theaters are doing work by new Latino artists in English. All of these groups have much larger marketing budgets and staffs than GALA, so it means that we are in danger of losing some of our audience. Our response to this has been to do more commissioning work. This year we have commissioned a new bilingual children's play by one of our collaborating young Mexican-American artists, Cecilia Cackley, we commissioned a new work by Caridad Svich, and a musical by an Argentine playwright Patricia Suarez Cohen about the trafficking of Polish Jewish women in Buenos Aires at the turn of the century. All of the playwrights are Latina women, so we feel we are contributing to the growth of the field of Latino dramaturgy and at the same time introducing non-Latino audiences to important new work.
6. What advice do you have for other people in your position?
Never lose faith in your mission and your vision. Use the telephone once in a while, not just e-mail or social media, to call donors, thank people, engage board members, and create excitement on a personal level. Young people NEVER use the phone!
7. What's next/coming up for you?
It is always a surprise for me at GALA because I learn something new every day. And that energizes me and keeps me young. We have such a rich culture and there is so much more to explore and uncover. We are looking forward to celebrating our 40th anniversary in 2015-16 so there will be a lot of surprises in store for everyone. Stay tuned.