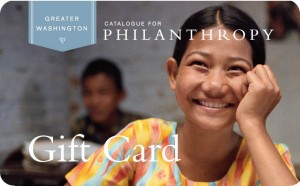 Still searching for the perfect gift for that person who seems impossible to buy for? This year, save yourself from a frantic last-minute trip to the mall and consider giving the gift that gives back. When you purchase a Catalogue for Philanthropy gift card, your recipient gets the opportunity to experience philanthropy in action as they distribute the card's value across any of our 368 nonprofits.
The Catalogue for Philanthropy's gift e-cards make the perfect gift for anyone on your list: from that one person who has everything to the budding junior philanthropist in the family. In fact, we can't think of a time when a Catalogue gift card wouldn't be a great gift.
Our gift cards not only capture the spirit of the holidays through the joy of giving, but also give recipients the opportunity to support the causes that mean the most to them — whether in the environment, arts, education or human services in the community where they live and work. And it's SO easy: Simply click. Give. And inspire.