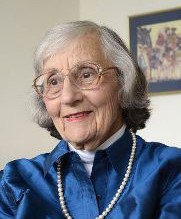 For forty years, Aspire Counseling, a mental health non-profit based in Gaithersburg, has been helping Montgomery County residents grow, change, and thrive.
It began in 1978 with Maryrose Rogolsky and a small, rented office in the Rockville Seventh-day Adventist Church. Rogolsky, lovingly known as "Posey," set out with a vision to start an agency specializing in low cost, high-quality mental health care, to children in need. From that room, Posey and her three staff members founded what was then known as the Child Center and began their legacy and transformed access to affordable mental health care in Montgomery County.
Posey was a true visionary. She served children during a time when there was little recognition of children's mental health needs. She bravely did battle with insurance companies that questioned how a child of six years could be experiencing emotional problems. Fast forward 40 years and it can be very difficult to find an appointment with a child therapist, especially if you are uninsured and face financial and cultural barriers.
"With a firm foundation based on the belief that all individuals, regardless of race, age and income, deserve access to affordable, evidence-based, excellent mental health care she built an organization that has helped thousands overcome personal mental health challenges," said Carrie Zilcoski, Aspire's Executive Director.
Over its 40 years, the Child Center evolved, expanding to become Child Center and Adult Services, and now Aspire Counseling, but it continues to be guided by Posey's vision. "What would Posey have done?" has become a mantra as Aspire's staff continue to adapt to Montgomery County's, and society's, ever-changing needs.
In 2018, Aspire Counseling's Main Clinic is on pace to set a record of 1,400 unique patient encounters and nearly the same volume of patients in the community. Aspire's newest program has brought services back into schools, training hundreds of educators and school employees on becoming a Trauma-Informed School with a goal of placing therapists in each school who specialize in trauma and helping students who have experienced Adverse Childhood Events.
Aspire Counseling also offers programs dedicated to new mothers who are suffering from or at risk for postpartum depression. The Healthy Mothers, Healthy Babies program connects families to community services and provides a therapist who will make 12, no-cost, home therapy visits.
Committed to transforming lives and building resilience regardless of ability to pay, Aspire has found its place in Montgomery County's growing and diverse community. To learn more visit we-aspire.org or call (301) 978-9750. Regardless of the challenges, you're facing or your ability to pay, Aspire is here for you.