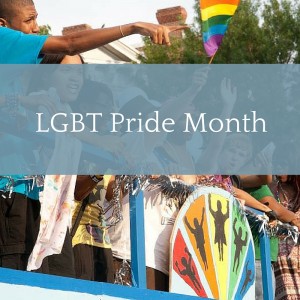 On May 31st, President Obama issued a Presidential Proclamation for LGBT Pride Month. The proclamation acknowledges the ongoing "fight for dignity and equality for lesbian, gay, bisexual, and transgender (LGBT) people" by forward-thinking individuals and the opportunity to "recognize all they have done to bring us to this point" during LGBT Pride Month. Pride month coincides with the anniversary of the famous Stonewall Riots that occurred in 1969 in New York City, which marked the beginning of the LGBTQ rights movement in the U.S.
This Saturday, June 11 is Capital Pride Parade. The Parade — which travels through Dupont Circle and Logan Circle neighborhoods — will include more than 180 floats, vehicles, walkers, entertainment. In light of LGBT Pride Month, and the upcoming parade, we're proud to introduce our supporters to two Catalogue nonprofits that dedicate their missions to serving the LGBT community in Greater Washington:
SMYAL – Supporting and Mentoring Youth Advocates and Leaders:

We've come a long way in the last few decades, but for many young people SMYAL remains the only place where they can openly and safely be themselves. Lesbian, gay, bisexual, transgender, and questioning (LGBTQ) youth are at greater risk than their heterosexual peers for physical abuse, homelessness, suicide, HIV infection, substance abuse, and dropping out of school. Newly-focused on youth leadership, SMYAL enables teens to build confidence, develop life skills, and engage their peers in service and advocacy projects. And the Youth Center provides a supportive, welcoming environment for those rejected by their families and isolated from their communities. Support and discussion groups explore self-esteem, health, sexual activity, drug abuse, and violence protection; free HIV testing, counseling, and referral are offered to everyone. Committed to a better world for the next generation, SMYAL trains schools to work with LGBTQ youth in an effective, affirming way and advocates for services that these youth need as they grow up.

Fun fact – SMYAL was just accepted into the 2016-17 Catalogue (it's 3rd time being featured)!
The DC Center for the LGBT Community: The name says it all: the DC Center for the LGBT Community welcomes anyone and everyone who identifies as lesbian, gay, bisexual, or transgender in the DC Metro area, and works to meet their varied needs. Its 14 programs fall under four categories (Health and Wellness; Arts and Culture; Social and Support Services; and Advocacy and Community Building) and each addresses specific challenges, identified either by research or by the community's request for support. Whether it's distributing HIV-prevention kits, launching the city's only LGBTQ Violence Response Hotline, offering Spanish-language career development services, or directing LGBT asylum-seekers to legal services, the Center provides direct programs and serves as a clearinghouse for other resources. The most recent initiative? Center Military, designed to support LGBT service members, veterans, and their families. This flexible, comprehensive approach is made possible through collaborations with other organizations, many of which use the Center's office as a welcoming place for forums and meetings. Where the LGBT community has a need, this dynamic group fills it. Please consider making a donation, or attending one of the many events taking place during the month of June (which you can check out here)!