By Elizabeth Lindsey, Executive Director of Byte Back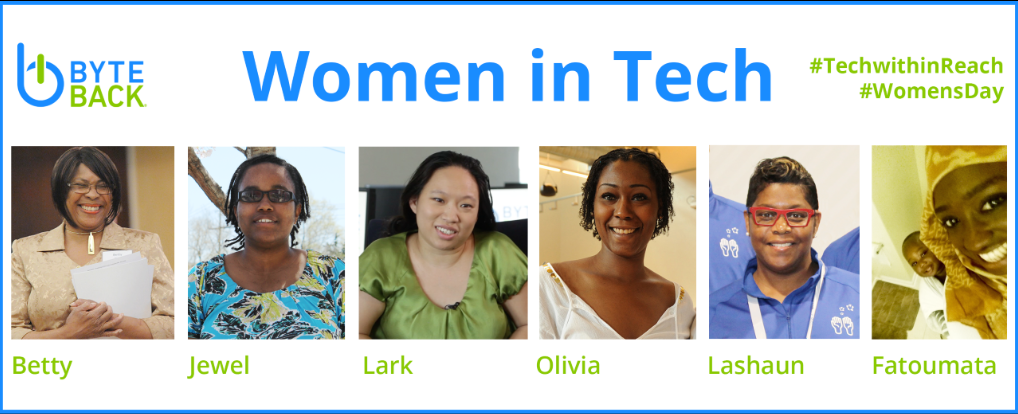 Women make up only 25 percent of the computing workforce in the United States. For women of color, this drops drastically, with just 3 percent of the workforce made up of African American women and 1 percent Latina women.
March is Women's History Month: a time to celebrate progress, recognize deficits, and act for equality. Now is the perfect time to give a woman her start in tech.
In Byte Back's 20 years, our demographics have never reflected the outside tech world. That's kind of the point. In 2016, 417 women, or 61 percent of Byte Back's student body, found empowering tech skills for free at Byte Back.
Byte Back offers a pathway of practical tech training and career services for DC-area residents, leading to professional careers and economic opportunity.
When women are offered the chance to learn and use technology the same as men, women access vital life opportunities, including high-paying jobs, healthcare, sexual and gender violence services, family care, and more.
Underserved, marginalized women who have never thought a career in tech was possible find it at Byte Back:
Betty faced years of unemployment and age discrimination. When she got computer training and earned a Microsoft specialist certification, she found a high-paying administrative job at the District of Columbia Superior Courts.
Jewel was a teen mother, surviving on government assistance and a job at a supermarket. She earned a certification and found her path as a tech administrator.
Lark struggled as a single teen mother and a runaway youth, and felt lost in her career and in life. She found direction and a career thanks to the education and care she received at Byte Back.
Olivia had unsteady jobs as a security guard and hairdresser and was homeless, sleeping in her car. Since she earned her CompTIA A+ certification, she has not only found a job but a stable career that allows her to have her own apartment and not just survive but thrive.
Lashaun, a current A+ student, works all night and shows up to her class in the morning. She is on her way to becoming certified and landing a job that doesn't require night shifts.
Fatoumata was a recent immigrant from Senegal and a new mother. She got computer training and a certification to start her career and now confidently supports her son as a single mother.
Society told these women a career in tech wasn't an option. But once they entered Byte Back's doors, they found confidence and people who believed in their success.
These amazing women are not only changing the face of tech or changing statistics, they are part of a bigger change that's needed. With technology, women can connect to the world and build connections to employers, friends, and family. With technology, women can move into jobs to support their families – tech jobs, white collar jobs, medical jobs. With technology, women can help their families teach their children, communicate with teachers, open up a world of knowledge.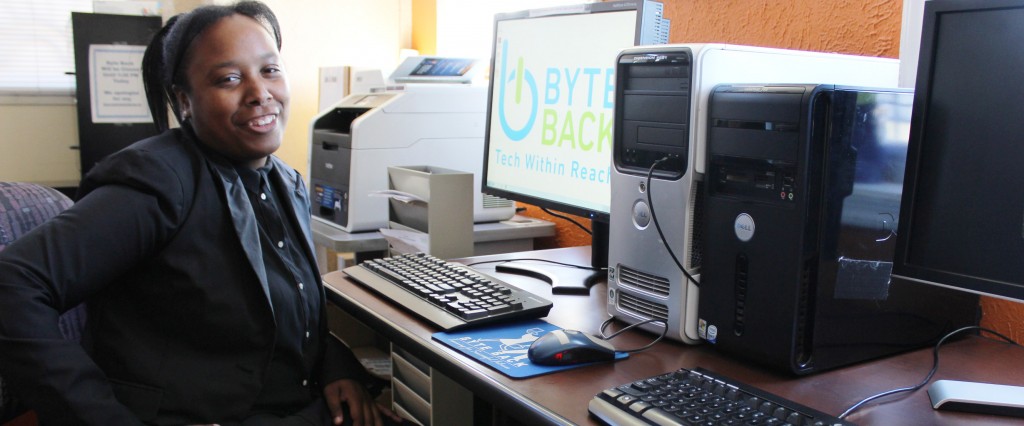 It doesn't have to be expensive, or complicated. So much can be solved by teaching women how to use technology. With a small investment in women's lives, we can have a huge impact on social change.
Today, we urge you to find a way to support women, whether it's as a mentor, a volunteer, or a supporter of a community organization. Byte Back is opening opportunities for women to cross the digital divide and to advance in IT careers. Groups like Girls Who Code, Black Girls Code, and Lesbians Who Tech are making sure that women are not alone in tech online and in real life.
If we all work together, we can make sure women have the power to use technology to change lives. Please help us continue to bridge digital gaps and gender gaps in tech – email me today at elindsey@byteback.org to become a mentor or hire a Byte Back graduate.
——-
Byte Back improves economic opportunity by providing computer training and career preparation to underserved Washington, DC metro area residents.
Through free computer and advanced IT certification classes, Byte Back helps graduates gain invaluable skills, experience higher rates of self-confidence, and launch successful new careers. Byte Back's programs have provided a pathway to technology skill development and fulfilling living-wage careers for thousands of individuals who have struggled with underemployment, unemployment, and poverty.