by Regina Northouse, Executive Director, Food Recovery Network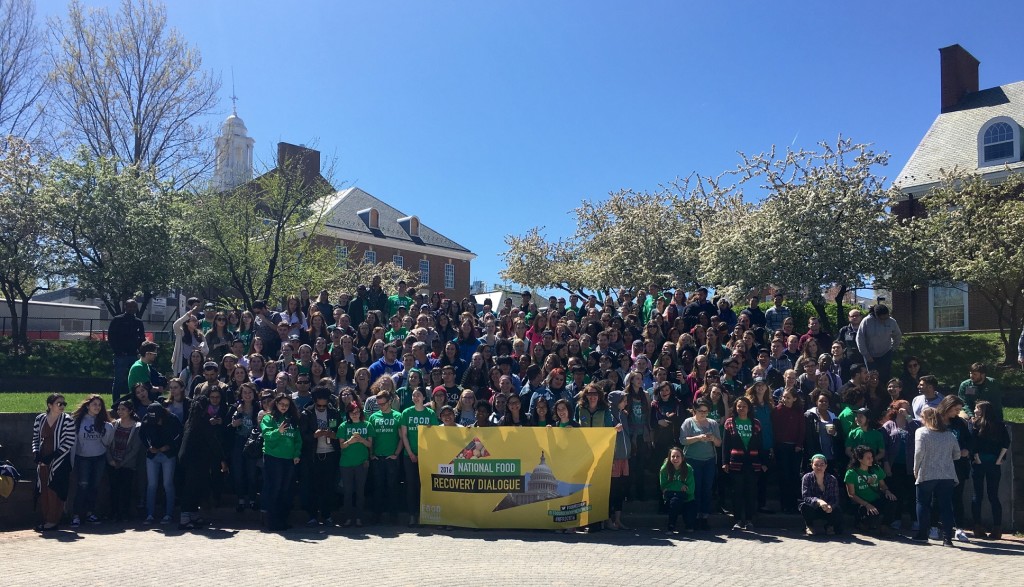 Food Recovery Network (FRN) is the largest student movement against food waste and hunger in America. FRN unites and empowers college students to recover surplus food from their campus dining halls and surrounding food businesses and donate that food to hunger-fighting nonprofits who feed those most in need. With 230 university chapters across the country and growing, FRN's goal is to support higher education in being the first sector where food recovery is the norm and not the exception. Through the power of highly motivated student leaders, FRN has recovered and donated more than 2.1 million pounds of food since 2011.
FRN positively impacts our communities. Our student leaders support over 350 hunger-fighting partners including homeless shelters, food banks and food pantries, providing them with wholesome, nutritious meals to give to their clients.
The U.S. food system is marked by an alarming paradox: nearly 40% of food produced in the US goes to waste, while 48.1 million Americans experience food insecurity each year, one out of seven of whom are children (NRDC 2016; USDA 2015).
Food Recovery Network was formed in 2011 by college students at the University of Maryland who wanted to address these issues of food waste and food insecurity, and their social and environmental impacts. These impacts include wasting 23% of potable water and 18% of valuable cropland, as well as emitting methane into the atmosphere, contributing to the rise of greenhouse gas emissions and global climate change.
What sets FRN apart, is our innovative model which empowers and educates young leaders and breaks down barriers between college campuses by helping students develop new solutions to problems in their communities, to connect with nonprofits in their area and help and build relationships with their neighbors who also happen to be in need. Through our model, our civic-minded student leaders gain confidence in their own abilities to challenge the status quo and fight for what is right.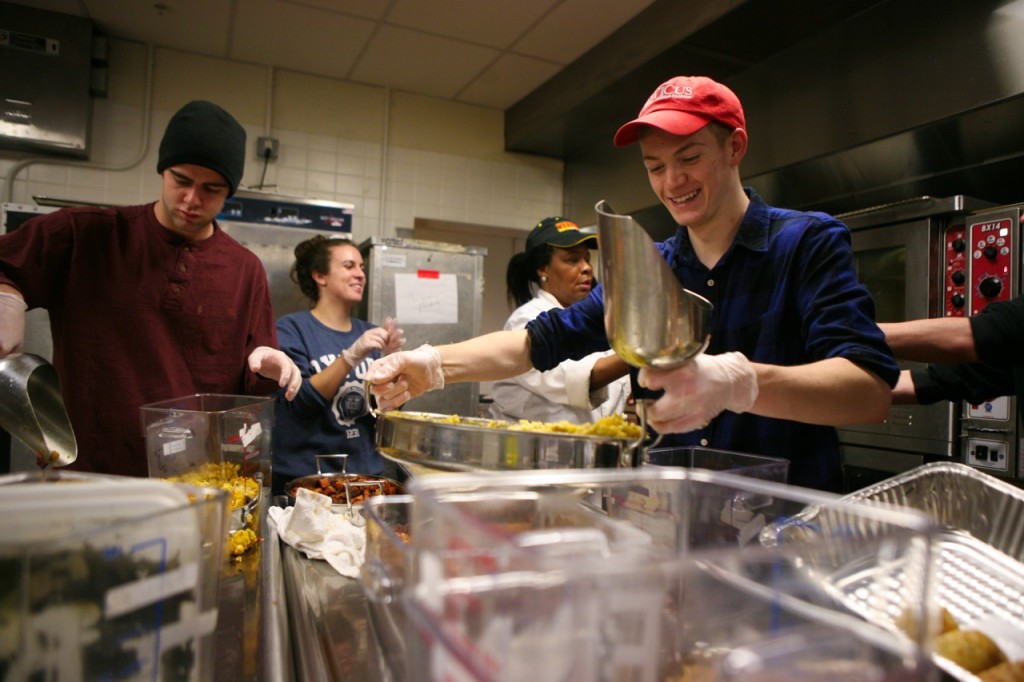 Food Recovery Network is a national nonprofit that applies local solutions to specific communities to ensure surplus food gets to those who need it most. I know I speak for my amazing team at FRN headquarters in College Park, Maryland, when I say we are continually inspired by our hard-working student leaders all over the country.
Many of FRN's students often do more than volunteer with their FRN chapter. Our students pursue other opportunities in the food recovery movement, such as gleaning from local farms, recovering nonperishable food items during the days when students on their college campus move out for the semester, and participate in summer recoveries. The student leaders also volunteer with the nonprofit where they donate their surplus food by tutoring, preparing and serving meals and helping with cleanup initiatives.
We talk to our leaders all the time and there are so many inspiring stories. Actually, when asked about her relationship with her chapter's partner nonprofit, one student from Michigan said, "Every time I brought food to our partner agency, I would meet one of the residents and they would be so kind and grateful! I loved being a part of this amazing organization and movement! It has made me realize that I want to incorporate more awareness and advocacy in my future career."
Recently, we were told by an FRN alum that one of her limiting criteria for searching for which grad schools she wanted to apply to was whether that the school had an FRN chapter so she could remain engaged as a graduate student.
At the heart of what drives FRN to pursue the work we do is two things. First, being able to provide a source of nutritious food to those who would otherwise not have access. We're here to be part of our communities. Second, we want to change behavior to reduce food waste at the source post production. This is one of the highest instances of food waste (versus food wasting on the vine for example). We don't want to overproduce food in order to donate it, we want to ensure good food isn't wasted to begin with, and when there happens to be surplus, which, let's be honest, much of the time there will be, that food should feed our fellow neighbors in need.
In addition to recovering food from their campuses, students have the opportunity to volunteer their time with the hunger-fighting partners and the individuals they serve, highlighted by Lighthouse Outreach Ministries, "Everyone likes to see the college kids ride up! The homeless have families that they are separated from and it makes everyone smile to know they are not invisible."
FRN is dedicated to continuing our work in the food recovery space and to expand the movement, as we continue to provide support and resources for driven, civic-minded students seeking opportunities to engage with their communities and build their leadership skills. I look forward to collaborating and partnering with individuals and other organizations to move the needle on the issue of food waste and food loss. I hope those reading this post know they can be part of the conversation with us!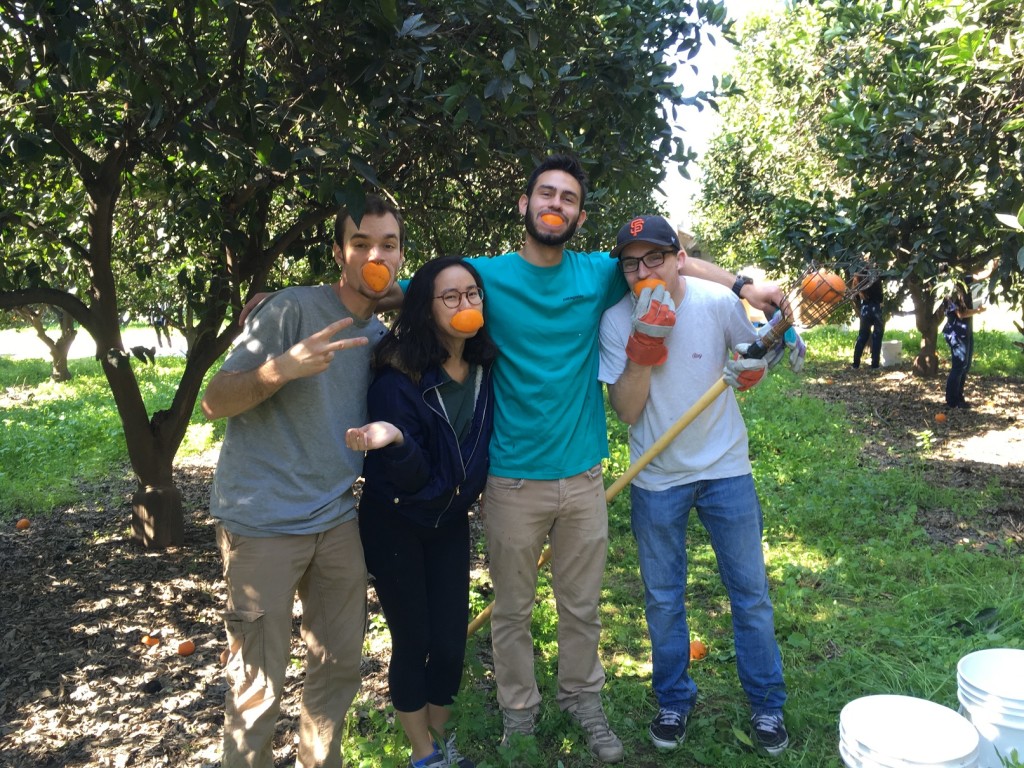 FRN hopes to see our network expand to 350 chapters across the country, and our ability to recover 1 million pounds of perfectly good food year-over-year. We're working to expand our Food Recovery Verified (FRV) program that recognizes and rewards food businesses of any type that are working to fight waste and feed people through food recovery. FRV serves as a third party that verifies that food businesses are donating surplus food to hunger fighting non-profits. We list those businesses on our website, we have a communications strategy to give voice to those businesses, and each business receives a window sticker to display on their doors or on marketing materials to tell patrons their business does the right thing with their surplus food. To date, FRN has over 90 food businesses that have been verified including Adidas, Zulily, and Twitter Inc.
Success is when each point within our food system has decreased food waste by implementing better practices to avoid overproduction of food–meaning at the farm level, the producer and purchasing level, at the retail level and individual consumer level. I know that as this conversation takes hold in the consciousness of more people, FRN is part of that behavior change.
Success is having the proper logistics in place for when there is surplus food to properly and effectively distribute that food to those who need it most across the country. We also want our student leaders to be part of the full process. Our students are the future entering into literally every sector in our country as business owners, chefs, teachers, engineers, technicians and farmers who all share the FRN experience. That experience has shaped their thinking about their ability to positively impact the lives of their community members, as well as how to reduce food waste. That's the FRN lens. We want that FRN voice to continue to speak even once our students have graduated from college.
A great day at FRN features our small but mighty team at the national office working to support and expand the national network. That includes connecting with existing chapters on the phone, social media, emails and getting them what they need to go out and recover, or move closer to achieving their newest goals for the semester.
FRN works closely with our hunger-fighting partners collecting vital information, analyzing it, and then passing along new resources to our chapter leaders. At FRN, we're constantly refining our work–what can we do better, what have we learned from our previous projects, what didn't we do well, and where did we knock it out of the park?
As we grow, how we scale has to change, and how are we addressing those needs? Hearing the hum of our feedback loop in the office–during our project planning meetings is important, too. Additionally, our staff works with non-university food businesses that recover food to recognize them for their efforts and inspire other businesses to begin recovering through our Food Recovery Verified program.
All of these variations operations take place in our national office, made possible by our dedicated, passionate, and collaborative staff!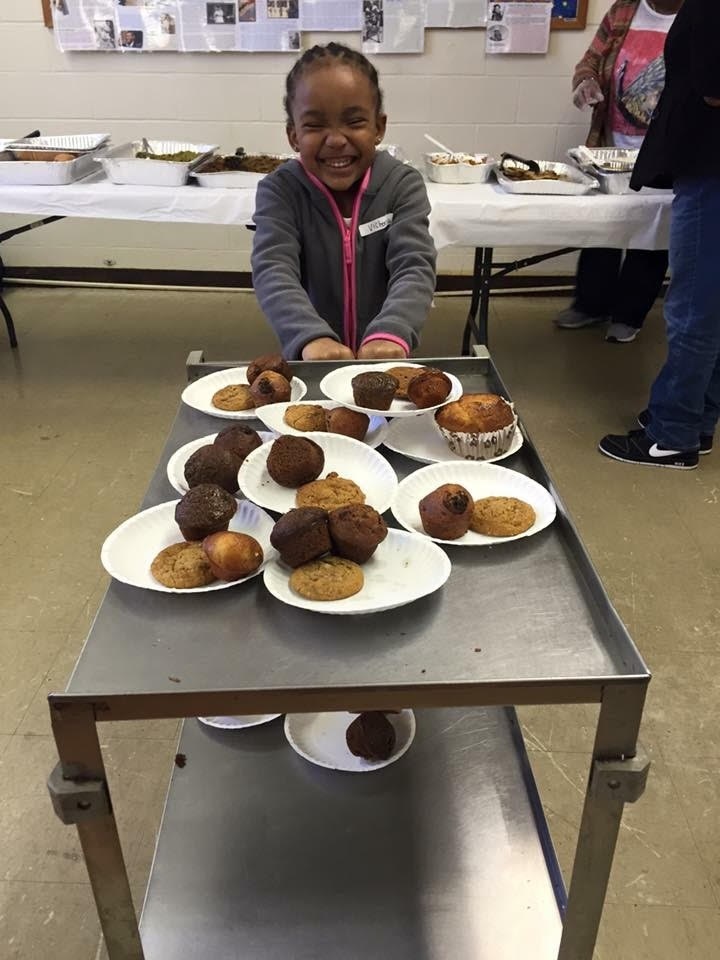 There are plenty of ways to be involved, and we need you to be involved with us!
FRN welcomes all interested volunteers, including non-students, to help out with their local chapters!
Non-student volunteers are encouraged to reach out to their local chapter leaders, as many chapters seek the help of additional volunteers as drivers or mentors, if not during the actual recoveries as well. A list of chapters by state and their respective chapter leaders, contact information can be accessed here

.

The national office is always here to make connections, too. FRN national is setting up gleaning dates throughout the fall in and around the Washington DC, Maryland and Virginia area. We would love for you to help us recover perfectly good food right at the farm!

Contact our national office now to put your name on the list for more information.
Help us expand! If you're alma mater isn't on the FRN map

and you know students who attend and would make a great leader, put them in touch with us! Students can start by filling out our very short application.

Support our second annual

National Food Recovery Dialogue

. This is our annual conference that brings together our student leaders, industry experts, and community members to put into context the bigger picture of our work, and is a space to roll up our sleeves to problem solve on-the-ground problems, share resources, and break bread with one another.

Have some fun and start a

"Zero Waste Challenge"

for FRN. That can mean reducing your waste by eliminating plastic straws from your daily use, or paper napkins like our national board member Jessica did, or it could mean trying to go completely zero waste like our other national board member, Claire did. Anyone can do it, and it's quite the amazing experience!

If you have an expertise that you think can help FRN, please reach out to us. We're growing and need dedicated support in several areas. Please contact FRN headquarters by emailing

info@foodrecoverynetwork.org

or phone +1 (240) 615-8813 with any questions, or to be involved.