by Mary Giordano & Mary Lee Anderson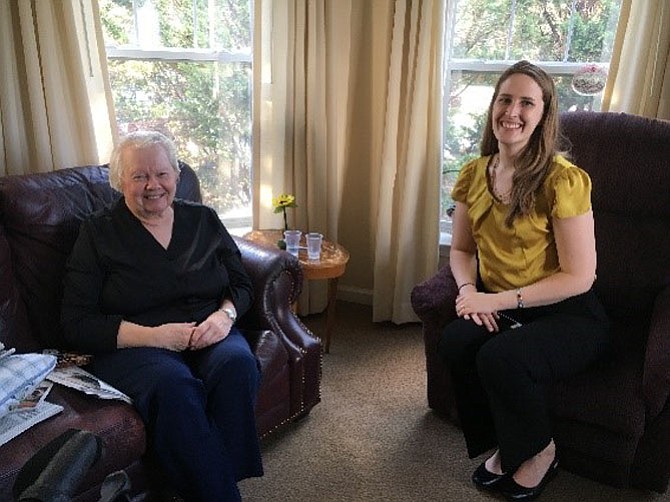 Every week in the City of Alexandria, more than sixty volunteers visit a senior for an hour or more in their home, apartment, assisted living or healthcare community through the Friendly Visitor Program of Senior Services of Alexandria.
The program is designed to enhance the quality of life of socially isolated seniors by providing social interaction, mental stimulation and emotional support.
Recently, a volunteer, Paul, was matched with "Mr. S.", who was the Clerk of the Supreme Court during the time Thurgood Marshall was a Justice of the Supreme Court. As a videographer, Paul plans to create an oral history of the many fascinating stories "Mr. S" tells during their visits.
Another volunteer, Megan, is visiting "Mrs. V.", who received a Master's Degree in Mathematics in the 1940s and was one of the first women to work on scientific computers in the country. Megan plans to bring the movie, "Hidden Figures", on an upcoming visit to watch together.
A few of the volunteers bring their dogs or small children on their weekly visits. Some pairs play cards or Scrabble together or go to activities within the assisted living community including musical performances, bingo and chair yoga. The unanimous sentiment of both the seniors and volunteers in this unique program is the realization that what starts as a weekly visit becomes much more than that – a special friendship.

Senior Services of Alexandria and Rebuilding Together Alexandria, are teaming up to provide free in-home safety inspections for seniors who currently receive Meals on Wheels. This program came about from the "Meals on Wheels America" campaign to provide seniors with a "more than a meal" support so they can remain in their homes as they age.
Earlier this summer, "Meals on Wheels" clients received a flyer from Senior Services of Alexandria for a free home safety check by Rebuilding Together Alexandria. Several clients requested free home repair services from Rebuilding Together. Our Senior Services of Alexandria staff responded and developed an "action plan" to correct any hazards. We will continue to provide the information about the safety checks to any new clients added to Meals on Wheels program.
"Conducting a home safety check can go a long way in preventing problems that could lead to a fall, other injury, or loss of independence," stated Katharine Dixon, President & CEO of Rebuilding Together Alexandria. "By spotting these hazards and taking some simple steps to correct them, seniors can continue to live at home safely."
At the core of the "Meals on Wheels" service is a nutritious meal, companionship and a watchful eye on the health and safety of our seniors. Adding the home safety inspection is just another way of ensuring that Alexandria seniors are remaining safe in their own homes and aging with independence and dignity.
If you know of a senior living in Alexandria who would benefit from this program or have an interest in volunteering, please Mary Giordano, Program Director, at (703)836-4414 Ex. 120 or by email at friendlyvisitor@seniorservicesalex.org.