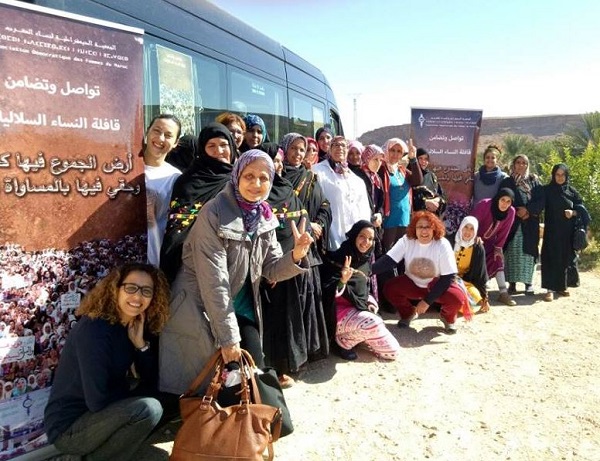 Just over ten years ago, the family of Rkia Bellout, a woman from the Kenitra region of Morocco, sold its ancestral land. While the men in her family reaped the profits, she did not receive any compensation. Rkia is a member of the rural Soulilyate minority in Morocco, and like other women in this group, she had no rights to her land.?
Rkia decided to take action and sought the counsel of Moroccan women's organizations to help her claim her right to participate in decisions over land ownership. When she brought her complaint to an NGO called ADFM (l'Association D'mocratique des Femmes du Maroc), the organization helped mobilize a national grassroots movement of Soulaliyate women calling for equality in land ownership. For over 10 years, ADFM has been building the leadership skills of rural minority women to advocate and participate in political processes for this cause.
ADFM is a member of Women's Learning Partnership (WLP), a coalition of autonomous women's rights organizations located throughout the developing world that promote women's leadership and human rights. WLP organizations promote gender equality through training programs, advocacy campaigns, and capacity building. Since 2000, WLP partners like ADFM have been empowering women and girls to make change in their communities. (Click here to read more about WLP's global impact on its Catalogue for Philanthropy profile.)
ADFM's advocacy for Soulaliyate women's rights pressured Morocco's Ministry of the Interior to pass a specific law guaranteeing equality between men and women in communal land ownership and transactions. The Ministry reacted to the pressure, but not nearly as decisively as ADFM demanded. The government issued a series of non-binding ministerial guidelines called "circulars" that merely paid lip-service to the Soulaliyate movement. The latest one, Circular 17, recognized Soulaliyates' right to land ownership in theory, but not in practice.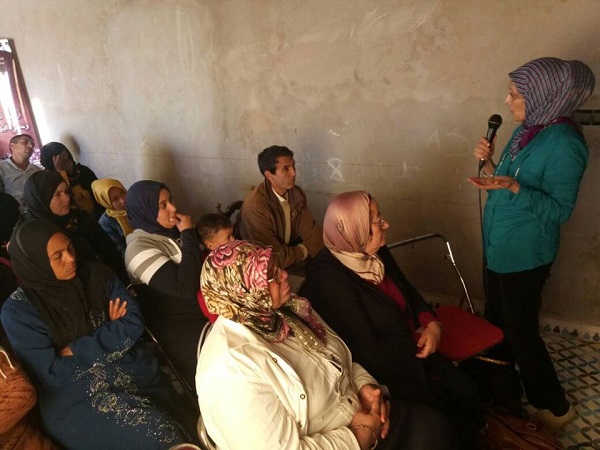 Then, to mark the 10-year anniversary of the Soulaliyate movement, ADFM organized its greatest advocacy push to date: a three-week "Caravan of Soulaliyates." From October 24 to December 15, 2017, the caravan mobilized 660 Soulaliyate women and allies who traveled to three regions: Fez, Daraa-Tafilalt, and Rabat-Sale. The caravan met with policymakers and raised the voices of Soulaliyate women.
ADFM also held 10 leadership workshops during the caravan, with an average of 50 women attending each one. They used WLP's manual on inclusive leadership, Leading to Choices, which has been the cornerstone of ADFM's capacity building work with the Soulaliyate communities since the movement's inception in 2007. The leadership methodology in the manual empowers Soulaliyates to participate effectively in decision-making processes in their tribes.
Three to four Soulaliyate movement-leaders from different regions shared their advocacy experiences at each stage of the caravan. This dialogue between Soulaliyates from remote corners of the country fostered camaraderie. Even though 465 kilometers and the Atlas Mountains separate the coastal city of Kenitra and the Algerian border-town of Errachildia, women from these two areas discovered that they have shared experiences and are working towards a common goal. The caravan's mobility strengthened the bonds of solidarity among Soulaliyates across the country.?
ADFM President Saida Drissi Amrani emphasized those bonds, "We have met women who, even if they do not know how to read or write, are very aware of the principle of equality,"?Amrani told HuffPost Maroc. "They denounce contempt and they are ready to fight. We will support them until the end."
In July 2018, their campaign resulted in a major victory — for the first time, Soulaliyate women of the Ben Mansour and Ouled Mbarek tribes in the Kenitra province were awarded financial compensations and land transfers. While ADFM and WLP celebrate this success, they continue to campaign and fight for equal land rights for women throughout Morocco.